Timing is everything. Days after 'Sell Himax,' the stock (NASDAQ:HIMX) bottomed out at $1.70: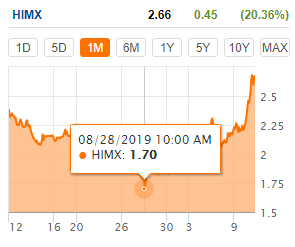 Today, it closed up 20% alone. Why? Here's the Sept. 5 story (linking a start-up to Bill Gates and Himax).
For a few years, Himax was an easy buy and sell trading money maker for DIYers on the Marketplace Guide.When that trading range broke down, we avoided 50%+ losses by closing the trade.
These days, tweets command much of the market movements, so much so that JP Morgan will create Volfefe Index. Who has time to rely on tweet probabilities? Just use finbox.io to model a stock's fair value or join my marketplace to get those fair value prices. 
How to model fair value in 3 easy steps: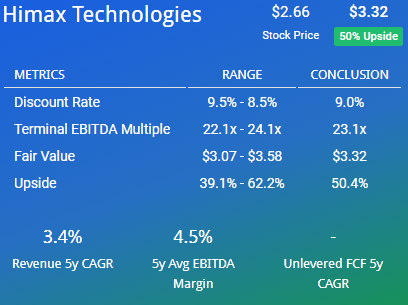 1/ Enter your revenue growth expectations (%)
2/ Enter a discount rate: the higher the discount, the greater your uncertainties.
3/ Click on the terminal value; the mid-point is your fair value.
Then wait for your stock to get to your entry point.
Which article led you to follow me and to get this real-time alert? What stocks do you want more coverage on? Tomorrow's live chat will cover:
timing the end of the cannabis stock correction and riding the rip
Dividend-Growth Income: Up 17% YTD already
Nano stock update as picks up 30%+