Gold traders and investors have been extremely frustrated over the past year as the precious metal continues to trudge along in a choppy fashion. The price of gold has remained virtually unchanged since September of last year, and it begs the question, is gold offering any opportunity at these price levels?
Where We Are Today
With economic pressures around the globe, and an unstable financial environment over the last half-decade, investors have flocked to quality and safe-haven assets. With real interests rates below zero, investors found themselves having no choice but to allocate into gold. Recent monetary policy action by the Federal Reserve and central banks around the globe have further accentuated gold's meteoric rise (a gain of roughly 200%+ since 2005), as the fed stood by it's zero interest rate policy (ZIRP). Although extremely low interest rates should fuel purchasing in riskier assets, with current uncertain conditions, investors have preferred to keep their capital in zero-yielding assets, like gold.
Gold now seems to have found a level of value among market participants, as the price of the metal has remained in a trading range from $1525-$1800/oz. for the past 9 months. Lingering global conditions however still warrant a bull market in gold (negative real interest rates, massive downside risks to the global economy). Given this outlook, I believe the shiny metal is offering a great opportunity for investment.
Head-winds In The Short Run
One factor that has been keeping gold depressed in recent times is no quantitative easing by the Federal Reserve. Quantitative easing and similar accomodative policies have been one of the main drivers of gold recently, and with no QE, there has been less demand for gold, further surpressing prices. The chart below displays the price of gold (black line) since mid-2008 (virtually since the Fed's ZIRP is in effect), with yellow highlights pointing out when QE1 and QE2 were in effect.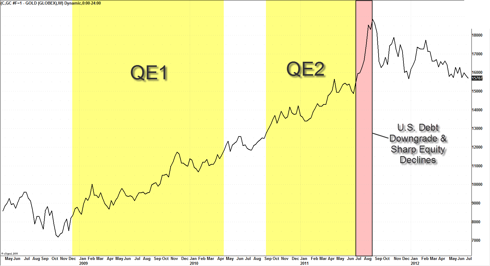 Notice how gold outperformed during the two QE's yet underperformed (or remained flat) during times of no QE. The one exception to this observation is highlighted in pink, which was the gold's massive rise after the U.S. debt downgrade, and sharp global equity meltdowns. Should the above example hold true, if global economic conditions continue to grow worse, and further accomodative policy is needed, QE3 may start the beginning of a leg higher in the precious metal.
On July the 11th, 2012, the much anticipated Fed minutes turned out to be a non-event, further confirming that QE3 is not in play for the short-term. This could be a negative for the price of gold in the short run.
Bottom Line
Gold remains a favorable investment given current global economic conditions, the federal reserves' ZIRP (negative real rates), and potential head-winds to the U.S. economy later this year, and early next year (Debt celing and fiscal cliff). Although I do see lower prices in gold for the short-term, I believe a discount would offer even better buying opportunities. I continue to be bullishly positioned in quality, through U.S. treasuries (NYSEARCA:TLT) and Gold (NYSEARCA:GLD).