Since oil broke the important $80 mark, I have been watching it because it did it without a large amount of volume, which we should see in breakouts. When this occurs, only two things could happen, 1) oil will pull right back into the range it broke out from, 2) good news impacts oil, it finds volume, and proceeds higher. The first scenario from experience is the most common on daily time frames and intraday time frames. False breakouts is their name, and can serve as good day trading and swing trading techniques, with a high Reward to Risk if traded properly. Here is a daily chart of oil's current position: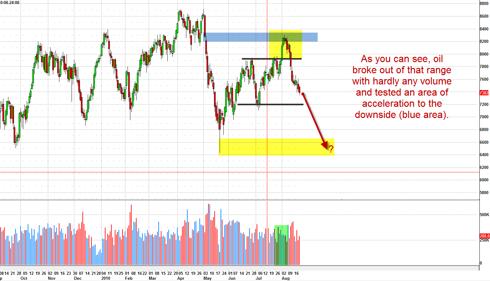 When these false breakouts begin to form and pull back into the range, two things can happen: 1) a break of the lower extreme a test the next important area (the yellow area below) or 2) find some support in the range or "area of balance" and a test higher. Now because we had much more downside volume, at this point it is more likely to break lower,
unless
a good news report hits the newswires. Oil lately has been following the stock market pretty closely, and the stock market doesn't look too good from a technical and fundamental point of view (explained in my 2nd instablog). Therefore being biased to the 1st scenario makes sense once again. Last but not least, oil is in a four month downtrend, making shorts more viable.
Lets list the facts present, supporting a short trade in oil or USO, OIH etc:
1) Failed breakout occurring with more downside volume=Downside more likely
2) Oil market currently in a four month downtrend=Downside more likely
3) Stock market weak, and oil follows market=Downside more likely
With these facts listed, the only thing stopping oil from going down is some good news.

Now there are two ways to enter this short trade in oil:
1) Aggressive: Short a break of friday's low.
2) Conservative: Short a break of the range low (bottom black line)
The premise of this trade is a quick 2-5 day move down therefore your stop would be simply to get out when your trade premise doesn't occur.
Let the market tell you when you are wrong. The market doesn't care about you, and it is always right.
Disclosure:
No Position in Oil Yet :D