The past home sales reports for July have definitely not been the greatest, with an obvious negative effect to the overall stock market and housing market. At the same time, fed fund rates have been kept extremely low (0%-0.25%) since January of 2009. From past history, that would mean housing prices should go up, just as they did in 2003, right? Well at this point in time, that is not happening. The U.S. housing market is continuing to collapse overall, just look at the existing home sales: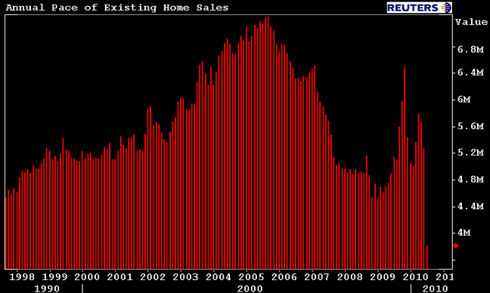 This to me is a danger sign, because at some point the fed will have to raise the fed fund rates again, they can't stay at 0% forever. One could argue that home sales and prices have fallen to find a level where the supply for homes meets the demand. However, you must take into account the relationship between fed fund rates and home sales. If fed fund rates go up again (at some point they will) the theory will be negated. In other words, the current situation is the exact opposite of what was happening in 2003. The market rose in 2003, if this is the opposite, that means the stock market and housing market should fall in the near term. Here is a visual aid of the fed funds rates:



These signs are definitely not to be ignored, as it is signaling another turn downwards in the stock market (SPY, QQQQ, IWM). When you couple in the jobs picture, consumer confidence, it also shows that we are not out of a recession. That would mean a high chance of the market turning for the worse. As of now, buying recession proof stocks, inverse etf's, bonds, gold, and staying in cash might be a good idea. I am not saying that the housing market and stock market are going to crash tomorrow, but these current prices are definitely unsustainable.
Disclosure:
No Positions