After Thursdays quarterly reports, it is safe to say that BlackBerry (BBRY) isn't going away.
Despite the early street announcements that they were bankrupt, just like Palm, and being deserted by their founders, BlackBerry is fine.
In their first quarterly report under the trade name, results were better than expected.
business.financialpost.com/2013/03/28/rim-co-founder-mike-lazaridis-retires-from-blackberry-amid-promising-financial-results/
BlackBerry said net income for the quarter was US$98-million, or $0.19 per share diluted, compared to a loss of US$125-million or US$0.24 per share in the same quarter last year.

BlackBerry said it sold about one million Z10 devices in the quarter, shipping six million BlackBerry devices in total, down from the 6.9 million devices the company sold in the previous quarter.

Wall Street analysts had expected BlackBerry to report a loss of US$0.29 per share, on revenue of roughly US$2.8-billion. According to Thomson Reuters, analysts were expecting BlackBerry to report sales of roughly one million Z10 smartphones.

"We are profitable and we have a healthy balance sheet," Mr. Heins told investors. The company's last profitable quarter was the fourth quarter of the fiscal 2011 year

When you take this in context, you have a company that in a few years has completely remade itself. That in itself says a lot about this new BlackBerry. Hard decisions were made and a lot of the original group have moved on. Making comparisons between BlackBerry and RIM doesn't really make anymore sense than comparing BBOS to BB10. They are each vastly different than their predecessor.
Current Snapshot
www.theglobeandmail.com/report-on-business/where-rims-subscribers-are/article7931207/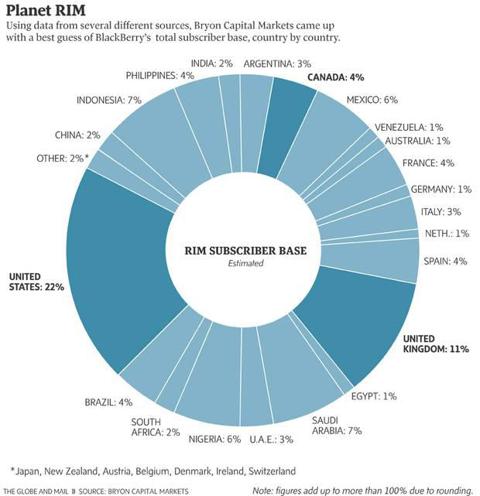 A current snapshot as of January shows a mixed bag of distribution with the United States having the largest percentage at 22% and the United Kingdom next at 11%. After that we have only single digit penetration, even in their home country. The subscriber base has shrunk to an all time low of approximately 76 million world wide. With the release in the US of their first BB10 based device, the Z10, all major markets have now had a sample of the "mobile computing" future that BlackBerry envisions. Much has been written about their success in markets where price was thought to be an issue yet sellouts were reported.
This polarizing stock has had a deluge of articles written over the last few months. In fact, I started writing for Seeking Alpha because I was so frustrated by the opinions of writers that seemed to have a tainted opinion.
I fail to understand how you can have an accurate opinion of a technology company when you don't use their products. The future of BlackBerry is tied directly to their success with the latest platform. History can tell us only so much in an industry that changes dramatically year after year, with upstarts coming out of nowhere, and historically strong companies losing hundreds of dollars a share due to public perception.
I feel that more attention needs to be invested in the products that are coming to market. In this case, BB10, the Z10, and BES10. These products will be the result of the people behind them. It is no small task to rebuild something in 2 years.
Let's think about that. Not only maintain the old for your current user base, but also take none of the code to your new platform. In just over 2 years. While downsizing and trying to fight back against all the negative press.
After all of that, they still have billions put away, showed profit this last quarter, and have a great OS and launch device. They may have lost some subscribers and will lose recurring revenue as users transition, but they are still strong and now battle tested.
If I could plan the future.
This is how I see a possible future for BlackBerry.
I feel their leadership is strong and passionate about their vision and their product. That is what made Apple, and many others before them. That is what is needed right now if they want to set their sights higher than #3. Just like a prize fighter that has lost their title, if they are hungry enough, they know what is required to reclaim it.
There is no quit in this company and I have always admired that. Now that stubborn side has hurt them in the past because it was mixed with arrogance. I don't get that feeling this time around. I feel that disappeared when Jim Balsillie stepped down. To me, that was when BlackBerry turned the corner.
I have noticed a lot more activity by upper management on forums and twitter feeds. Appearances at public launches and events are being made by the people that can make changes. I liked the staggered launch dates in different countries. I found it fascinating to follow the forums and feedback getting real time opinions from around the world. As I have said before, I was a first day owner of the Z10 and can attest to what a great product it is. While there will be a few that find the transition more difficult, there are those of us that had a very easy transition. To appreciate this smartphone you have to spend some time with it. Then if you want, go back to your old device. I promise you that it will be difficult, and in most cases, you will have become spoiled to Peak, Flow, and the Hub.
I am a fan of Thornsten Heins. It wasn't until he took over at BlackBerry that I even knew his name. What he did at Seimen's as CTO doesn't really factor in my opinion. That solely rests on the fact that he was leading during the transition that changed more than their name. He was a good enough leader to help them gain back respectability while keeping them focused on the immense task of re-design, and re-creation. This launch was successful. BlackBerry has built a platform that can grow with their user base, and not limit them in the same way that BBOS did.
They need to be responsive to the user base. It doesn't take a lot to assign some of your staff to monitoring the major feeds. If BlackBerry can become even more active, and have a presence that responds to the legitimate problems, then that will take them a long way towards gaining back some lost customers.
Launching with their desktop component broken was a mistake. When you are trying to get back those that have left for iOS and Android, you need to make their transition simple. It hasn't been. I have read of real issues from both camps. Those that came from BlackBerry devices that used Outlook to manage their contacts were left stranded or with work arounds. BlackBerry Link is still a work in progress and resources need to be put towards getting that fixed. Why wasn't there a simple wizard that could take information from the iPhones and Android devices such as contacts, music, pictures, and email without creating new "buffer" email accounts? If you want customers to come to your restaurant, you better make sure you are accessible. Your regulars will tolerate reconstruction, and rennovation, but new clients won't. This needs to be understood by tech support, and management. Even now the Z10 isn't a painless transition, especially if you come from other platforms that don't have exchange integration and depend on the Google space for your communications. Things will get better, but it may be too late if it takes too long.
BlackBerry also needs to recognize that momentum must be capitalized on. App conversion needs to be another focus as that still remains a weak point. Native applications need to be the norm instead of the exception. When done properly, these applications truly shine, examples being BBM, the browser, and the Hub. In fact, I don't have issue with any of the includes applications, and the speed doesn't seem to fall off with a few running.
It is the poorly written apps that hurt. Just like the OS, I would rather have a realistic date than a product that is rushed. Where is Skype? This was promised in January and here we are at the end of March and nothing. At least let people know why otherwise they feel lied to. Give us a new date. Learn that when you don't say anything, you leave yourself at the mercy of the speculators. These are the same people that had others thinking you were soon to be bankrupt. Realize that stating the issues causing the delay may drop stock a bit in the market, but your honesty will gain that back with your users. You have millions of devout fans. Keep them in the loop.
I would provide the resources needed to get the top ten apps that you don't have in your library. I don't know how that market works when it comes to what incentive is needed, but I am sure that there is a mutual midpoint that shows BlackBerry's commitment to the platform, and doesn't expose the developer to capital spent with no chance of return do to a small existing user base. Just saying that the apps are coming isn't enough when you are not #1. I will invest in a platform if I know a needed app is coming in the near future. I won't if there is no commitment from the developer.
There was recently a leak of a picture that suggests the 2013 future. It doesn't suggest much more than had already been guessed at and speculation on simple drawings of devices can't be considered accurate. BlackBerry themselves have spoken about 6 devices this year. The Z10 and Q10 represent the first 2.
My expectation would be 2 devices based similar internals, but less expensive materials. Getting a device with BB10 built in the next 6 months will cost less than the devices on the shelves today. Without labor, the cost of materials is just over $150. How much room there is without sacrificing quality can only be guessed at, but my estimates would be getting the cost just under $100. Profit would be less due to a lower selling price, but volume should more than compensate, especially in countries that don't have the same type of disposable income. This "Curve" level of product could easily capture the market that is expected to grow more than any other segment.
This is where BlackBerry has the most potential. Realizing that a device with a lower entry cost with the same interface and performance would be a threat to Apples lower priced iPhone and recover some of the advantage the other have due to a free OS. A lower internal memory could save even more since micro SD slots are standard and adding additional memory is inexpensive.
BlackBerry devices have always won out when it comes to messaging, whether that is email, or BBM. The addition of BBM Voice and Video have set the new standard in messaging. Bringing this into emerging markets where bandwidth is increasing would solidify BlackBerry's hold on those markets.
The 2 remaining devices remain a mystery. Thornsten has already spoken about keyboard and touch only devices in all areas. He has also spoken about a surprise device they are working on. A potential larger screen would make sense, hopefully not as big as the Samsung Note 2, but perhaps a 4.5" screen with a quad core processor, and 4GB of working memory would be on my wish list, one that allows more active frames that kept the lag free experience that exists currently.
Revisiting the Playbook also remains potentially viable. There were 370,000 Playbooks sold in the fourth quarter. As an owner of one since launch day it also is a well made device that lacked support. It was competing against the behemoth called iPad and all sales would pale in comparison. It is expected that we will see some flavor of BB10 in the near future, but again, this is an area that BlackBerry has not given a date on. In order to deliver the same experience on a device that has less working memory (Playbook has 1GB, Z10 has 2GB) there may have to be some sacrifices made. Already there is negative press due to the change in the BlackBerry Bridge experience that ties together the smartphone and tablet. This needs to be addressed so that existing and loyal users feel that they are not neglected.
I remain positive that these few hurdles will be cleared in the near future. Marketing is still needed as there remain carriers that didn't do a great job on the US launch and had disinterested staff. BlackBerry needs to be given the same attention the competition gets both in marketing and positioning. This remains the goal of BlackBerry's own internal marketing team. What should be focused on is selling the existing user experience. Throughout forums you will find posts made by new users raving about the Z10. That is where your marketing strength should lie. Instead of a tenuous stance, one that is more confident should be adopted by all levels of marketing. This is the entry point to an exiting future and having the best device on the current stage is a small window of opportunity.
Anyone who underestimates BlackBerry isn't looking at some important facts. This is one company that controls both hardware and software. This is also a company that had been given up for dead and not only turned a profit during a transition period, but released a very good device. The operating system that forms the foundation of this mobile computing entry is QNX, also owned by BlackBerry. QNX was built to be secure, fast, and flexible.
The future is very much in their hands now that they have broken down the barriers of the old OS. The changing of the guard was necessary and has given BlackBerry a focus that was missing before. With a little fine tuning, and some smart marketing, I expect significant gains over the next 3 quarters leading into the end of 2013. If they can continue to be profitable, and slowly increase market share by releasing quality products in emerging segments, there is no reason to doubt a continued climb to challenge for more than #3.
Disclosure: I have no positions in any stocks mentioned, and no plans to initiate any positions within the next 72 hours. I wrote this article myself, and it expresses my own opinions. I am not receiving compensation for it. I have no business relationship with any company whose stock is mentioned in this article.