I wrote a brief article yesterday describing the Bearsih Divergence that appeared on the December E-mini S&P 500 futures chart. What I didn't discuss was how I would trade it.

The ideal price to take a short trade from is where you have seen recent sellers in the market, which in this case means the high from Tuesday on 1234.50. As of around 8:00 pm EST, price has gotten very close to that level.

In other words, I wouldn't want to take this trade at a price where I risk getting stopped out anywhere below tuesday's high. Therefore, the closer I can trade to that level, the less the risk and the greater the potential reward.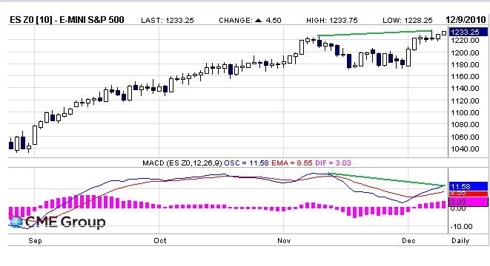 Disclosure: I have no positions in any stocks mentioned, but may initiate a Long position in SPXU over the next 72 hours.