In today's world, the Internet provides a myriad of opportunities for people. And I don't just mean money, either. The Internet can be used to entertain, to interact, to make money, to gather information, and much, much more. Simply put, the Internet is where the money is now, and capital will continue to flow steadily into its development, along with the development of other technologies. This is why nearly all of the hot stocks you see nowadays are tech stocks. But with new startups breaking through everyday and some of them going public, it's hard to find which companies are going in the right direction. But with common sense, emotional stability, and a little bit of investing knowledge, it can be done.
All Hype
For a few years now, Facebook (NASDAQ:FB) has been making a significant mark on social networking. There is no disputing this. But a little less than a decade ago, Myspace was "cool". And look where it is now. It was sold for "only" $35 million to a company called Specific Media. Facebook has no specific advantages that indicate things will turn out differently for them. Already, people are making the move to new social media websites, most notably Twitter. Facebook had its time to shine, but it is simply a passing fad. While at one time earnings were constantly growing, they dropped off more than 75% in the last quarter. One might argue that the revenue growth of 40% makes up for this, but in reality, the company's revenue growth percentage has been decreasing, as you can see in the graph below. This shows that the Facebook trend is, indeed, gradually coming to a halt. Many customers are being taken by Twitter, which is the latest fad to hit the social networking market. They are outpacing Facebook in terms of membership growth by a significant margin. Also, membership drops are already being seen in some places for Facebook. A specific example of this was the 600,000 member drop from the UK in December.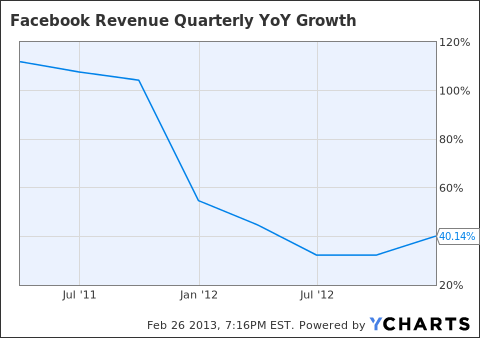 FB Revenue Quarterly YoY Growth data by YCharts
You do not need to be a financial expert to figure this one out. Considering the fact that Facebook generates most of its revenue from advertising, it is not in good shape for the future. With people constantly moving away from Facebook, the value of this advertising is diminishing as time goes on.
Facebook is currently overvalued and not in the greatest state of financial health. Facebook is trading at well over 1,000 times earnings. The price/sales is 12.77 and the price/book is 5.48. Also, Facebook has a 20.04 debt/equity ratio. The company has nearly 2 billion dollars in debt which you can see, based on the graph below, is going in the opposite direction of the net income.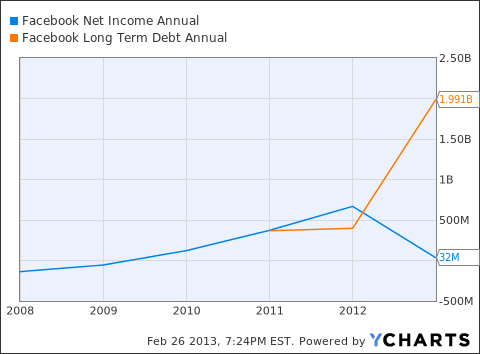 FB Net Income Annual data by YCharts
A Proven Winner
Google (NASDAQ:GOOG) has become a staple of life in our society. "Google it" has become synonymous with "look it up". Billions of searches are done on Google each year, and traffic isn't going to slow down, for the same reason that use of the wheel in our society won't slow down. Google has become as much of a tool as it is a company. How often do you hear people say "Yahoo (YHOO) it" or "Bing it"? You don't, and it's because Google is king in the search engine business.
Although Google generates a significant portion of its revenue from ads, this is acceptable. The value of advertising with Google will never diminish, as the popularity of the search engine is unlikely to fall. The purpose of advertisements is to gain exposure for the advertised company. In the case of Facebook, which I have already shown is becoming less popular, this is not an ideal platform for ads. This can be seen by the fact that last year, General Motors pulled its account, worth $10 million, because the ads weren't working for them. As of mid 2012, though, Google searches were still growing rapidly. With more and more people utilizing Google, ads get more exposure.
Google is successfully fending off other search engines, as it makes up 67% of its market. On a side note, Google and Yahoo present investors with one of those rare opportunities where such close rivals can simultaneously succeed. Google will find success in the fact that it is purely a dominant force in the search engine market, generating 50 billion dollars of revenue in the last year, and has 48 billion dollars of cash on hand. Yahoo, as I discussed in a previous article, will gradually continue to improve under the superb leadership of Marissa Mayer.
Google, despite sitting just below $800, is trading at only 25 times earnings. Its price/book is 3.66 and the price to sales is 5.20. The company's profit margin is above 20% and the return on assets is 10%. With these effective operations and great valuation numbers, Google has a strong margin of safety and appears to be a great investment. Still, a pullback could occur for the stock, which has gained more than 31% in the past 52 weeks. Although this advance is justified, it came shockingly quick for the well established company. There is still a margin of a safety, although it is a bit thin. The company is currently at a fair price, but bearish investors could pull the price down to $750 or below, and this would be an even more fantastic time to pull the trigger. Despite this, investing right now is also likely to yield a great profit for investors.
Disclosure: I have no positions in any stocks mentioned, and no plans to initiate any positions within the next 72 hours.