On March 22, 2011, I walked into a conference room at the Ritz-Carlton Pentagon City hotel, the site of the TREM '11 Technology Metals for Energy & Security Conference.  I decided to attend this conference in an effort to better understand how the US government and American businesses were planning to address our dangerous reliance on imports of rare earth based materials, both for our critical national security needs, and for numerous advanced technologies that hold the key to the economic growth that we so desperately need. On March 23, I walked out of that conference room with heightened concerns regarding the challenges that such a public/private sector partnership presents, but an overall sense of optimism regarding a number of initiatives that were presented for our shared consideration. In this article, I will describe the challenges.
Although I didn't notice beforehand any discernible pattern in the sequence of presentations on the agenda for the TREM'11 Conference, in hindsight it was clear that the perspective had evolved from one questioning why the government hadn't done more to develop a domestic rare earth mining industry to one critical of excess government regulations and inefficient bureaucracies that served to hinder the development of a domestic rare earth mining industry – indeed, a domestic mining industry in general.
This growing sense of enlightenment seemed to result from more than just the incremental insight gained from each successive speaker. After looking back at
the agenda
, the explanation for this became clear. The Conference began with speakers from representatives of various US Government Agencies and ended with CEOs of various rare earths mining companies. (Copies of most of the
presentations
, by the way, are also available at the IAGS TREM Center website.) Although the topics and backgrounds of the speakers for the intervening presentations were refreshingly diverse, the awareness that reducing our dangerous dependency on foreign sources of energy and critical materials would ultimately be the primary responsibility of the private sector was realized gradually, almost imperceptibly, until it was made obvious by the final speakers.
This is not to say that the government, military, industry associations, trade groups, non-profits, NGOs, media and others can't play a vital role in addressing our dangerous reliance on energy and critical materials from foreign sources, sometimes controlled by unreliable trading partners, and sometimes from parts of the world that are unstable and/or characterized by hostility toward the US and its allies. It is just that these efforts are more likely to succeed if they are supportive of businesses, and elicit the cooperation of the American public. For the most part, the speakers representing the various government agencies seemed to understand this, as they were already seeking to better coordinate their efforts among each other. Based upon the feedback they received at the TREM '11 Conference, these improved communication/coordination efforts should eventually be expanded to also include businesses, investors, and consumers.
What is the Proper Role of the Government in the Economy?
However, there is still room for improvement in understanding the true nature of the issues facing us, and in some cases, the solution on the part of the government is less not more. For example, the CEO for one of the rare earth mining companies effectively stated something like this, "We're not looking for handouts from the government. We would just like to eliminate much of the bureaucracy and red tape that result in excessive start-up times for a mining operation in the US."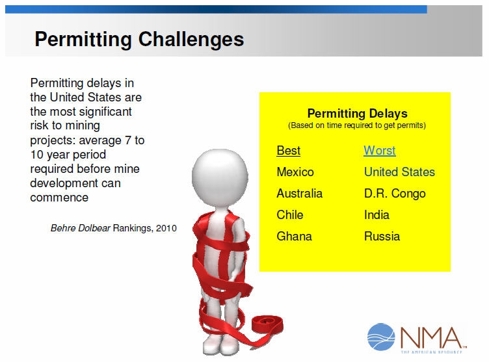 To put this into perspective, Katie Sweeney of the National Mining Association pointed out that the Department of the Interior requires a fourteen department, SEQUENTIAL, review process before a mining company can even commence the scoping necessary to prepare an environmental impact statement. This adds about three months to the permit processing time. Furthermore, there are four such permitting processes required throughout the start-up cycle of a mining operation, each of which is subject to similar bureaucratic delays. In total, the permitting process in the United States can take seven to ten years to complete, and only then can the mine development process commence.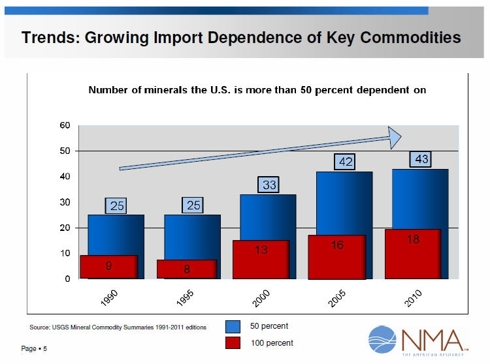 Obviously, the greater the uncertainty, complexity, and time required for an attractive deposit to be converted into a viable mining operation, the less attractive such US mining operations are likely to be to investors, and the less likely such deposits will be developed within the US. Environmentalists and desert tortoises may celebrate these roadblocks, but this should be a great cause for concern among freedom loving people concerned about our economic and national security, who may also appreciate the importance of a domestic mining industry -- as well as a domestic manufacturing industry and many other job creating industries within the US, for that matter. For more information on this topic, visit
www.mineralsmakelife.org
. 
Can't Live With Them, but Can't Live Without Them
But, while many in the industry seemed to want the government to simply get out of the way, my initial concern was why the government hadn't done more. This question loomed even larger after I listened to a presentation in the first session by retired Air Force Major General Dr. Robert Latiff, now Director of the Intelligence and Security Research Center at George Mason University.
Dr. Latiff pointed out that the need to adopt new methods for assuring the timely availability of rare earth elements and other materials necessary to maintain national defense capabilities beyond the outdated reliance on the National Defense Stockpile first established in 1939 was presented to the Department of Defense as early as 2003. This is documented in a book titled, "Managing Materials for a 21
st
Century Military, " which was authored by a National Research Council committee that he chaired. This
two-page Report
prepared in October 2007 provides a brief summary of the book's conclusions, and indicates how the book can be ordered by those seeking more details. Dr. Latiff further explained that the steps necessary to transition the National Defense Stockpile to a total system approach known as the Strategic Materials Security Program was presented to the US Department of Defense in September 2010, but is still under review.
I was left with the impression that Nero was clearly fiddling while Rome burned. It was obvious that something needed to be done years ago, and there was little or no time left to be pondering alternatives.
Are There Substitutes, or Just Excuses? (Where is John Galt?)
But, ponder alternatives is exactly what was being suggested in the next session by Robert Cekuta, who is the Deputy Assistant Secretary for Energy, Sanctions and Commodities for the United States Department of State. He is responsible for the United States global energy security policy. It then dawned upon me that perhaps the most important question regarding the danger posed by our reliance upon imports of rare earth based materials – namely, whether there are substitutes for rare earth elements that could be realistically developed on a timely basis to achieve our national security goals and our economic growth objectives -- remained largely unanswered. So, I asked Mr. Cekuta for his opinion in this regard.
I was initially shocked by his response.  In his words, if there were no substitutes, then market forces already would have enticed private companies into the space. Did he not realize that, sitting in the seats before him were executives representing scores of rare earth mining companies? What possibly could have enticed them into this space? Would his answer be any different if the issue at hand was as pressing as a desert traveler's immediate need for water, I asked? What good would it do to inform the traveler that there is no water, but there is hope that someday, someone may be able to produce a substitute? It wasn't until later, when I had heard the comments made by representatives of the mining companies, and when it occurred to me that most had operations outside the US, that I appreciated his response that "mines won't be opened unless they are profitable."
What Will it Take to Make US Mines Profitable?
I later developed a better understanding of Robert Cekuta's remarks, but I still believe that there is a role for government, even if we must ultimately rely upon the private sector to engage in those activities for which it is better designed than the government. This is what led to my follow-up question to this same panel, but this time directed to Terence Stewart, the managing partner at the Law Offices of Stewart and Stewart, with a concentration on international trade matters and customs law. Currently, he is a Member of the Steering Group of the International Trade Committee of the American Bar Association's International Law Section. In my notes, I summarized his presentation as follows: What happens when one country dominates supply of a commodity and then chooses to control the supply of that commodity for geopolitical purposes rather than for commercial purposes?
Who better to ask: (1) whether it is possible to expel a country from the World Trade Organization if that country repeatedly fails to abide by the conditions upon which its admission was based; and (2) given the restrictions on actions that some might regard to be a foreign intervention into a matter under the sovereign control of another country, what measures can be taken to directly penalize the managers of corporations who harm corporate stakeholders by establishing operations in a country that is known to disrespect intellectual property laws and to engage in practices that are detrimental to free trade?
Unfortunately, his answers were less than comforting: Once a country is admitted to the WTO, it would be nearly impossible to expel them, and it is virtually impossible to pierce the corporate veil. I am not an attorney so, for better or worse, I am not able to understand how things that make no sense make sense. However, I am aware that individuals are often held directly responsible for their actions in China, especially when it involves "state secrets" – which is not too uncommon since it is virtually impossible to avoid doing business in China with a company in which the state does not somehow maintain a stake. So, perhaps there is some comfort to be taken in knowing that ultimately at least one country's intellectual property and stakeholder interests will be respected.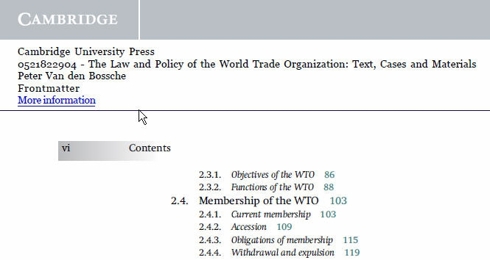 Unfortunately, the inability of our own government and judicial systems to ensure that market forces remain intact does little to ensure that we may rely upon such market forces to entice the private sector into establishing rare earth mining companies and related industries within the US.  Ironically, where government actions have been taken, they have often served to further impede a healthy industrial sector within the US.   The paradox is that markets have become so distorted by domestic and foreign government policies and interventions that it is hard to see a way forward without a need for even greater involvement on the part of the US Government. This may explain why retired General Gregory S. Martin, former Commander of the U.S. Air Force Material Command (AFMC), which is responsible for various activities necessary to maintain Air Force weapons systems, commented that we can't just leave these issues to the markets.    Of the ten commands reporting to HQ USAF, AFMC is the largest in terms of funding, with an operating budget equal to 57% of the Air Force budget.
Is There Hope for Change?
Given the current state of affairs, General Martin's assessment may be correct, but I think we can right the ship if changes are made within both the public and private sectors. Although government officials did not dwell on this topic during the conference, I suspect that the maze of regulations now faced by the mining industry as a whole were triggered at least in part by irresponsible actions likely taken by certain private businesses. But as private sector participants were quick to point out, punishing the entire industry with an extremely inefficient maze of regulations administered by overlapping regulatory bodies rather than efficiently prosecuting wrongdoers is not the answer.
As for the private sector, the efficient allocation of capital to this space seems to require a more long-term strategic perspective on the part of downstream industries that rely upon rare earth based materials for the profits that they generate from their potentially higher margin products. I believe that such a vertical integration strategy, representing a private sector rather than a public sector initiative, is a better way to address the risk of further market manipulating activities on the part of foreign governments that seem to have only temporarily resulted in artificially low costs elsewhere.
The response from the public sector should be to eliminate artificially high costs here in the US.  Although it may be tempting for the government to play a greater role – to fight fire with fire, so to say – such efforts often backfire. For example, there is some evidence, such as cancelled IPOs, which suggests that the recent launch of an array of new government programs and central bank interventions has introduced a level of confusion and uncertainty that makes it increasingly difficult for private sector businesses to raise needed capital, which is particularly vital to the development of mining companies. Increased government spending during a slowing economy may seem appealing on the surface, but could actually be quite harmful if it serves to reduce private sector spending and investment to an even greater extent.
But, as indicated earlier, there is a very important role for the government to play here. We just need to identify what things are best handled by the public and private sectors, and to improve the relationships between the two to ensure that both remain healthy. I'll talk more about this in Part Two.