"There is nothing which so generally strikes the imagination, and engages the affections of mankind, as the right of property; or that sole and despotic dominion which one man claims and exercises over the external things of the world, in total exclusion of the right of any other individual in the universe. And yet there are very few, that will give themselves the trouble to consider the original and foundation of this right." (Commentaries, Book II Ch. II)
I travelled to Washington, DC to attend the TREM '11 conference a day early so I could visit some of the historic sites in our nation's capitol. At the top of my list was the Thomas Jefferson building of the Library of Congress, which was featured in the movie "National Treasures: Book of Secrets" starring Nicholas Cage. Until I watched this movie, I didn't appreciate the majestic beauty of this building.   I was not disappointed by the actual experience. As this photo demonstrates, it is breathtaking, to say the least.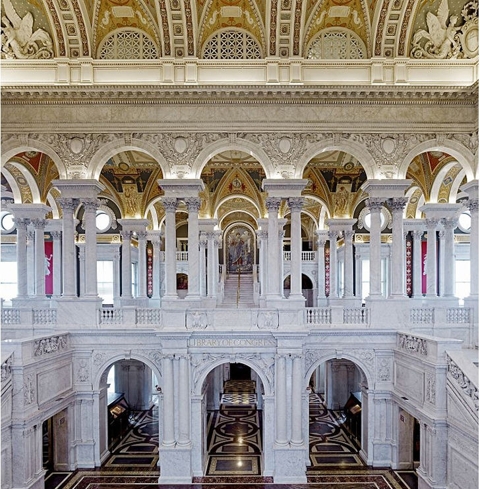 Two of the Library's great treasures are the Giant Bible of Mainz and the Gutenberg Bible, both of which were produced in the mid-1450's; one is written by hand, in manuscript, while the other is the first book printed with movable metal type. Just beyond is the former entrance to the Main Reading Room, with paintings by Elihu Vedder depicting good and bad government and the effects of each: Anarchy, Corrupt Legislation, Government, Good Administration, and Peace and Prosperity.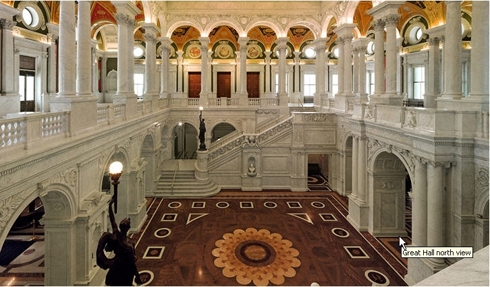 Strolling along the upper corridor reached by climbing one of two carved marble staircases leading to the mezzanine level shown in the photo above, visitors are treated to a birds eye view of the Great Hall in the center of the building, and some inspiring inscriptions immediately overhead on the four surrounding interior walls. My favorite was:
"Wisdom is the Principal Thing; Therefore Get Wisdom; and With All Thy Getting, Get Understanding." (Proverbs 4:7)
This advice seemed especially appropriate for a library, especially this incredible library where the building itself is like an open book – and where symbolism abounds. It seems that every picture, statue, and carving – and there are many of them -- is representative of something much deeper, so one must pay careful attention in order to benefit from all this important building has to offer. For example, in the circular panel above this inscription is a painting of "Understanding." It is capped by the "Printer's Mark" for Riverside Press. Printers' marks were akin to a trademark or copyright today. There are 56 printers' marks around the ceiling on this level. At the corners of the ceiling, two winged figures of genius flank an emblem showing the traditional symbols of learning, a torch and a book.
The Search for Wisdom and Understanding Leads to a History of the US
Of course, there are other reasons to visit the Library of Congress besides just admiring its beauty. I was attracted to the exhibition "Creating the United States," which tells the story behind the creation of our great nation, which in turn evolved from the creation of the Declaration of Independence, the United States Constitution, and the Bill of Rights. 
What better way to prepare for a conference intended to allow interested individuals [such as myself] to join executives from various industries in interacting with key figures from the US Departments of Defense, Energy, Interior, Commerce and State in an effort to better understand the issues surrounding metals needed for energy and security, and to influence the policies that affect the way America produces, imports and uses technology metals?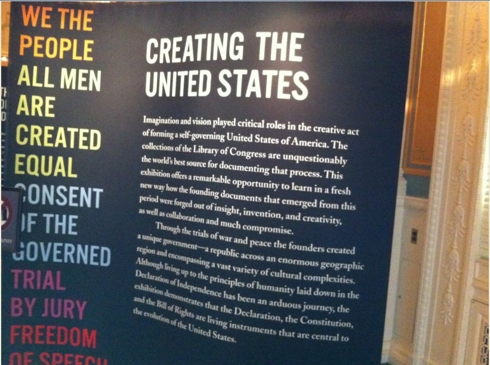 For some reason, facts that I once considered to serve only as tests of my memory skills during my elementary school years seemed much more profound as I carefully studied the exhibits in this gallery with a high degree of interest.   For example, the following comments displayed in this exhibit seemed to take on new meaning:
"The Declaration of Independence became a lasting beacon for those seeking justice, human dignity, and self-government throughout the world." 
"America's search for a plan of national government was a slow, difficult process. Compromise, cooperation, and creativity were required as the Americans moved from being colonials in a patriarchal monarchy to citizen-leaders in a representative republic of federal states."
"Amending the federal Constitution to include a bill of rights was the essential political compromise in the creation of the United States government."
The Blackstone Commentaries
Immediately behind this gallery of exhibits is another exhibit "Thomas Jefferson's Library," featuring the 6,487 books that the former president provided to replace the congressional library burned by the British during the War of 1812.   Now, I have a reputation for having spent too much time in libraries at various times in my life, but my intended purpose for visiting this particular library on this particular day was not to look at a bunch of "old books." Still, I was drawn by the fact that Jefferson classified his books in what appeared to be a very unique way. In his words,
Books may be classed from the Faculties of the mind, which being
I. Memory                    II. Reason                   III. Imagination
                        are applied respectively to
I. History                     II. Philosophy              III. Fine Arts
This
link
to an essay titled "The Quest for Knowledge in an Indifferent World" provides additional background information on this classification scheme, as well as some interesting food for thought that may explain why "Thomas Jefferson's Library" has sadly become more of a museum than a reference source for those seeking wisdom, and understanding. However, the library can still be partially accessed online at
www.LOC.gov
. Unlike the computerization of trading on the New York Stock Exchange, this seems to serve the purpose of convenience for those seeking truth and knowledge, rather than speed for those seeking to profit from the processing of data in advance of other market participants.
As I stood puzzling over the logic of this classification scheme, I was approached by a woman who asked whether I could verify that four books immediately before me were, in fact, the four volumes of Blackstone's "Commentaries." Because I was better able to read the titles in the dimly lit room, I confirmed that they were, but I confessed that I didn't appreciate their significance. She explained that this four volume treatise more properly known as "The Commentaries on the Laws of England" was originally published shortly before our country was founded (1765 – 1769) and they are thought to have provided guidance to those who framed the US Constitution. The treatise was written by an English jurist, Sir William Blackstone in an effort to make English common law more understandable to a layperson, and its four volumes correspond to:
1.
The rights of Persons (social stratification in a class society)
2.
The rights of Things (property law – interestingly, the longest volume)
3.
Of Private Wrongs (torts)
4.
Of Public Wrongs (criminal law)
She went on to explain that Opinions of the Supreme Court of the United States often quote from Blackstone's "Commentaries" when attempting to interpret pre-Revolutionary period sources of common law, and that the ceiling of the US Supreme Court building in Washington, DC depicts this four volume treatise in some fashion. It is there that the Chief Justice and 8 associate justices who make up the Supreme Court, the highest judicial authority in the United States, decide whether actions of Congress, the President, the states and the lower courts follow the principles of the Constitution.
Given their importance, it was, therefore, hard to believe that behind the glass immediately before us could be the original publications. But they certainly appeared to be originals, since green ribbons were used as their bookmarks – apparently differentiating them from books that had been subsequently added to this collection to match some of the originals that were destroyed in a fire on Christmas Eve of 1851.
I didn't realize it at the time, but my subsequent research revealed that Blackstone's Commentaries were also famous for another, less noble reason: The book was used as the key in American General Benedict Arnold's book cipher, in which he inserted secret code, sometimes using invisible ink, in letters to British Army Major John Andre, the spy chief reporting to the Commander-in-Chief of British forces in North America. The code could be de-coded by referring to a corresponding page number, line number, and word number in Blackstone's "Commentaries." For example, the code in the latter part of a letter from Benedict Arnold to Andre dated July 12, 1780 was decoded by Jonathan Odell, Andre's assistant, as follows:
"…I have accepted the command at W[est]. P[oint]. As a Post in which / I can render the most essential Services, and which will be in my disposal. / The mass of the People are heartily tired of the War, and wish to be on / their former footing – They are promised great events from this / year's exertion—If – disappointed – you have only to persevere / and the contest will soon be at an end. The present Struggles are / like the pangs of a dying man, violent but of a short duration---"
Arnold subsequently agreed to surrender West Point to the British for £20,000 Pounds. As we all know, this effort was thwarted when the plot was uncovered beforehand, but it is hard to believe that anyone would have been willing to betray the security of their country for any price.
The Main Reading Room
Feeling sufficiently toxicated with all this inspiration and knowledge, I then decided it was time to return to my hotel room to get some rest before the TREM '11 conference to begin the next day. However, as I left the gallery for this exhibit, I came upon a staircase at the rear of the east corridor leading up to a Visitor's Gallery from which visitors can view the Main Reading Room. It was roped off, but from a distance I could see the domed ceiling, stretching 160 feet above the floor. This room was even more impressive than the Great Hall that had just left me awe struck. Somehow, I had to find a way to access this incredible library.
It took some doing, but a short while later, I found myself surrounded by the grandeur of what is perhaps the finest library in the world. Eight giant marble columns each support 10-foot high symbolic plaster statues representing Art, Commerce, History, Law, Philosophy, Poetry, Religion, and Science. On the balustrades immediately below are 16 bronze statues commemorating men whose lives symbolized the thought and activity represented by the symbolic plaster statues above. They include:
Art                   Michelangelo and Ludwig van Beethoven
Commerce       Christopher Columbus and Robert Fulton
History Herodotus and Edward Gibbon
Law                 Solon and James Kent
Philosophy        Plato and Francis Bacon
Poetry              Homer and William Shakespeare
Religion            Moses and Saint Paul
Science            Isaac Newton and Joseph Henry
Above these bronze statues are eight semi-circular stained glass windows depicting the seals of 48 states (excluding Alaska and Hawaii which were admitted to the union after the building was constructed). Finally, immediately overhead, is a female figure painted in the cupola by Edwin Blashfield representing Human Understanding, which is visible only to those in the Reading Room below. I felt tremendous pressure to be enlightened.
At the apex of the dome surrounding the cupola is a mural consisting of a dozen 10-foot high figures representing the countries or epochs that contributed to the development of Western civilization. These include:
Egypt                           Written Records
Judea                           Religion
Greece                         Philosophy
Rome                           Administration
Islam                            Physics
The Middle Ages          Modern Languages
Italy                              Fine Arts
Germany                      The Art of Printing
Spain                            Discovery
England                        Literature
France                          Emancipation
America                       Science
I found it interesting that only countries or epochs that contributed to the development of Western civilization were depicted, and that Science was most closely associated with America. But, I needed to develop more understanding than this, and a life-size figure of Father Time standing upon an imposing clock with his scythe in hand, seemed to be looking down on me in concert with all the other statues to impress upon me that this was a place to think big thoughts, but time was of the essence.
I felt compelled to ask myself why I was here, and what knowledge I could find that would provide me with some type of wisdom and understanding that might help me to contribute to the efforts of all these important figures standing over me.
In hindsight, I realized this was actually narrow-minded, but since I would be attending the TREM '11 Conference the following day, I began by conducting an electronic search for books regarding rare earth elements. I identified two: "Price of truth: the story of rare-earth elements" and "Episodes from the history of the rare earth elements." Armed with the call numbers for these two great works, I set out to locate them on the library shelves. Alas, one had been checked out, and the other was located in the nearby Adams Building. I could either walk to that building, or wait an hour to have the book delivered. I decided that I didn't have time to wait, and I was sure that the 160 foot dome of the Main Reading Room in the Jefferson Building would somehow accommodate bigger thoughts, so I had to come up with another plan.
Asking myself what Thomas Jefferson would do, I decided to use my faculties to find what I was looking for. Borrowing a technique popularized by Peter Drucker known as MBWA (Managing By Wandering Around), I began to stroll through the book shelves hoping that something important would appear before me. Because I had completed about a half circle, I was only half surprised to come upon something that looked interesting. It was a series of books titled "History Behind the Headlines – The Origins of Conflicts Worldwide." The front material includes a section titled "About the Series," which explained:
"In 1991 the world witnessed a political change of great magnitude. The Union of Soviet Socialist Republics [USSR] crumbled, ushering in a new era of democracy and the official end of the Cold War. East and West Germany had reunited just two years earlier; for many people formerly behind the Iron Curtain, now seemed to be a time of unbound freedom and autonomy. Yet ten years later, newscasts and newspapers report of a six year war between Russia and Chechnya, a former state within the USSR. After so much optimism about the future, what caused this instability and unrest? Was the cause based in a fundamental flaw of the initial break-up of the USSR or perhaps from something much further back in the regions' histories? How did the international community react to the USSR's collapse and the strife that was to follow?
History Behind the Headlines [HBH], a new, on-going series from the Gale Group, strives to answer these and many other questions in a way that television broadcasts and newspapers cannot. In order to keep reports both simple and short, it is difficult for these media to give the watcher or reader enough background information to fully understand what is happening around the world today. HBH provides just that background, giving the general public, student, and teacher an explanation of each contemporary conflict from its start to its present and even its future. This thoroughness is accomplished not just by the in-depth material covered in the main body of each essay, but also by accompanying chronologies, textual and biographical sidebars, maps, and bibliographic sources. …Two volumes, each written in an accessible, informative way, will be released each year."
Volumes 1 and 2 were released in 2001, a year of great interest to me for a variety of reasons. So, I spent the rest of the evening studying these essays and related materials feeling honored to be in the company of some of the greatest thinkers of all time, in a room where one's thoughts can truly soar. I don't want to reveal which essays I found to be of greatest interest, in part because it is up to each of us to determine what we value most, but I will be incorporating what I have learned in my subsequent Seeking Alpha Insta-blog posts and Comments at
www.seekingalpha.com
. Please stay tuned.