Drive Shack Should Thank Biden And Mass Psychology
Feb. 19, 2021 1:02 PM ET
HK
Please Note: Blog posts are not selected, edited or screened by Seeking Alpha editors.
Summary
Consumer spending rises sharply after crises.
Its combination with government relief and support policies causes consumer spending boom.
In this context, we think that Drive Shack will benefit from the post - COVID19 era.
The purpose of this article is to highlight a non company financial reason why Drive Shack (DS) will benefit after the COVID19 pandemic is over. To those of you not familiar with Drive Shack, the story is as follows. Drive Shack is a company operating in the field of entertainment. More specifically:
"The Company owns and operates golf-related leisure and entertainment venues focused on bringing people together through competitive socializing, combining sports and entertainment with elevated food and beverage offerings.The Company conducts its business through an integrated portfolio spanning three brands, Drive Shack, American Golf, and Puttery. Drive Shack, which launched in 2018, owns and operates four entertainment golf venues featuring tech-enabled hitting bays with in-bay dining, full-service restaurants, bars, and event spaces. American Golf, the longest-running business in our portfolio, owns, operates, and manages 60 traditional golf properties spanning nine states throughout the U.S. Puttery, our newest competitive socializing and entertainment platform, is a small-store venue format featuring indoor tech-enabled putting with miniature golf courses, full-service restaurants, multiple bars, lounges, and VIP spaces. The Company expects to launch its first Puttery venue in 2021." (Source: Drive Shack's Latest 10Q)
To those new to the stock, Drive Shack is the child of Newcastle Investment Corporation which started as a mortgage REIT and ended up to, well, Drive Shack. Drive Shack started as an externally managed company, with all the fuss that this fact carries, but in late 2017 they internalized the management.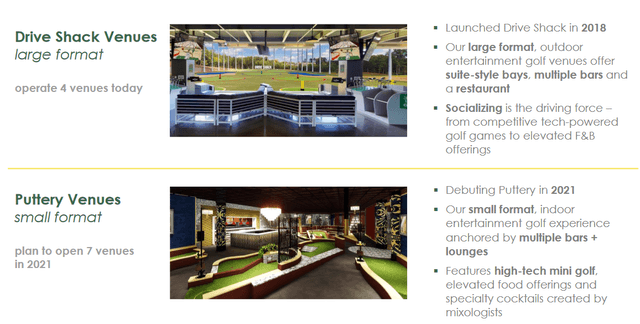 (Source: Drive Shack's December 2020 Investor Presentation)
The latest addition to the company's products is the Puttery type venue which is expected to launch in the first half of 2021. After a long time struggling within a sector that hadn't had the greatest of the prospects and while also being highly leveraged, the company saw its valuation rising rapidly during the past few weeks. In our opinion, this is explained by two factors. Firstly, the relative resiliency the company showed in its Q3 2020 results against COVID19 impact. We would expect an entertainment company to be among the first to be hit by the pandemic. However, Drive Shack's diversification between traditional and entertainment golf seems to have worked in its favor at this time. The company's revenues for the nine months ended in September 30 show a decline as compared to the same period of 2019, but we are talking about a roughly 16% decline in revenues which in our eyes is quite conservative, taking into consideration the circumstances caused by the pandemic.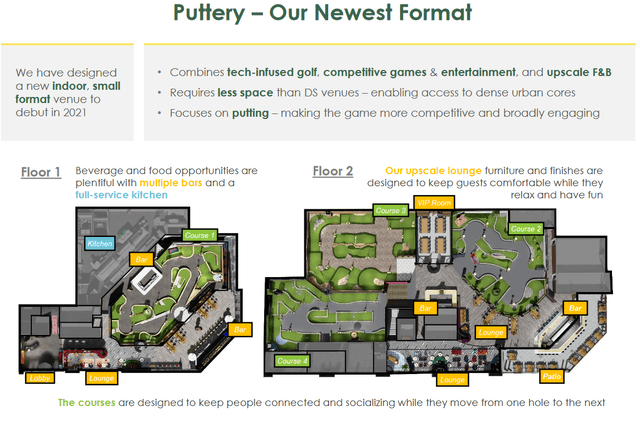 (Source: Drive Shack's December 2020 Investor Presentation)
However, the purpose of this article is not to dive into the company's financial figures but rather to support the argument that after a significant mass crisis, such as a war or a pandemic, there is a huge morale boost that often translates into an increase in outdoor entertainment spending.
According to the World Economic Forum, outdoor spending in the U.S. has decreased significantly. This is a major decline. Now what scientific research tells us is that consumer spending in general increases sharply after exiting the crisis. As we can see in the figure below, after WWII, there was a rapid, but rather short lived, increase in consumer expenditure. The same is also true for the period immediately after the Korean War.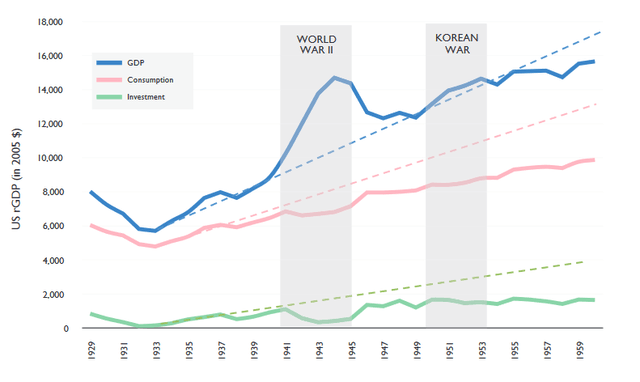 (Source: Economic Consequenses of War on the U.S. Economy, Institute for Economics and Peace)
We also know that in times of economic and general uncertainty, such as an economic recession or political instability or why not, a pandemic, people cut their unnecessary spending. As the graph below shows, alcohol, eating out and leisure are three categories of spending that consumers cut the most drastically.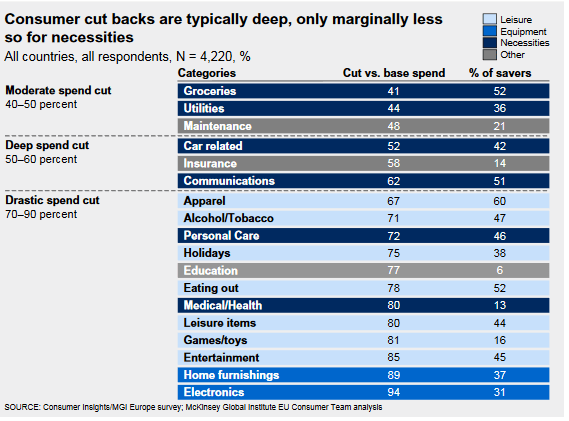 According to the available literature this drastic cut creates a suppressed spring effect. That is, going out of the crisis, areas whose expenditure was more drastically cut, are the ones that are set to boom. And that applies here because we are not dealing with a direct financial crisis / recession. We are dealing with the start and the anticipated end of a pandemic, which is more like an "on/off" event. That is, economic recovery is a slow process and that explains why consumer spending, and in particular food spending, after the end of an economic recession rises more smoothly than one would expect. However, things are somewhat different after the end of more "on/off" events, such as wars of pandemics.
When WWII came to an end, the U.S. saw an unprecedented rise in consumer expenditure. This trend is attributed partially to the prevailing view of the time that the American consumer is actually a patriot helping his country, and partially to psychological reasons. Let us don't forget the fact that during WWII, the U.S. had moved out of economic depression, helped by war time production.
In an analogy, Biden's administration is promoting a supportive agenda towards the U.S. economy, including minimum wage rise, employment protection and company financial support. They also have committed to mass COVID testing and vaccinations. We believe that these facts would be the initial necessary ingredients for a boost of consumer expenditure, the other one being the new, boosted morale caused by the anticipated end of the pandemic.
It is within this context that we believe that Drive Shack is set to thrive after COVID. The company has done a lot to adjust golf to the new era, while at the same time maintaining its traditional golf courses for diversification. They have created a nice and cozy venue, namely The Puttery, which we believe will be quite succesful in attracting consumers otherwise not really related to golf. A spike in consumer expenditure created by government relief policies and morale boost will benefit Drive Shack at least in the short term. 
Analyst's Disclosure: I/we have no positions in any stocks mentioned, and no plans to initiate any positions within the next 72 hours.
I wrote this article myself, and it expresses my own opinions. I am not receiving compensation for it (other than from Seeking Alpha). I have no business relationship with any company whose stock is mentioned in this article.
The contents of this article are for information purposes only. They should not be considered as an urge to invest in this particular company. Always perform you own due diligence before investing in the stock market. Also, be informed that a member of my family owns a small position in Drive Shack.
Seeking Alpha's Disclosure: Past performance is no guarantee of future results. No recommendation or advice is being given as to whether any investment is suitable for a particular investor. Any views or opinions expressed above may not reflect those of Seeking Alpha as a whole. Seeking Alpha is not a licensed securities dealer, broker or US investment adviser or investment bank. Our analysts are third party authors that include both professional investors and individual investors who may not be licensed or certified by any institute or regulatory body.