Thailand (NYSEARCA:THD) and Philippines (NYSEARCA:EPHE) have gotten off to a great start this year up 12% and 13% and including last year's gains, the 14 month return is 48% and 58%. While its true both are making new records in political stability, low interest rates and funds inflow - the valuations are pricing in much of the good news. We can see below that the Philippines stock market index, PCOMP, tripled off the 2008 lows to 6500 and the price to earnings (NYSE:PE) has hit 19x. This is the highest level since 2003 and I would argue that 19-20x is pricing in a "best case" scenario with little room for disappointment.
A key attraction of the Philippines and indeed emerging markets is their rapid GDP growth, domestic growth i.e.., low export as a % of GDP (especially lower exposure to Europe and Japan). However, with the major developed economies outlook improving, I suggest the domestic attraction is not so relevant. In addition, the Aquino government has talked up new infrastructure spending but has actually tendered out very little due to a desire to show how "clean" they are.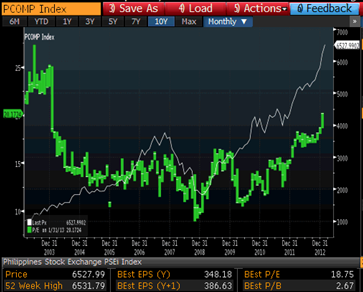 Thailand is a tougher call since the economy is more export oriented (75% of GDP vs 30% in the Philippines) and should benefit from an uptick in demand in USA, Ec, Japan and even China. In addition, the valuations are much lower: the PE ratio for the Thai index, the Set, is 14x.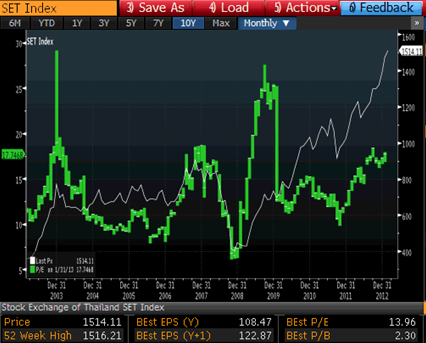 I am also concerned that the recent Yen weakness will slowdown foreign direct investment by Japanese companies. Monthly wages are now higher in Thailand than China at $345 vs $328 as per JETRO Japan after Thailand hiked the minimum wage 40% last year. I still expect Japanese companies to relocation from China to Southeast Asia but I suspect they will choose Vietnam and Cambodia where wages are much cheaper at $145 and $74.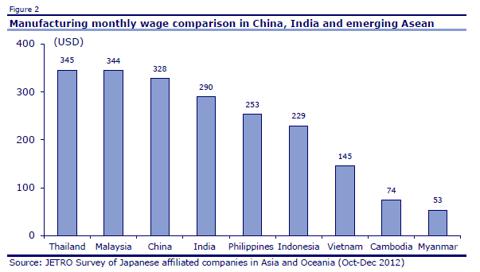 I suggest investors consider 2012 laggards such as Brazil (NYSEARCA:EWZ) and Russia (NYSEARCA:ERUS) where the price to earnings (PE) and expectations are much lower at 11 and 5x. The inverse of the PE i.e., 1/5 in Russia cases shows the potential earnings yield which in Russia case is 20% vs Philippines 1/19 is only 5%. Brazil and Russia are also indirect ways to benefit from a rebounding China since China is imports half the world's commodities such as iron ore and crude oil.
Disclosure: I have no positions in any stocks mentioned, and no plans to initiate any positions within the next 72 hours. I wrote this article myself, and it expresses my own opinions. I am not receiving compensation for it (other than from Seeking Alpha). I have no business relationship with any company whose stock is mentioned in this article.