Late Friday evening on October 4, 2013 Reuters broke a story that heavyweight US companies were taking a look at making a bid for 'strategic' assets of Blackberry (NASDAQ:BBRY).
At that moment the game changed.
For months the media was reporting negative after negative stories on the problems and disappointments surrounding the company.
Analysts from every stripe were convinced that nobody was interested in BBRY's assets and that Prem Watsa through Fairfax Financial Holdings LTD. was the knight to at least salvage some value for shareholders.
Over and over again it was reported that there was 'unlikely to be any other bidders for BBRY'.
Well, the tables are turning.
There is indeed interest in BBRY and from the initial sounds of it quite a bit.
These potential strategic bidders have once again turned the focus to what does Blackberry actually own of value. This article will explore the assets of the company and provide reasons why upon examination the Fairfax bid of 4.7B ($9/share) must fail.
BBRY's ASSETS:
1. In the Reuter's article breaking the story analysts value the secure messaging system that BBRY has created at between: 3 and 4.5 Billion
2. The Patent Portfolio valuation has ranged from between 2B and 4B in the past months.
Some historical perspective here is warranted ~ Nortel's patents on liquidation were estimated to fetch 900M and instead garnered 4.5B.
Consider the following: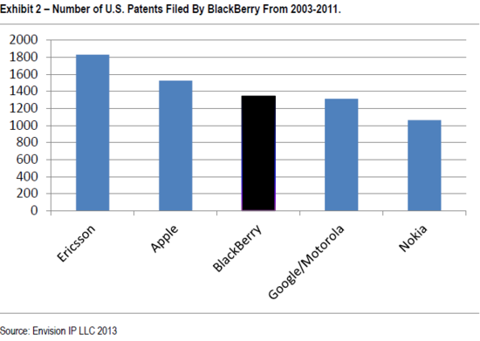 As you can see from the chart above BBRY's patent filings over the formative years of mobile communications is head and shoulders with Apple (NASDAQ:AAPL) and Google(NASDAQ:GOOG).
And these patents offer long-lasting value to a prospective purchaser: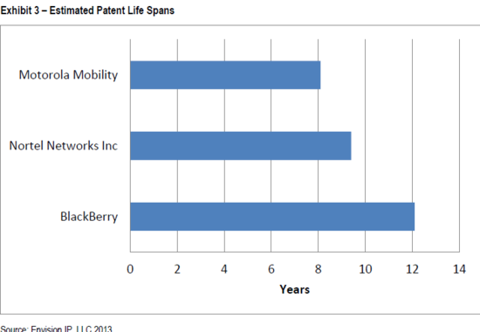 Indeed don't be surprised if a bidding war erupts over BBRY's patent treasures and the valuation skyrockets to 6B or more.
3. BBRY has 2.6B of cash on hand and no debts.
4. As of 2000, BBRY owned 1B worth of real estate. That value is likely much higher now that 13 years have elapsed. A valuation today of 1.5B is a conservative estimate.
5. QNX is thought to be worth between 500-750M with its applications in the automotive industry among others.
6. BBM, this one is hard to ascribe a value to but solely going on the valuation of WhatsApp (1B) and Skype (8B) and the metrics discussed here I would place the value somewhere in the middle. Again, taking a conservative approach and for the sake of the argument I ascribe a value of 4B to BBM
7. BES10 with 25,000 contracts at least in the testing phase at enterprises has value to a potential purchaser. Again let's be conservative and estimate the value at 500M.
BBRY's Liabilities
1. Much as been made of BBRY's off-balance sheet obligations to suppliers. At last count these obligations have been reduced in half and stand to be renegotiated if necessary. However it stands to reason that these obligations will be met in the next few quarters as BBRY did sell 5.9 million devices in the last quarter.
To be fair let's apply the conservatism principle and say that there remains 2B of outstanding liabilities/obligations.
2. Management announced that restructuring costs would be up to 400M to offset the 40% reduction in the workforce.
However, management also announced that the company would be receiving a 500M tax rebate by August of 2014 to reflect the writedown of 950M in Z10 inventory that was widely reported so this restructuring cost is a wash.
BBRY's Asset Valuation
Taking into consideration the foregoing we are left with the following rough valuation as to the assets of the company:
Note: Due to there being interest from several deep-pocketed companies I have used the higher end of the estimated valuations for the assets as I believe due to the strategic nature of the property there will be competition amongst respective bidders.
4.5 Billion for secured messaging system
4B for the patent portfolio (this could go much higher if history is any precedent)
2.6B in cash
1.5B in Real Estate Holdings
4B for BBM
750M for QNX
________________
Total: 17.35B
- approx 2B in Liabilities
= 15.35B Valuation
or approx 3.3x the Fairfax Bid!

According to a data compiled by Bloomberg if the Fairfax deal goes through it would represent the lowest ever valuation and revenue multiple recorded for similarly situated North American telecommunications or technology acquisitions.
CONCLUSION
The Board of Directors have a fiduciary duty of loyalty and care to their shareholders. The case law has held that this duty of care is heightened when entertaining offers to sell the company. The Board appears to be following through on this duty by allowing interested parties to see the books and be open to other offers.
However it will be up to the Shareholders to approve or reject the Fairfax offer should it firm up and there be no other higher bids and based on the breakdown above this offer ought to be REJECTED as being inadequate, bordeline insulting, and in essence, a theft of the company at 30 cents on the dollar.
Disclosure: I am long BBRY. I wrote this article myself, and it expresses my own opinions. I am not receiving compensation for it. I have no business relationship with any company whose stock is mentioned in this article.