Tiny Arb Could Net A Huge Return
Jan. 31, 2018 ...Special Situations and Arbs
Summary
An M&A stock below $1.
Upcoming vote not a sure thing.
An incomplete PR creates value.
Most of my trading is centered around M&A stocks. For instance at the moment I am trading options in deal targets NXP Semiconductor (NXPI), Monsanto (MON), Time Warner (TWX) and Akorn (AKRX) and trading stocks in Calpine (CPN), Bioverativ (BIVV) and Straight Path (STRP). 
All of the above deal stocks are well covered and owned by merger arbitrageurs. But from time to time smaller M&A stocks fall under the radar. The big players and funds don't compete for smaller deals since they can't buy enough of a position to matter. The individual merger arb investor on the other hand, can make excellent returns by participating in small arb.
One microcap deal is presenting an interesting risk-reward currently.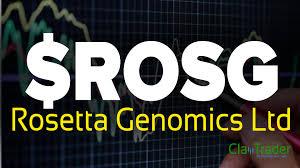 Micro Arb Deal
On December 14, 2017 Genoptix inked a deal to Acquire Rosetta Genomics (ROSG) for $10 Million in Cash. It doesn't get much more micro than that. 
The companies
Rosetta is pioneering the field of molecular diagnostics by offering rapid and accurate diagnostic information that enables physicians to make more timely and informed treatment decisions to improve patient care. Rosetta has developed a portfolio of unique diagnostic solutions for oncologists, urologists, endocrinologists, cytopathologists and other specialists to help them deliver better care to their patients.
Genoptix is a leading clinical oncology laboratory specializing in hematology and solid tumors, and operates one of the largest hematopathology centers in the U.S. It provides personalized and comprehensive diagnostic services to hematologists, oncologists and pathologists, with a specialization in diagnosing cancers and disorders in bone marrow, blood and lymph nodes.
After a comprehensive review of strategic alternatives that included financing, acquisitions, mergers, asset monetization and corporate partnerships, we determined that this proposed transaction with Genoptix is in the best interest of all Rosetta Genomics stakeholders, including our equity holders. Our current cash position is sufficient to fund operations only until the end of 2017, and given our current market capitalization, potential for pending delisting from the Nasdaq Capital Market and the difficult financing environment for microcap molecular diagnostics companies, we do not believe we could raise sufficient capital to continue as a going concern for an extended period of time-Kenneth Berlin, President and Chief Executive Officer of Rosetta Genomics, Dec 15,2017
Genoptix has provided a secured bridge loan facility of up to $1.8 million to fund the operations of Rosetta through the closing of the transaction.
The incomplete PR and 60 cent per share merger consideration
According to the companies' press release the consideration is:
Preliminarily estimated to be $0.60 per ordinary share, after deductions for debt, warrant termination payments, fees, expenses and other items. Shareholders of Rosetta Genomics are urged to carefully review the proxy statement because it will contain important information about the proposed transaction and the estimated closing purchase price for each ordinary share.
Good advice. Always read the filings. On December 21, a week after the deal was announced Rosetta filed a 6K which updated the merger consdieration:
After deductions and adjustments, the value to Rosetta's equity holders is preliminarily estimated to be $0.60 to $0.70 per ordinary share, in cash, with the exact price per ordinary share dependent on the final amounts of the deductions and adjustments that have not yet been fixed and the extent to which outstanding warrants are exercised and convertible debentures are converted prior to the Closing Date.
Wow. A possible additional 16.67% in cash. Yet the price didn't move up much on the new information.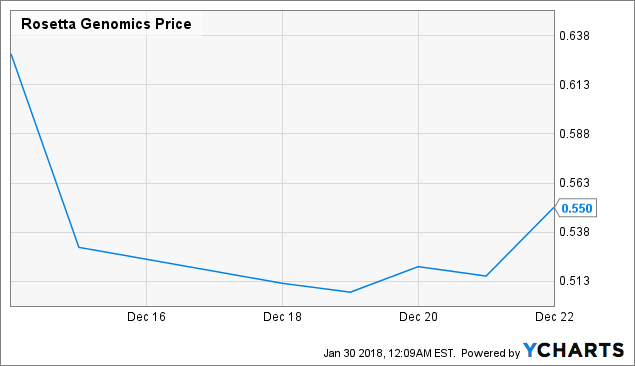 The Longterm Chart

Please make sure you are sitting down for the following chart. Same company. A decade or so timeframe. Reverse split. Losses. More reverse splits. More losses.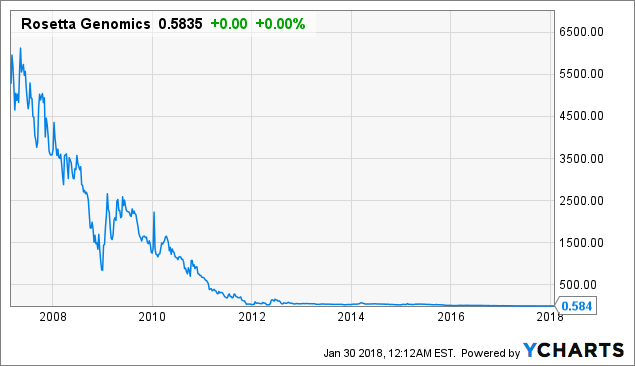 But charts are about the past. And the future is about the .60-.70 per share offer.
The Vote
And the upcoming vote. The vote is this Thursday February 1 at 10am. Rosetta needs a simple majority to approve. It is no layup. The shareholder base is made up of lots of underwater investors. Insiders own less than 1% of the stock. With ROSG down some 99.9 percent do some holders even follow the stock price? Do they even know there is a proposed merger? A vote?
And what about the shareholders that know there is a vote but are angry about how things turned out. Like SA commentator RollTheDiceInvestment:
Read the proxy statement and vote NO to the merger.
The CEO will get $350K, the CFO will get $100K. For what? For running the company into the ground and ripping off the shareholders?
Let it go BK. The stock is worth next to nothing anyway. Everyone should be screwed, not only the shareholders. No golden parachutes.
Besides, they will not even tell you exactly how much you will get per share. What if they used our money to keep the lights on and we will get less than $0.60?
For its part the company knows that getting the vote is a challenge. A lot of small shareholders to find and solicit. And that is what they have been doing.
January 22, 2018 

Dear Fellow Shareholder, 

We are urgently seeking your proxy vote FOR approval of the proposed merger of Rosetta Genomics Ltd. ("Rosetta Genomics") with a subsidiary of Genoptix, Inc. (the "Merger"). Under the terms of the Merger, Rosetta Genomics shareholders will be paid an amount preliminarily estimated to be $0.60 to $0.70 in cash (U.S.) per ordinary share, with the exact price per ordinary share to be determined when the Merger closes (the "Merger Consideration"). 

We wish to emphasize that the Board of Directors has explored many different strategic alternatives and concluded that the Merger is in the best interests of Rosetta Genomics' shareholders and that the Merger Consideration is the highest price reasonably attainable by Rosetta Genomics' shareholders in a sale of Rosetta Genomics. If the Merger is not completed, Rosetta Genomics will likely be insolvent (from a cash flow perspective), unable to finance operations and have no ready options for obtaining additional liquidity. In such circumstances, Rosetta Genomics may be forced to file for bankruptcy protection. 

Our records indicate that your shares remain unvoted. Please take immediate action to vote your Rosetta Genomics shares, preferably by internet or telephone, by following the enclosed proxy voting instructions. The proxy statement remains available for your review and reference at: www.proxyvote.com. 

You may also submit a telephone voice vote by calling the following toll-free number: 800-290-6427. You should clearly state your name, and the number of Rosetta Genomics shares you own, along with a contact phone number, on our recorded line. 

If you then state that you wish to vote "FOR" the Merger AND also that you are not personally associated with the buyer, Genoptix (by voting "NO" or "AGAINST" for 1A), your vote can be promptly processed and counted. 

Time is of the essence because the extraordinary general shareholders meeting to vote on the Merger is scheduled for February 1, 2018. Please vote your Rosetta Genomics shares today!

There is also an added complexity to the vote. Shareholders are required  to check a box saying they are not affiliated with Genoptix for the YES vote to count.

Additional thoughts

A no vote would likely lead to a postponement. And more borrowed money. And a lower stock price. Potentially a bankruptcy filing as the company warns in its letter.

The record date for determining shareholders entitled to notice of, and to vote at, the Extraordinary Meeting has been established as of the close of trading on December 27, 2017. That means arbs who have bought shares after December 27 are not able to vote. 

Conclusion

More people wager on the Super Bowl each year than any other single event. This year's game is on Sunday. But if one doesn't wish to wait until Sunday there is quite a gamble on the  table with Rosetta Genomics. With shares trading at .584 there is as much as 20% upside  for a few days work. Of course the downside could be zero, though I do think a delayed vote would reduce the deal price but could still leave potential for some profit if the subsequent vote passed.

ROSG Price data by YCharts
Disclosure: I am/we are long ROSG.
Additional disclosure: My position size in ROSG is small.