Every once in a while i come across some big opportunities where we score big. Such as looking at a few of our success stories HERE and My Special Report stocks have had a history of performing quite well such as looking HERE and HERE . Well I have another FOUS4 Penny Stock To buy right now that could be on the verge of a HUGE RIP That I alerted to my STUDENTS yesterday.
This is the same Pattern that i Ripped RPRX for $10k and many other huge trades that have lead to my$370k in profits trading using my PROVEN STRATEGY.
This next big penny stock to buy is none other than BFCF (BFC Financial Corporation) . Being that i'm a techincal analyst i let the charts do the talking in my trading. We are currently breaking out to all time highs here spiking on volume with no resistance in sight. So there is definitely room to run. That a long with the fact that this is a FOUS4 #Force pattern there is definitely potential for a huge rip here. But. As awalys, sure things do not exist, so manage risk.
I have a starter position in here and intend on adding more to this giving the right opportunities. To get the play by play for my actions on this trade join me everyday trading LIVE ON FOUSTV HERE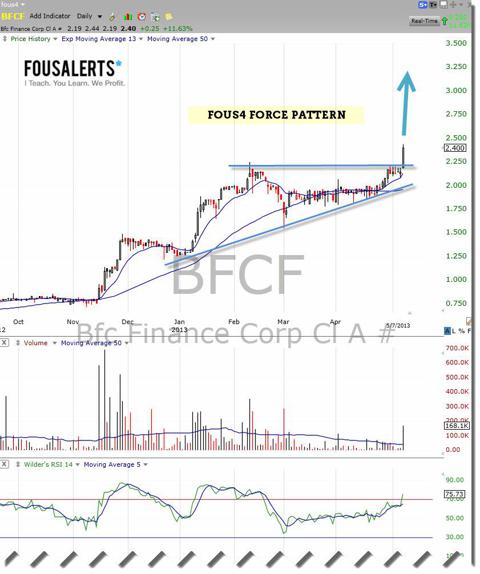 Disclosure: I am long BFCF.PK.