Trading Your Plan Not Others
Please Note: Blog posts are not selected, edited or screened by Seeking Alpha editors.
ETF Research Analysis - daily, ETF investing, Gold and Silver Broker Dealer
Seeking Alpha Analyst Since 2010
Sign up for the announcement of my upcoming book, "How To Profit In Up and Down Markets" by going to https://profitinupanddownmarkets.com/ Author of Buy Gold and Silver Safely and Illusions of Wealth. ETF Trading Service where we trade triple leveraged ETFs and seller of physical gold and silver precious metals through Buy Gold and Silver Safely
Summary
Robinhood traders are upset at what? The fact they can't keep a stop?
Hedge Funds are upset at what? The fact a band of merrie men beat them at their own game?
Fundamentals vs Price Action.
Long Term vs Short Term mentality - what are you?
So much talk about silver of late as the next asset to pop.
I'm going to keep this short and to the point as I spend the next month in seclusion finishing my book, How To Profit In Up and Down Markets which you can sign up for its release here: https://www.profitinupanddownmarkets.com/
First off, great job by you all to keep the political blog article I did at a high level of respect for each other, and at times heated, we've moved past this till 2024 and can get back to trading. 
The title of this blog is to make a point that many do not have a plan when it comes to trading. They are followers, not leaders. They hear someone else doing something and then jump on board without a plan of exit. What was clear the last week is that many r/WallStreetBets traders were upset that their favorite stocks were banned from trading by many brokerages, primarily Robinhood. But their lack of a plan is to blame if they didn't take profit or suffered big losses, and their lack of awareness to what one online broker foreshadowed. 
TD Ameritrade on 1/27 curtailed the trading of two stocks that were heavily shorted by the r/WallStreetBets traders. What did this mean to your astute trader? Get out. These stocks were hitting new highs and GME had moved up 720% in 5 days with a move over over 200% on 1/27 alone. 
Hedge funds were upset that their short game was exposed by these traders and on 1/28 when the coin was flipped to the other side, all sorts of speculation occurred once Robinhood banned the buying of not just 2 but many stocks that were being "manipulated" by the daytraders.   r/WallStreetBets had grown in popularity and garnered 800,000 new members in a very short period of time. 
In scanning the r/WallStreetBets comment section, most all had the same plan of attack. Buy and don't sell. Dave Portnoy, who has a twitter account and has been very vocal during the bull market run up, buying many popular stocks, and doing quite well with his recommendations, was all of a sudden upset at the manipulation, claiming  Everybody On Wall Street Who Had A Hand In Today's Crime Needs To Go To Prison 
Is he right? Wrong? As a trader, why should it matter if you were trading your plan? You had a choice to get out of the trade and an early warning to do so. The problem is, most people don't know how to trade. We're never taught anything about how to invest in school, just like we're not taught anything about the Federal Reserve or how our monetary system works. That's how Congress, both sides, can make debt slaves of all of you, the point I was making in my last blog. 
David Portnoy, I think is making a good point when he calls out the Robinhood CEO saying that they "limited trade to protect firm and customers." But to ride it out and go down a million is ludicrous, even if everyone else is an crook that caused the decline or limited the buying. A trading plan would have got Portnoy out and back in lower if he still wanted to own it. 
Online Brokers Throw Wrench Into Trading Plans
We know fundamentals don't matter any longer with the market, but there's a new twist that's screwing up normal trading plans; these online brokers are not allowing large purchases of the stock you sell. 
Whenever you see something that doesn't make sense, it behooves you to lock in profit or get out if you just got in. We've seen what the market can do to traders who were in XIV in 2019 or TVIX in 2012. Both interestingly developed by Credit Suisse. If there was ever a company for  r/WallStreetBets to go after, Credit Suisse should be near the top of the list. 
One thing a good trader knows, is there is always another trade coming. One where their are less issues and unknowns that can attack it, and one where they know, based on what we have seen the last week or so, that they can sell without a problem. Speaking of which, if main street couldn't buy GME, when someone sold, who did those shares go to? Asking for a friend. 
The Next Move Looks To Be In Silver
Rumors are flying around that SLV is the next to be attacked by the reddit crowd. We'll find out soon enough if true. Premiums have been rising and there are up to a month delay on some products right now. It's Sunday and I am getting some emails already about buying in the morning when physical metals can be purchased. I imagine it will be a busy day tomorrow. And for years to come. For many more reasons than a bunch of reddit users. But have a trading plan. 
DSI Data for close 1/29/2021 Jake Bernstein to subscribe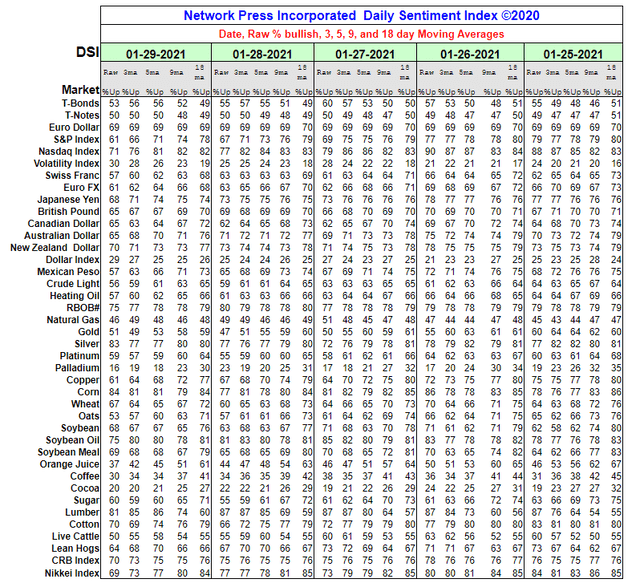 Seeking Alpha's Disclosure: Past performance is no guarantee of future results. No recommendation or advice is being given as to whether any investment is suitable for a particular investor. Any views or opinions expressed above may not reflect those of Seeking Alpha as a whole. Seeking Alpha is not a licensed securities dealer, broker or US investment adviser or investment bank. Our analysts are third party authors that include both professional investors and individual investors who may not be licensed or certified by any institute or regulatory body.