Gold technical chart update.
Looking for a pullback and last test of long trending symmetrical triangle chart pattern. Daily RSI readings have gave us insightful hints as to when Gold has been overbought and oversold. Currently we are at mid-line, however the trend is lower.
Compute the height from the highest peak (point A in The Measure Rule figure to the right) to the lowest valley in the pattern (NYSE:B) then multiply it by the above "percentage meeting price target." Add it (upward breakouts) or subtract it (downward breakouts) from the breakout price. The breakout price is the point at which price pierces the trendline. The figure shows an upward breakout with target price C.
Patterns with heavy breakout volume (above the 30-day average) do better.
Triangles with breakouts within a third of the yearly low perform best.
Triangles perform best post breakout when they appear at the start of trends.
Throwbacks and pullbacks hurt post breakout performance.
http://thepatternsite.com/st.html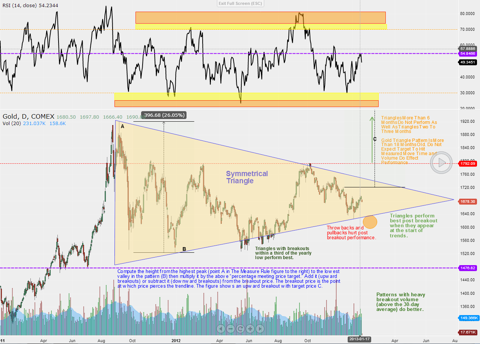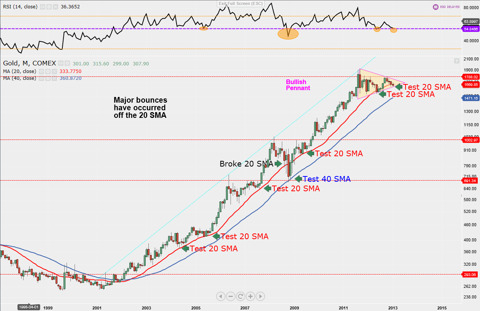 Above Chart
Monthly bullish triangle is forming, and prices have managed to hold the 20-month simple moving average this week. Historically, the 20 SMA has been a very good support level - outside of the late-2008 correction that managed top hold the 40 SMA. RSI tends to bottom around the 50-level on these corrections - which is close to where it is at present.
The probabilities favor that this current test of the 20 SMA will be successful. The alternative would be for prices to clear break the 20 SMA and fall very quickly towards the 40 SMA support level at $1470/oz.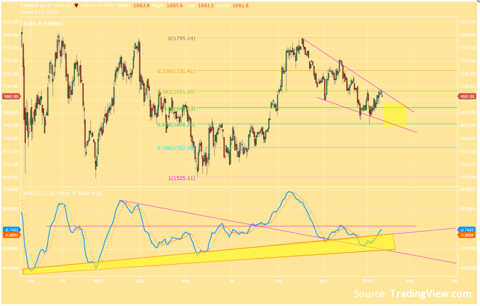 JR @ Trading View https://www.tradingview.com/v/SSD9xEnw/