Introduction
Chipotle (NYSE:CMG) has been facing a corporate disaster due to the e coli outbreak in their restaurants across the county. In turn their stock price has also been under pressure by declining 35% since early August. I believe the fears are overblown and offer a unique buying opportunity to an undervalued company.
The Problem
Over 500 cases of e coli linked to chipotle have been reported. Other reports suggest that this number could be much greater. Originally this was believed to be an isolated incident in the northwest region. As more reports surfaced throughout the U.S., the conjecture of an isolated incident was quickly put to rest.
What makes this chipotle case so interesting is that they pride themselves on using organic and natural ingredients for their products. They even coined the phrase 'Food with Integrity" and ran ads on the dangers of industrialized agricultural. Due to the nature of the incident, it appears that the e coli is linked to a major supplier that supplies their restaurants all across the country.
The timing of this incident could not have come at a worse time. Unemployment is around 5% and Americans are beginning to eat out more. This was first noticed in April when it was reported that Americans for the first time ever spent more eating out than they did buying groceries. Chipotle reported same store sales fell 16% in November.
Restructuring
In chipotles case things are going to get a little worse before they get better. Chipotle will start restructuring their supply chain and start to centralize items before they reach the kitchen. The idea behind this is reducing the amount of preparation that takes place in the kitchen and start preparing more food outside the actual restaurants in a more controllable environment. Of course this is going to cost money. CEO Mark Ells has not put a specific dollar amount to this but said it's going to be "Very very expensive". Not only will this be expensive but also chipotle is going to face lawsuits and litigation expenses as well. All of this is going to cost a lot of money and take some time.
Buying Opportunity
Buying chipotles stock recently has been like trying to catch a falling knife. As I stated above CMG has fallen 34% since August from a price of $757 to $495. Over the same time period CMG's P/E has dropped to 29.54x this makes CMG's P/E in line with the industry average.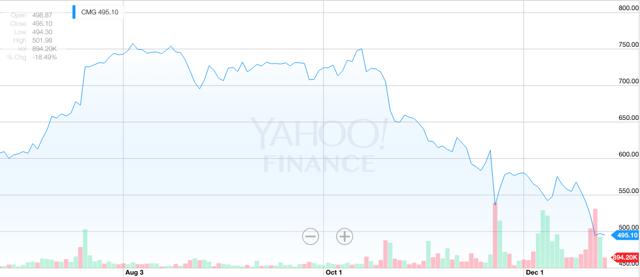 Brand
The first reason why I believe chipotle will recover is due to their strong brand name. Other than this incident of e coli, chipotle has been seen as a consumer conscience firm. They offer great food that taste great and built their reputation on using natural healthy ingredients. As consumer preferences have been changing toward this health conscience movement, chipotles products serve a growing demand for more natural food. This image of healthy organic natural food chipotle offers allows for them to charge a premium for their products. Consumers can expect to pay anywhere from $7 to $10 for a single burrito. The chipotle brand is the reason consumers continually come back time and time again to indulge themselves in these tasty yet socially aware burritos.
Growth
The second reason why I believe chipotle will recover is their steady growth performance over the past 5 years. Chipotles stock price has been on a steady climb ever since the 2008 financial crisis. Chipotle reached a low price of $44 in 2008 and rose to $758 in August of 2015. The justification for this rapid rise has been due to CMG's incredible growth. Over the past 10 years chipotle's net income has a CAGR of 57%. Over the past 5 years chipotles average net margin has been 10%. Return on equity over the same time period has averaged 23.94%. Tying it all together chipotle has averaged over the past 5 years a ROIC of 23.88%. For a fragmented industry like the restaurant industry is, chipotles financial performance combined with growth has been exceptional.
To further this growth chipotle is expected to open between 215 to 225 stores in 2015. CEO Mark Ells has said they still plan to open 220 to 235 new restaurants in 2016.
Conclusion
When you combine chipotles growth with their brand name one thing becomes clear. People love chipotle and want chipotle in their cities. Unfortunately, over the next few quarter's chipotles stock price as well as earnings will be under pressure. The question then becomes: when does the bleeding stop? Because of the newness of the situation it is hard to gauge exactly how far chipotle will drop. I believe when the price reaches close $400 CMG will become severely undervalued and present investors a buying opportunity. If investors will be patient and wait for the dust to settle, chipotle will turn the corner and become a great buy for a long term investor.
Disclosure: I/we have no positions in any stocks mentioned, and no plans to initiate any positions within the next 72 hours.
Additional disclosure: A majority of my information was derived from factset.