Introduction
In this article I will be analyzing Reed Elsevier PLC (RUK) from a technical perspective. Before I show the charts and begin the analysis, here is a brief summary of the company.
"Reed Elsevier provides professional information solutions worldwide. The company offers information and workflow tools that enables researchers to generate insights in the advancement of scientific discovery; publishes science and technology research articles and book titles; and provides abstract and citation databases. Reed Elsevier PLC was founded in 1894 and is based in London, the United Kingdom." (finance.yahoo.com/q/pr)
Although I won't go into fundamentals here, there is one more thing worth noting about this company. The stock RUK is one of two subsidiaries that together own the Reed Elsevier PLC Group parent company. There is a great article on SeekingAlpha by author "Dividends Boom" (seekingalpha.com/article/1349931-investigating-reed-elsevier-s-dual-listing-structure) that can explain the details of this structure and its implications for your portfolio if you would like to know more.
Here are the charts:
(4 day chart dating back to 2007)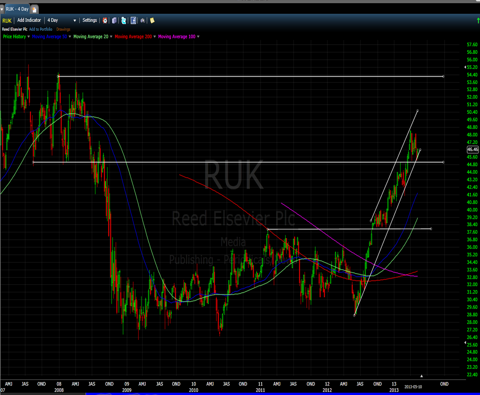 (1 day chart dating back to May 2012)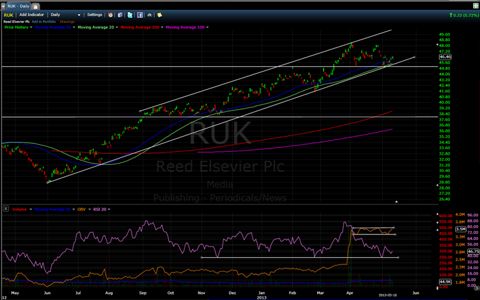 Chart Characteristics: Support and Resistance
Resistance at $45 on February 1st became support twice, once in early April and again in early May, and is thus a pivot point. This price level also acted as support two times back in 2007 in March and October, and a third time in January 2008, giving it some historical credibility.
There isn't significant resistance until around $54, and the next support doesn't come in until $38. The $54 would be my longest term price target, and the top of the channel would be the shortest term target. This can all be seen on the 3-day chart that goes back to 2007.
Trend Channel
A trend channel exists that started in June of 2012. The lower trend-line has been tested 3 times and it looks like it's about to be tested again in the next few days. The upper trend-line has been tested 2 times and will likely test it again, although over time it gets higher. The lower trend-line is currently at about $45.40 and the upper is at about $50.
Volume and OBV
In early April for 3 days the volume spiked, reaching approximately 20x average daily volume on 2 of those days, which were all up-days as the price closed higher each day. Since then, the price has trended slightly downwards and volume has reverted back to slightly above its 50 day average.
On Balance Volume, or OBV essentially compares volume on up-days to volume on down-days to see whether a stock is being accumulated or sold off. The OBV goes up when volume on an up-day is higher than volume on a down-day, and is used by comparing it to the price to spot reversals and confirm trends. If the OBV is rising and the stock price falling or stagnant expect the price to move upwards, and if the OBV is falling while the stock price is rising or stagnant, expect the price to fall. The OBV can be used as a leading indicator to predict reversals in this way, but can also be used as a lagging indicator to confirm breakouts.
The spike in daily volume in early April shot the OBV value way up, but it's the OBV trend relative to price, not the absolute value, that matters. The OBV since the volume spike in early April has been trending sideways within a range while price has been trending slightly downwards. This is a slightly bullish signal. A breakout to the upside in the OBV range would suggest the trend is still very much intact.
RSI
The RSI is most commonly used to gauge whether a stock or index is overbought or oversold in order to predict trend reversals. The RSI can also be used during an uptrend to give buy signals at pullbacks. Often the RSI will find support at the same level during pullbacks in an uptrend, and when RSI reaches that level it is a buy signal, and when it breaks below it that is a bearish signal.
Support for the RSI is at about 38, and has been tested November 16th, February 25th, and most recently May 1st. Each of these times the price has was also at either a lower trend-line or support level, giving credibility to the RSI support at 38. There is a good chance this level is tested again before the uptrend resumes, and would likely be at the lower trend-line or at the support price at $45.
Analysis:
Where a lower trend-line meets a significant support level is a great entry point for a trend trading strategy. The strength of the support level for RUK is very encouraging, and the fact that there have been no lower lows during this retracement further suggests the trend is still intact.
The volume remaining higher than average (50 day) since the April high while the stock trended slightly downwards is a bit concerning. Retracements against the trend typically have below average volume, as high volume is characteristic of a trend reversal.
The OBV, however, is encouraging. The OBV has been trending sideways since the April high while the stock price has trended slightly downwards. This is a weak bullish signal as I would like to see a rising OBV with stagnant or falling prices. Although it is weak, it is still a signal worth considering.
The RSI is the final bullish signal from the charts. The support at 38 has consistently given valid buy signals, and recently gave another buy signal on May 1st.
Combining all these signals together gives a clear view of a good trade. The strength of the support level and credibility of the trend are the primary reasons for the trade, and are further complimented by the other buy signals given by the RSI and OBV.
Trade Setup:
Place a buy-limit at the lower trend-line, which is currently about $45.40, with a stop just below the support at $45. A short term price target exists at the top of the channel which is currently about $50, which will increase as time passes. Stops should be adjusted to below the channel as the price increases in order to lock-in profits as you go. A longer term price target exists at $54 and would be a wise exit point assuming the trend stays intact and you don't get stopped out below the lower trend-line first.
Thanks for reading. I appreciate any and all feedback.
Disclosure: I have no positions in any stocks mentioned, but may initiate a long position in RUK over the next 72 hours.