The U.S. market had another roller coaster ride in today trading. All major indices had a positive opening due to positive macroeconomic data. The Manufacturing ISM report was surprisingly bullish, ISM's Employment Index climbed to 57.7% in October which is higher than September data at 56.5%. October Purchasing Managers Index went up to 56.9%; this is very bullish as Wall Street economists were expecting a dip to 54.

The S&P 500 index high of the day was 1,195.81 shortly after the open. However, market participants were profit taking all day long, sending it to the low at 1,177.65. What was the cause of the "reversal of fortune"? Traders blamed today sell-off on several reasons, all of which came from the financial. Weakness in this troubling sector was due to news of the SEC investigation over a sub prime deal, and lingering fear of foreclosure mess saga. The Financial Select Sector SPDR Fund (NYSEARCA:XLF) went into negative territory as selling accelerating right after open. XLF, however, closed at $14.56, up +0.01% when investors were bargain buying in the last hour of trading.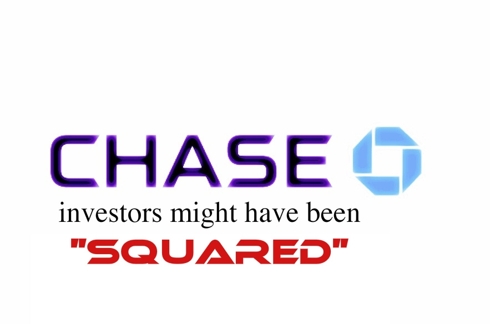 As one might recall, there is an endless string of negative headlines for the financial recently. Today we had more unwelcomed news for the already-troubling sector. The SEC is investigating J.P. Morgan Chase & Co. over the sub prime mortgages and CDO mess called "Squared,"  a collateralized debt obligations made up of other forms of CDOs. ProPulica stated on Monday that Magnetar Capital, a hedge fund firm based in Illinois, invested in the riskiest CDO from JPM in 2007. The SEC is investing whether or not the investment bank JPM disclosed adequate information to investors about "Squared" and Magnetar's role in the deal. JPM shares closed at $37.42, down -0.56%.

Foreclosure crisis also caused weakness in other banks. Last few weeks, prominent banking analyst at Rochdale Securities, Richard Bove, has predicted a heavy price tag for the foreclosure crisis at $80 billions. Bank of America faced a mounting pressure, a $47 billions worth of foreclosure mess and investors' lawsuits. BAC shares tanked almost -0.50% at 3PM EST time but buyers suddenly stepping in the last hour. Bank of America shares surprisingly closed up +0.45% to $11.50.

Today market action is surely causing some confusion. Market participants are trying to understand major factors such as midterm election, which will starting tomorrow. Then on Wednesday, there is the Federal Reserve decision on the second round of quantitative easing, known as Q2. Other factors such as positive earning seasons and inspiring macro data also played a major role. Weakness of the financial with headlines risks like the SEC investigation on CDO mess and foreclosure crisis, however, surely put a lid on the recent rally.

The S&P 500 has strong supports at its 20d-MA at 1175.22 and 1150. The next resistance are 1196.14 and the psychological level of 1200. We believe the market have a good reason to rally above the 1200, giving positive catalysts such as midterm election and positive earning season. Quantitative easing is also another bullish factor for the market. Having said that, it's important to wait for the market to consolidate at the time being. A break out above 1200 with heavy volumes or institutional buying would be a signal to go long. Only stocks with strong earing stories are good candidates for a long trade.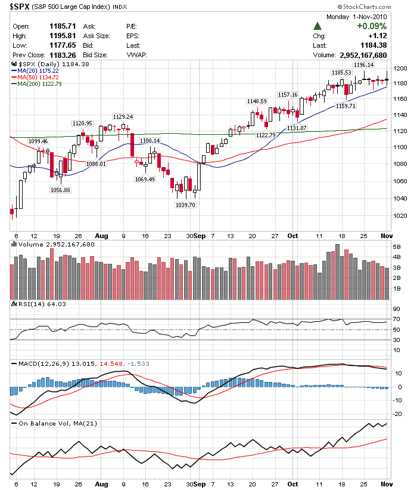 Best regards to all, and good luck in your trading.
Disclosure: No positions at the time of writing.