The U.S. equities market today was officially in the bull-market territory with all indices at new high due to one main reason, QE2 or the second round of quantitative easing. Yesterday at 2:15PM EST the Federal Reserve announced that it will put $600 billions into long term treasury. The FED will be on a buying-spree of government bonds; US $75 billion per month until June, 2011. FED Chairman Ben Bernanke's language was clear; he wants the bond market to dive, the dollar to dip, and the equities market to fly.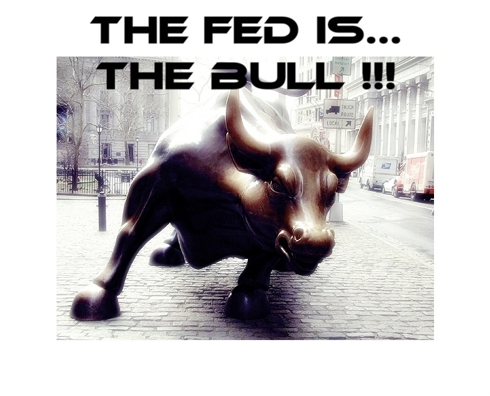 The S&P 500 closed at new high since September 2008, up +1.93% to 1,221.06; Nasdaq up +1.46% to 2,577.34 and the DOW up +1.96% to 11,434.84. News that the FED might allow major banks to increase dividends also helped the financial index to break out. The Financial Select Sector SPDR (NYSEARCA:XLF), closed up +3.19% to %15.21. Bank of America and JP Morgan Chae & Co. surprisingly led the financial to the upside in today trading. BAC shares closed up +5.30% to $12.13 and JPM shares up +5.51% to $39.80 by the closing bell.

On September 25, hedge fund titan David Tepper stated that Wall Street "animal spirit" would be awakened and that the market would go up with more quantitative easing. "Stocks will do well, bonds will not do as well if the FED does more quantitative easing," said Tepper.  A powerful rally today proved that Tepper was "right on the money" with his bullish call. Julian Robertson, Tiger Management Chairman, however seemed to disagreed with the FED's move. Today on a CNBC exclusive interview, he said that "long term ramifications of printing money may not always be great," citing reasons such as inflation.  

As traders, one should not go against the trend nor fight the FED. We would look for opportunities to re-enter the long trades at healthy pull back. Commodities ETFs and commodities-related stocks and stocks with great earning stories would be good candidates. The S&P 500 next targets are 1230 and 1250.  Supports now are 1200 and 1180.




Best regards to all, and good luck in your trading.
Disclosure: No positions at the time of writing