Stocks closed mixed across Asia today, due to the news of President Obama's fifty billion stimulus plan on infra structure, as well as business tax cut. The Shanghai Composite Index up +0.078% to 2,696.336, the Shanghai 180 A share index up +0.15% to 6,290.31, Taiwanese market TWSE down -0.08% to 7,884.40, HongKong Hang Seng up +0.22% to 21,401.79, Singapore STI up +0.05% to 3,036.09, Nikkei down -0.81% to 9,226.00, South Korea, the Kospi down -0.26% to 1,787.74, Australia (the S&P/ASX 200) down -0.05% to 4,573.24, and India market, the S&P/CNX 500 up +0.39% to 4,712.15. The Bank of Japan also signaled that government's currency intervention will be on the way to stimulate the economy. However, the BOJ also raised concern in regard to the U.S. economic uncertainty.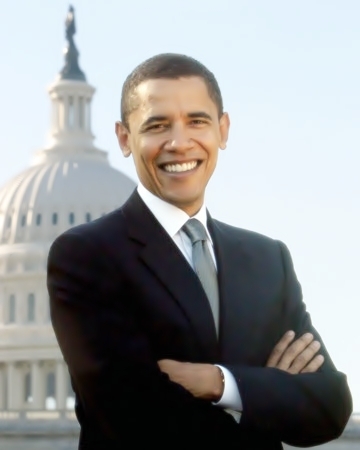 President Obama's $50 billion stimulus package and business tax cut plan is also the focus in Wall Street chatter today. The question is, will the stimulus be good enough to induce some life into the market. Analyst Binky Chadha at Deutsche Bank believed that historically, the S&P 5000 would enjoy a gain of 8% on average within three months of an election. Prominent fund manager Louis Navellier also shared the same view, citing midterm election would be a positive catalyst for the U.S. equities market. 
Good news today also came from Oracle Corp. (NYSE:
ORCL
), the company announced Mark Hurd as co-president; the news sent ORCL shares jumped 5.85% to $24.26. Both analysts at prominent Wall Street firms, Goldman Sachs and Morgan Stanley, see this news as very positive for the stock. Goldman analyst added ORCL shares to the firm's "conviction buy list", given a target of $27.
The equities markets, however, break a four-day winning streak as European debt issues continue to rattle U.S. investors in today trading session. The DOW down -1.03% to 10,340.69, the Nasdaq down -1.11% to 2,208.89, and the S&P 500 down -1.15% to 1,091.84. Regardless of the sell-off in Wall Street, Brian Belski, chief investment strategist at Oppenheimer & Co. still maintained the 1300 target for the S&P 500 and he is bullish, citing investors should not pay too much attention to the low-trading volume season. David Pearl, co-founder and lead Portfolio Manager of Epoch's U.S. service is also on the bull camp, citing the U.S. would have weak recovery for next year, but stocks are trading at undervalued PE and low mutiples. He recommended investors to look for stocks with dividend and strong balance sheet such as Microsoft Corp. (NASDAQ:
MSFT
).
Technically, supports for the S&P now are the 50d-MA at 1082.20, the 20d-MA at 1076.95 and the 1060 level. Resistance now are the psychological level at 1100, the 200d-MA at 1115.51, and the June high at 1131.23.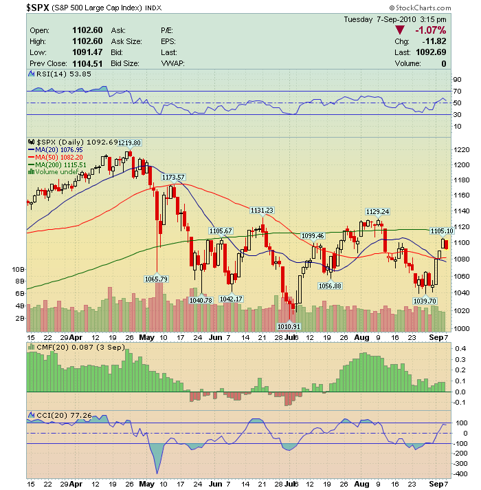 Best regards to all, and good luck in your trading.
Disclosure:
No positions in stocks mentioned