Thank to the red dragon, today the Asian market were on fired across the board. The Shanghai Composite Index up +0.94% to 2,688.32; the Shanghai 180 A share index up +0.75% to 6,296.89; Taiwanese market TWSE, up +2.55% to 8,091.30; Hong Kong Hang Seng, up +1.89% to 21,658.35; Singapore STI up +1.47% to 3,066.81; Nikkei up +0.89% to 9,321.82; South Korea, the Kospi up +0.90% to 1,818.86; Australia (the S&P/ASX 200) up +1.20% to 4,614.93; and India market, the S&P/CNX 500 up +1.54% to 4,813.25. The two main reasons for today impressive rally are (1)China released a better-than-expected August industrial production, up 13.9% y/y versus expectation of 13.0%. And (2)the European Commission just boosted forecast GDP for sixteen countries in Europe. Prediction for GDP growth increased to 1.8% versus a previous consensus of only 1%, the commission stated Monday.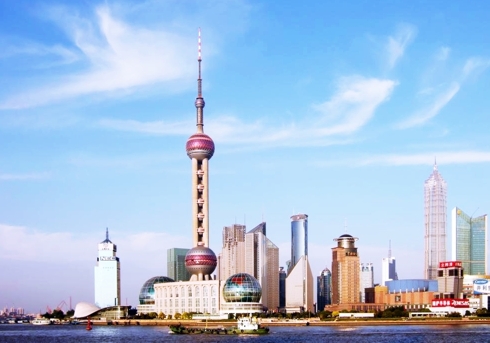 U.S. equities were rallying out of the gate to the highest levels in a month as investors' sentiment lifted up, mostly due to China data and the financial sectors. The S&P 500 traded above its 200d-MA and hit the high of 1123.87 at around 11:16AM EST; the DOW high of day was 10,567.59 and Nasdaq touched the high of 2,289.49. All indexes are now positive for 2010; up 8th time in 9 sessions. The market so far on pace for the best monthly percentage gain since July 2009. Today we also had a nice rally for the financial sector and regional banks, due to upgrades from Sanford C Bernstein. Regions Financial Corp. (NYSE:
RF
) up 5.66% to 7.28; BAC up +2.95% to 13.95; GS up +2.65% to 154.37; JPM up +3.42% to 41.12 to name a few.
Vince Farrell, chief investment officer at Soleil Securities is skeptical of today rally. "Strong resistance is the 1130 range," he said. Micheal K. Farr, President and majority owner of investment management firm Farr, Miller & Washington, also agreed that the market needs to break above the June high at the 1130s level. He likes blue chip and stocks with dividend for long term time-line and most importantly, he believes the market will cross above 1130. Jeff Palma, head of global equity strategy for UBS also has a positive outlook for U.S. equities, citing all the macroeconomic data are all very positive. James H. Quigley, CEO of Deloitte Touche Tohmatsu also shared his very bullish for global growth. Today he said his firm will hire a quarter of a million talented individuals over the next five years and 40,000 new hires in the next year alone.
The DOW closed up +0.78% to 10,544.13; Nasdaq up +1.93% to 2,285.71. The S&P managed to close above the 200d-MA, up +1.11% to 1,121.90. This month the index was up 6.6% and hit one month high. Technically, "momentum is improved, leading to a BUY signal for the first time since April-2010," said Katie Stockton, Managing Director and Chief Market Technician at MKM Partners. She strong believes that the S&P 500 is poised for a strong rally to new high in 2011; her target is 1220-1250 for next year. Carter Worth, chief market technician at Oppenheimer & Co. is "cautiously bullish". The market will have some struggle to climb above June high at 1131 and August high at 1129; the S&P 500 might go to 1140-1150 in the near term due to upward momentum, he explained.
Obvious conclusion for today trading session is that traders should watch the 1131 level very closely. The market has tried to climb above June high but failed in several attempts in August. If we can go above this critical resistance, surely traders would cover their short positions and program buying will also kick in. Above 1131, the next target are 1140, 1150 & 1170 range. If we can't go above the 1131 level, traders will short into it. Support for the S&P now are the 200d-MA at 1115.69, the 50d-MA at 1087.40 and the 20d-MA at 1079.96.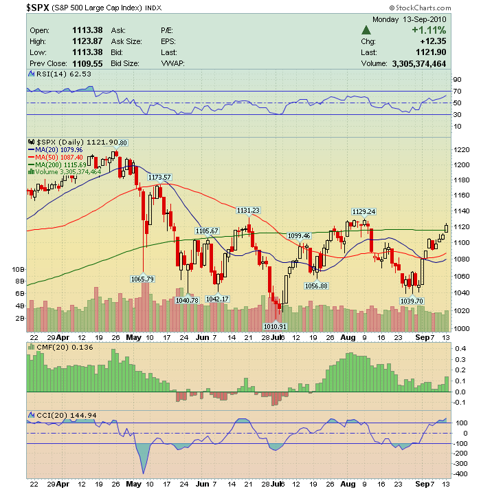 Best regard to all, and good luck in your trading.
Disclosure:
NO positions in stocks mentioned at the time of writing