U.S. housing weakness and slow economic recovery fear seemed to be the theme in Asia market today. Most indexes were trading in red by the closing bell. The Shanghai Composite Index down -1.89% to 2,602.47; the Shanghai 180 A share index down -1.82% to 5,995.04; Taiwanese market TWSE down -0.78% to 8,099.75; Hong Kong Hang Seng down -0.16% to 21,691.45; Singapore STI down -13% to 3,6067.11; Nikkei down -0.07% to 9,509.50; South Korea, the Kospi down -0.66% to 1,811.85; Australia (the S&P/ASX 200) down -1.21% to 4,605.32; and India market, the S&P/CNX 500 down -0.76% to 4,824.14. Credit Suisse Group AG advised investors to take profit, citing the weakness in U.S. housing market would continue to put pressure on markets worldwide in the near term. Bank and mining stocks were tanking in Asia as double-dip recession fear continued to escalate.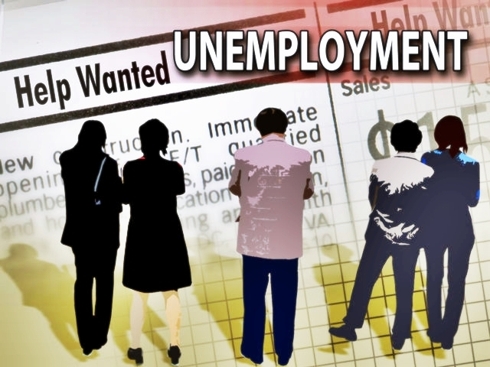 In Wall Street we had relative good macroeconomic data this morning. Applications for U.S. unemployment benefits unexpectedly fell last week to the lowest level in two months, a sign that the labor market is improving. Initial jobless claims dropped by 3,000 to 450,000 in the week ended Sept. 11, the Labor Department said Thrusday in Washington. According to a survey by Bloomberg, Wall Street economists were expecting for a rise to 459,000. John Herrmann, senior fixed- income strategist at State Street Global Markets LLC, commented that today data was a silver lining after a long period of uncertainty. Abby Joseph Cohen, Chief Investment Strategist at Goldman Sachs, is bullish, citing economic data are better than a month ago. She sees good opportunity investment in the U.S equities. "Market participants changed mind hour by hour; but double-dip recession does not happen too often," said Cohen. Goldman Sachs CIS seemed to fully agree with the Great Buffet that it is very unlikely we will have a double-dip recession.
Steve Grasso, director of institutional sales at Stuart Franklel, gave his bullish take on the market Thrusday. He also predicted that the S&P 500 will go to 1200 range during midterm election season. Interestingly, Doug Kass, a prominent hedge fund manager at Seabreeze Partners, has turned bearish, citing market breadth is deteriorating,  weakness in the Russell Index, and thus he is "net short" the market this afternoon. Jeff Saut, chief investment strategist at Raymond James does recognize the economy in soft patch. And the market seemed stuck at the June high 1130 range, but he believes the market will eventually rally at the end of the year. Alec Young, equities strategist at Standard & Poors, agreed. He also sees a break out when the strong resistance 1130 get lifted. Ryan Detrick, chief technical strategist at Schaeffer's Investment Research added his own bullish note, citing investors' sentiment is too bearish and he also sees a strong break out from the June high level. 
Most major indexes were trading sideway in today trading session. Even the market was losing steam out of the gate, mild-buying in the last hour of trading pushed stocks modestly higher. The DOW up +0.21% to 10.594.83, the Nasdaq up +0.08% to 2,303.25, and the S&P 500 down -0.04% to 1,124.66. Breaking news developed in after hours: great earning reports from Research In Motion Ltd. (RIMM up +5.54% to 48.60 and Oracle Corporation (ORCL up +4.61% to $26.53). In addition to that, Texas Instrument Inc. announced 7.5 billions shares repurchase program, (TXN up +3.28% to $25.80). Finally, the market might have some positive catalyst to go above the June high. If the market can take off this strong resistance, we will have a potential "Triple Top break out" from June high, August high and September high. The potential targets from this break out are 1150, 1160,  and MAY high at 1170s range. Next support levels are the 200d-MA at 1115.74, the 50d-MA at 1189.38, and the 20d-MA at 1082.08. Let's see what the market will do tomorrow and wait for a high probability set up rather than playing yo-yo trades at this time.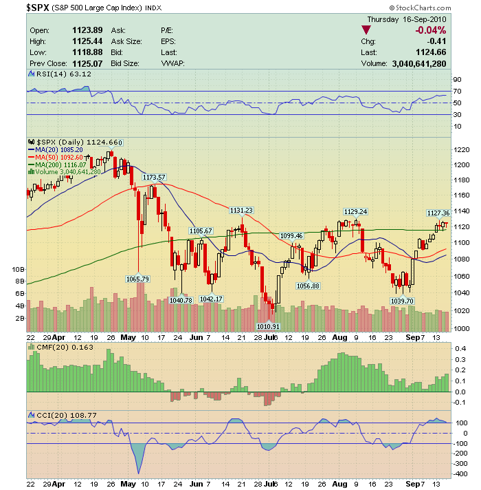 Best regards to all, and good luck in your trading.
Disclosure: no positions in stocks mentioned, right at the time of writing.