Today U.S. equities future indexes dropped at the open with mixed macroeconomic data. The Standard & Poor's released its S&P/Case-Shiller Home Price Indices, the leading measure of U.S. home prices. "Home prices are improving slowly and remain stable around the recent low. 10-city S&P Case-Shiller home price index was unchanged in July," said the world's leading index provider. At 10AM EST, bearish news came from the Conference Boarb as it released consumer confidence data for the September month. SEPT consumer confidence index tanked to 48.50 versus 53.2 in August. This is very bearish as it
is the lowest level since December 2009. "The drop was due to less favorable business condition and high unemployment rate," said the Conference Board on Tuesday. Other news came from Europe as the European central banks announced it bought Irish government debts. Analysts see this as a positive signal and good news in regard for the financial stability in Europe.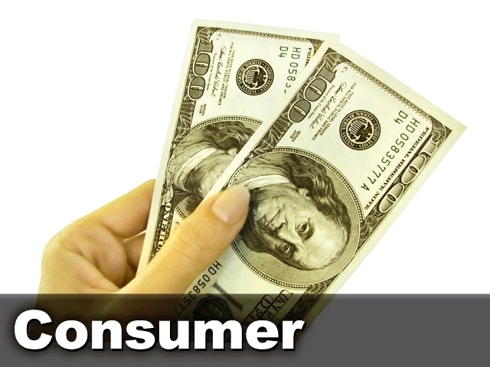 Noticeable analysts' calls came from Goldman Sachs firm in today trading session. "We expect GDP to grow 1.5% to 2.5% in 2011, this is a downward revision from earlier forecast of 2.5 to 3.0%," said GS Investment Strategy Group. Billionaire hedge fund titan, John Paulson also predicted a lower GDP at 2% range for 2011 and 2012. However he has stated his bullish view for U.S. equities at New York's University Club. "It's time to sell bonds, buy stocks, and buy....yes, homes. It's the best time to buy homes in 50 years. Double digit inflation is coming, due to the FED's quantitative easing," said Paulson. It's important to note that last week on Friday another hedge fund titan, David Tepper also made a very bullish call for the market. "Stocks will do well, bonds will not do as well as economy improves. If the FED does more quantitative easing, everything will do well and we have added more equities to our portfolios recently. Sometimes it is just that easy and you can't not be that negative. My animal spirit is awakened now," said Tepper. 
All major indexes closed at 4 months high by the closing bell, erasing early losses. The DOW closed up +0.50% to 10,865.86, the Nasdaq
up +0.43% to 2,379.89, and the S&P 500 also closed in green, up +0.53% to 1,148.20. Technically, this market is modestly bullish as there is a "silver lining development" that both the 20d-MA and 50d-MA made a "golden cross" over the 100d-MA. Remarkably, when this golden cross took place in July-2009 and FEB-2010, the market was rallying each time. Having said that we should note the "golden cross" above the 200d-MA would be a more reliable confirmation of this bullish development.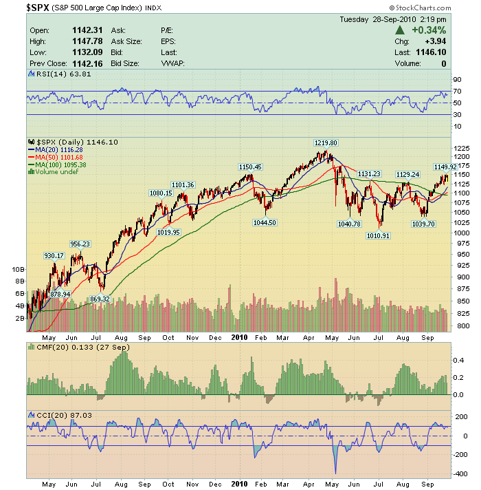 Lastly, it's very critical for the S&P 500 to climb above the inflection point at 1150 in order to confirm the bull trend. Let's be patient and see how the market handle the 1150 level tomorrow. Supports for the S&P 500 now are 1130, 1117 and 1100. Resistance for the index are 1150, 1160 and 1170.
Best regards to all, and good luck in your trading.
Disclosure:
No positions in stocks mentioned at the time of writing.