Have you seen the headlines? Markets hit all-time highs! Investor's bullish sentiment reaches pre-financial crisis highs! Just when you thought, you have nothing to worry about on Wall Street before Christmas, some investment advisor mentions the CBOE Volatility index reading of 15.45, the lowest reading all year.

This frightens me very much. Many institutional investors have noted that the VIX reading in the teens is very common in a maturing bull market. However, is this a maturing bull market? Risks such as the European debt crisis or even Meredith Whitney's new call on the next financial crisis of the municipalities, has me doubting that these past historical readings of the VIX will happen anytime soon.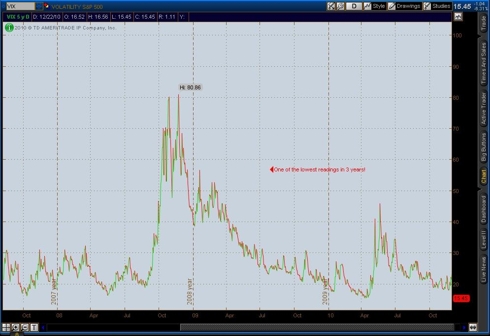 No matter which time period you use to look at the VIX, one, three, or ten, the index is cheap (NYSEARCA:
VXX
) (NYSEARCA:
VXZ
).
Disclosure:
I have no positions in any stocks mentioned, but may initiate a long position in
VXZ
over the next 72 hours.