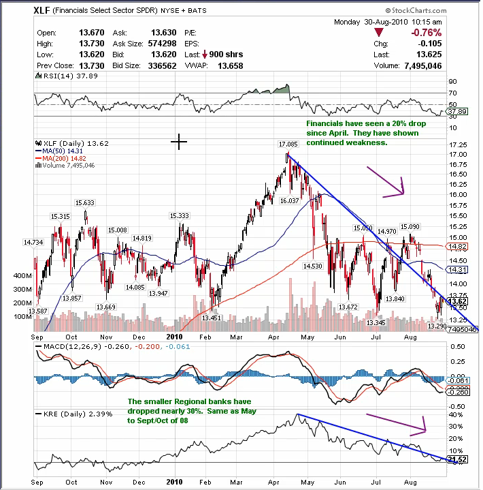 We continue to see weakness across the board.  These are depressing times.   I try to be a positive person, because no one wants to see a bear market.  I would love to see the market turn around and shoot through the moon.  It would be nice for people to get back to work, buy new cars and homes, but in reality it is not happening.
I have a chart of the Financials (NYSEARCA:XLF).  This is an ETF, Spider Fund.  I also listed KRE, It tracks Regional Banks.  As you can see there is a pronounced downward movement, a pretty steep decline.  We have dropped 20% in the financials and 30% in the Regional Banks.  Small Community and Regional Banks are a great read of the economy, because most of us do our banking, mortgage, etc.  at these banks.  We are showing weakness across the board in financials.
We may get a rally, but the fact remains; the economy does not lie.  People are unemployed, people are not traveling, and people are not buying homes.  Demand for travel and gas are at all time lows.  Fertility rates are the lowest in 100 years.  The new home purchase number is at the lowest in 50 years.  We have 9mths worth of inventory in homes.   It is just a continuation of bad news.  We could get an artificial rally in market, also known as, "dead cat bounce", but I would not play it.  I am in the bear camp, because we are in a bear market.  People get happy and euphoric, they go long at the end of these dead cat bounces, then people get trapped and the market will go back down.   We are going to protect our capital.
Until the financials, like community and regional banks turn around there is no sense in talking recovery.  It has not happened.  I believe we will be able to grab some of these bank stocks for a cheap price, pretty soon.  That is not good for the economy or stock market, but I believe we are in a bear market, until proven otherwise.  I see downward momentum; the slide is steeper and steeper on the chart.  Good trading and take control of your money.
Disclosure:
"No Positions"