Mulling over the markets? If you have been following my blog and process, you would have been completely out of the market in April. We don't advocate wholesale buying or selling, we ease in and out slowly.  If you would have gotten out in April, you had a 30 day window to go into cash.  If you did this you would still be up in the market.  Meaning, you would not have taken a hit when the market dropped.  The market is far away from the high in April. 
We have not missed a rally. The market has gone sideways since April. We have not pierced through the 150.  Yes, we are above the 50, but we have not pierced through the 150. It could cross, but not today.  It takes 50 periods to average them together.  If we are in a true bull market that will happen, but until it confirms, I believe we are in a bear market.  The market is just making noise right now.  I believe it is making a topping pattern, leading into a bear market.   
If it doesn't rollover we will make money in the long side later down the road, but in the meantime you should be short specific stocks or in cash, nothing else.  Now is not the time to go long.  We never go long between the 20s on the RSI (support and resistance).  We do not need to catch the tail end of a move. You should be looking to short some of the big rallies.  I think the longs will get trapped.  If I am wrong, go buy Florida Real Estate and pump the markets.  I am waiting until we flirt with the 150.  Good Trading, take control of your money.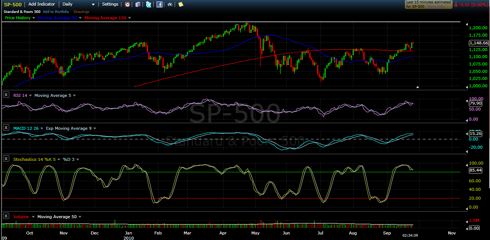 Disclosure:
Long, Short