Summary
-The largest frack sand companies are building small economic moats.
-Hi-Crush Partners will easily survive 2016.
-The strength of the balance sheet and cash flow needs to be included in its chances of survival.
Economic Moats
Hi-Crush(HCLP), US Silica(NYSE:SLCA), Emerge Energy(NYSE:EMES), and Fairmont Santrol(NYSE:FMSA) are building small economic moats. The sand industry is starting to consolidate as smaller players are becoming wiped out. See below.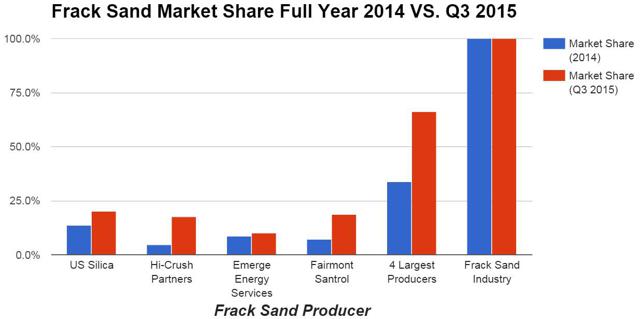 From this charts above there is a distinct consolidation of marketshare by the four largest public traded frack sand producers. They now make up about ~67% of the market. Hi-Crush has taken a larger piece of the pie.
The small economic moats of the frack sand industry are in the type of sand, distribution network, and the cost of production.
The northern white frack sand in Wisconsin, Minnesota, Iowa, and Illinois has the highest roundness and spherical score of above .6, which enhances conductivity (NYSE:FLOW) from fractures into the wellbore. This level is higher than all other naturally occuring sand in the US. Northern white sand's bulk density and specific gravity has values similar to quartz. This makes the sand able to be crush resistant at a higher depth during fracking. These factors make northern white sand the most desirable for fracking-if you exclude the far more expensive engineered and processed sand-at depth below 2,400 meter.
The distribution network is becoming important for cost reduction efforts in this lower priced oil environment. Railroad costs are making up a bulk of the selling price for sand. "Depending on the modes of transport, distance traveled, and number of transfer points, the cost of white frac sand may reach $170 per ton by the time it arrives at the well site" (PacWest 2014b) The ability of sand to transfer from FOB mine to in-basin storage or straight to the customer is important for cost reduction. The amount of railcars you have, the relationship with the railroad, the FOB loading facilities at the mine, and your storage facilities in-basin are part of the reason the "big four" are taking market share, "...the ability to optimize origin and destination pairings will leave those smaller players as either permanently shuttered or the equivalent of peak electricity suppliers" (Q3, 2015, CEO Bob Rasmus)
I am confident that Hi-Crush Partners is the lowest cost producer of the big four. It is tough to verify this because the other three big producers do not state their production costs. In my opinion, you might be able to imply they have nothing to boast, but I cannot be certain. However, looking at their margins I highly doubt they beat Hi-Crush's production costs. When asked how many competitors have production costs per ton below $15, the CEO replied, "Below $15 a ton production cost FOB mine we think very little, still less than 25% I would say below $20. It's our belief that the vast majority of the industry is above $20 and in fact, in many cases above $25 a ton." (Q3 2015, CEO Bob Rasmus) In the most recent quarter, Hi-Crush's cost per ton was $11.32 with the expectation that this number will fall going into next year.
Management
I think the management has been over optimistic over the past year, however their actions have been prudent. They cancelled the distribution to shareholders temporarily and the CAPEX is being cut to $15-$25 million for 2016. They are focused on cost reduction at the mines, in their railcar storage, the freight costs, and in-basin storage. They think that the oil market will recover in 2016 or even 2017. They are hoping for the best and preparing for the worst.
Risk
I do not ruled out the possibility that oil will stay around current levels for several years. From 1986 to 2000 the inflation adjusted price of oil hovered around the $30 dollars per barrel range. If oil stayed this low into 2018 the CAPEX would be cut to nothing and Hi-Crush might only run one mine for a very low cost. Their interest expenses are around $13 million a year on about $250 million in debt. Mostly due in 2019 and later. There is a chance that HCLP would be bought out for a cheap price or file for bankruptcy if oil stayed this low for several years.
CEO Bob Rasmus has stated that sand supply could contract 15% or more and prices contract by 15% from Q3 to Q4 2015. Hi-Crush Partners is preparing for the worse.
- They had $5 million cash on hand on September 30th.
- They had their compliance ratio waived through June 30, 2017.
- Their DCF was $10.27 million in Q3, 2015.
- Their CAPEX is being reduced from $50-$55 million in 2015 to $15-$25 million in 2016.
- Sand prices are expected to decrease up to 15% in Q4 2015 alone from $57 a ton in Q3, which puts the price around $48.45 for Q4.
- Sand supply is expected to decrease 15% or greater in Q4 2015 alone from 1.4 million tons in Q3, which puts the supply at 1.19 tons or less for Q4 if Hi-Crush takes no more market share.
If Hi-Crush sold 15% less volume at $48.45 a ton for 2016 we can easily expect the company to survive 2016. However, CAPEX will have to be zero to survive 2017. These are conservative estimates.
-The 15% reduction in sand prices and sand supply will reduce earnings by $23 million a quarter.
-The storage costs for the extra railcars could add at most $1.5 million a quarter.
-CAPEX will drop on average about $7 million a quarter in 2016.
-Reduced headcount would save around $1.5 million a quarter.
-Closing the Augusta mine will save at a minimum of $2.4 million a quarter in 2016.
The new DCF might be roughly $10.27m(Q3) - $13.6m(above) = $3.33 million a quarter loss on average for 2016.
Hi-Crush will need to take more market share and keep the volumes they have in order to get positive DCF for 2016 or bear fruit in other cost cutting programs they are implementing. Their credit line still has $39.8 million available.
Conclusion
In my opinion, the frack sand industry is under some dark clouds. Hi-Crush is trying to stay ahead of the falling sand prices by maintaining its position by gaining market share as the lowest cost producer with an extensive and effective distribution network. With a 15% drop in both supply and prices, would will see Hi-Crush survive into 2017. In fact, Hi-Crush might take a lot more market share at these low prices and remain DCF positive.
However, I do not know how bad the US fracking market can get in the next couple years. At the same time, one should not forget that the US oil and gas industry has long-term fundamentals of using longer laterals, more stages per well, and more sand usage per stage. The sand demand per well has been increasing for years with positive economic impacts for the oil and gas industry.
When considering the production costs of Hi-Crush's customers, if oil prices recover to over $60 a barrel then HCLP stock will rise from current levels.
I have no position in HCLP yet, but will be watching it closely for an entrance point.