Introduction
Ecosphere Technologies (OTCPK:ESPH) is a diversified engineering, technology, licensing, and environment services company. The company provides solutions that allow for proper water filtration of wastewaters that are a product of energy exploration. The company's Ozonix technology allows for safe and efficient ways for various industries such as industrials, agriculture, oil and gas, and mining to properly recycle water.
Strong Financials
The company's financial position is healthy and getting stronger. The results are beating management's projections in most areas by a nice margin. In December of 2011, they projected 2012 annual revenue at $28 million. They are now increasing their revenue projection for 2012 to $31 million, an 11% increase over their original guidance. Operating expenses were projected to be $14 million. They have been significantly reduced during the year. Operating expenses will be approximately $10 million, a reduction of over 28% compared to the original guidance. Income from operations is expected to be over $2 million compared to our original expectation of break even. Equipment and licensing sales totaled only $5.6 million in the first nine months of 2011. For the same period of 2012, they grew by 212% to $17.6 million. Consolidated business revenue has seen an $11.5 million increase in total revenue in 2012 over the same nine month period in 2011, a 90% increase. The company has also reduced debt from $2.4 billion to $1.8 billion
Transition From Field Services To Environmental Services
While the company is growing revenue and cutting cost, there was still one division which saw a decline in revenue. Its field services segment saw a revenue decline of 7% for the first nine months. The company's two customers, Southwestern and Newfield, have both scaled back on production due to a decline in natural gas prices. So while field services have been declining, the company is already taking initiatives to scale back this division significantly. Management has stated that they should no longer be considered an oil and gas services company, but an intellectual property company. I believe management is already ahead of the curve on this since it's extremely difficult to determine what is going to happen with natural gas prices going forward. The company's strategy to focus on environmental services is a good move as this should be a strong growth area going forward.
Growth In Intellectual Property
Ecosphere Technologies has been growing the size of its patent portfolio. Just recently, the U.S. Patent and Trademark Office issued a formal Notice of Allowance for a fifth patent.
Charles Vinick, Ecosphere's Chairman and Chief Executive Officer, stated, "It is rewarding to see Ecosphere's patent portfolio continue to expand. We have cutting-edge technology that has been proven in the field on over 600 oil and natural gas wells. Receiving a fifth patent for such disruptive technology reinforces our unique position in the highly specialized water treatment industry. We are pleased to be working with forward thinking energy companies that are reducing their environmental footprints and operating costs by recycling vital water resources in the shale plays where they operate."
Oil and gas manufacturers are increasingly under pressure from regulators to recycle waste properly. O&G producers will be forced to use licensed technology from companies such as Ecosphere to meet stringent regulations.
Contract With Hydrozonix
One of the reasons Ecosphere is such a strong company is due to a unique relationship it has built with Hydrozonix.
From Hydrozonix's Website:
"Hydrozonix, LLC is an entirely separate entity from Ecosphere with different owners, managers, and staff. Hydrozonix,LLC has an exclusive sub-license from Ecosphere Energy Services, LLC, a subsidiary of Ecosphere Technologies, Inc., to purchase, market, deploy, and operate Ozonix water treatment systems in oil and gas exploration and production in onshore areas of the United States. In short, Ecosphere will manufacture Ozonix systems; Hydrozonix will buy them and put them to work."
Ecosphere's contract with Hydrozonix essentially means that Ecosphere can only exclusively sell to Hydrozonix.
This seems like it could go south if Hydrozonix decides to stop buying, right?
No, not at all. Part of the contract states that Hydrozonix must buy 2 units each quarter. This is a 20-year agreement between both Hydrozonix and Ecosphere Technologies. So that is going to be a whole lot of units for a small company like Ecosphere. If Hydrozonix for some reason decides not to meet that commitment each quarter, then they forfeit their exclusivity agreement with Ecosphere. If this happens, then that means Ecosphere will be allowed to sell to anyone that they want to. However, it seems very unlikely that Hydrozonix has any intention to break the agreement considering they have already invested a significant amount of capital into this.
Hydrozonix is already expected to have 20 units by 2013 and 44 units by 2016. It seems that both parties are in a win-win situation. Ecosphere won't have to worry about finding buyers and Hydrozonix will be able to capitalize on a booming market.
Just when you thought things couldn't get better for Ecosphere, they actually do. Ecosphere isn't just going to be making money on the sale of the Ozonix units, in fact, the amount will be relatively small compared to the money that Ecosphere plans to make on royalties.
Ecosphere is entitled to 20% of EBIT on all the units that Hydrozonix uses. Based on the amount of units that are projected to be sold, that is going to be a very nice recurring quarterly income stream for the company. Ecosphere is expected to start receiving royalties starting in 2013.
There is one major point that I would also like to point out. Management has done an excellent job making sure that the contract is fair to both parties. Ecosphere has the ability to audit Hydrozonix's financials to ensure the right amount of royalties is being paid out. In addition to this, Ecosphere management has already set guidelines on what can be considered SG&A for Hydrozonix.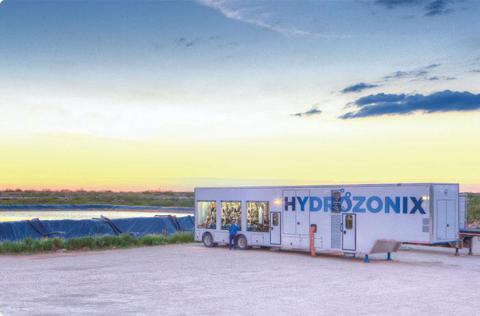 Picture: A typical unit being put to work.
EF80 Technology
Ecosphere's largest mobile water treatment system, the Ozonix EF80, processes up to 80 barrels (3,360 gallons) of water per minute, or more than 4 million gallons per day, allowing energy companies to save millions of gallons of water and eliminate the need to dispose of production waters in deep injection wells. The EF80 can be used to pre-treat raw water needed for fracturing operations or for the post-treatment of flowback and produced waters at pond sites or fixed facilities.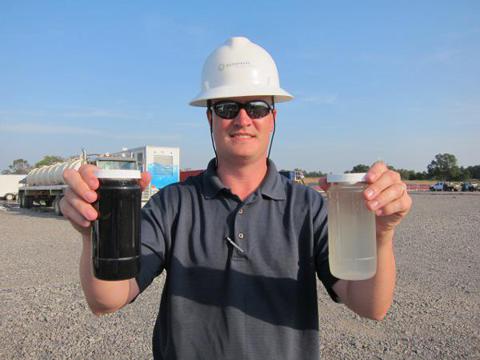 Picture above shows the results of water treatment by EF80.
Outlook
Management has mentioned that based on the projection of future sales, the contract with Hydrozonix will generate revenue of over $500 million. This is just on the sale of equipment and doesn't even include the royalty stream, which will be significantly greater than this.
Valuation
Currently, Ecosphere's market cap is around $52 million. For the nine months ending September 30, 2012, the company generated $1.2 million in net income. However, keep in mind that the company depreciated $600,000 worth of assets each quarter. So that's $1.8 million just in depreciation expenses. If we just add in depreciation back to net income, we would get $3 million just for the first nine months. The company upped its estimates and expects to earn $2 million in income from operations. However, since the company typically depreciates around $600,000 a year, earnings on a non-GAAP basis are closer to $4.8 million.
So based on a non-GAAP basis, the P/E is closer to 10.8. When looking at the valuation we also need to understand a few things. One major factor isn't even factored in yet, which is the royalty streams. The income streams are set to start coming in 2013, which will significantly boost revenue. The best part about these royalties is that they will have a 100% gross margin since it won't cost a penny in expenses for Ecosphere.
With the addition of royalty revenue, its very likely that the company could be making net cash flow of $7 - $8 million just on Ozonix units by 2016. Keep in mind, this still excludes the cash flow that would be generated from equipment sales, which should be at least $5 million a year. So total net cash flow between equipment sales and royalty revenue would total around $12-13 million.
At a $50 million market cap, a net cash flow of $12-$13 million would mean that the stock is extremely undervalued. This doesn't even include the fact that based at the rate the company is growing, the market show be applying a higher multiple.
Ecosphere is a blend of an innovative manufacturing company and an IP licensing company. We believe our valuations should be favorably influenced as our high market licensing and royalty revenue streams continue to grow.

- Charles Vinick, CEO
Conclusion
Ecosphere's Ozonix technology has recycled more than 1 billion gallons of water and replaced more than 1.8 million gallons of chemicals. The company's growth story has just began and already it has seen revenue increase more than 200% YOY.
Investors have a fantastic opportunity here to purchase a growing company that the market hasn't even noticed before. Due to the size of the company, it makes it difficult for institutional investors to participate, therefore retail investors will be able to get a better opportunity on a company such as this.
Disclosure: I am long OTCPK:ESPH. I wrote this article myself, and it expresses my own opinions. I am not receiving compensation for it (other than from Seeking Alpha). I have no business relationship with any company whose stock is mentioned in this article.