Mobile devices are increasingly the key medium for businesses to connect with and monetize their customers. Big technology names like Google (NASDAQ:GOOG) and Facebook (NASDAQ:FB) are focusing hard on mobile advertising. The trend toward mobile is clear and there will be many winners. But it is also a highly competitive space. HipCricket (HIPP) is a small company that enables clients to engage their customers with mobile marketing and advertising solutions. Rather than concentrating on one marketing technology, HipCricket separates itself from competitors by offering end-to-end mobile advertising and marketing products in a single, highly integrated platform. Offering a broad array of capabilities with flexibility better equips HipCricket's clients to target consumers and analyze trends.
Mondelēz/Google/HipCricket Partnership
HipCricket's most notable recent achievement is inking a partnershipwith Google and Mondelēz International (NASDAQ:MDLZ) (a spinoff of Kraft) to develop mobile websites and engage customers through a mobile experience for multiple brands including Trident, Oreo, and Wheat Thins. Investors largely took this announcement in stride. However, joining the Mondelēz and Google partnership is a key milestone for HipCricket.
Oddly enough, Mondelēz-the world's largest snack food company-is truly a pioneer in the mobile marketing space. In May, Mondelēz launched a global mobile initiative with the goal to "become one of the top mobile marketers in the world". They are more than just talk. Mondelēz was recently recognized as "Global Marketer of the Year in Mobile" by the Mobile Marketing Association. Further, the $60 billion dollar snack food producer is shifting its marketing dollars away from TV and print. Mondelēz is now devoting 10% of its entire global marketing budget to mobile.
To bolster this effort, Mondelēz announced a global strategic partnership with Google that goes "beyond a traditional media impressions deal...[and] includes creation of branded mobile websites, training and mobile capability building, analytics and an opportunity to opt in to Google's mobile beta programs."
Given its ties to Kraft, Mondelēz referred HipCricket as a candidate for building its mobile websites. Google selected HipCricket for the job over about a dozen other companies. The fact that this innovative partnership found HipCricket's mobile marketing solutions superior speaks volumes. But the project is more than building websites. It is part of a larger partnership for delivering a massive, cutting edge mobile marketing campaign, in which HipCricket is now integrated. The deal is truly global, spanning 22 countries and 17 languages, covering 12 Mondelēz brands. Terms of the deal contract were not disclosed but due to the size and breadth, the deal is likely worth several million to HipCricket.
Google is of course an important player in the mobile advertising space. Management has indicated that Google may be interested in facilitating discussions with HipCricket regarding some of their other clients.
Indeed, HipCricket already has relationships established with household name companies with deep pockets and a hunger for mobile marketing and advertising solutions. Among the list of rather impressive clients are McDonalds, Kelloggs, Ford, Kraft, Johnson & Johnson, etc. The ability for such a small company to secure high caliber clientele reveals the quality of HipCricket's technology.
Revenue growth is already growing both from the addition of new clients as well as from expanding existing relationships. HipCricket boasts an impressive 95% renewal rate. Not only this, but the company has been able to increasingly monetize these clients. The average annual revenue per customer continues to climb, most recently increasing 46% on a trailing twelve month basis from $72,000 to $105,000.
As an example, both Ford and MillerCoors started out as relatively small clients back in 2010, with less than $200,000 a year agreements for SMS text solutions. However, both are now multi-million dollar contracts for broader mobile marketing solutions.
HipCricket is generating millions in revenues from these big name customers. Second quarter revenue increased year over year 23% to 7.6 million, the highest in company history. HipCricket turned positive EBITDA cash flow in August. Management expects revenues to continue to accelerate in second half of the fiscal year, guiding the next two quarters higher. The company sees increased revenue from holiday mobile advertising. With this, the company expects to be breakeven cash flow by year end.
Cost Reduction
Management has shifted strategy away from aggressive IP enforcement to an increased focus on its core business. Legal costs have dropped in response to settling and putting litigation on hold, while the company appeals an adverse ruling with Yahoo (YHOO).
The decision to focus on core business and the effective execution by management over the past few quarters has been transformative for HipCricket. Cost reduction completely changes the dynamic of the company's business model as profitability is now obtainable in the near future. The operating cash flow breakeven revenue number per quarter is down to between $9.5 and $10 million. To hit recent management guidance of 30% to 35% year-over-year revenue growth and to adjust for the seasonality of advertising, the next two quarters will generate a minimum $20 million in revenue combined. The math here becomes more favorable for HipCricket to turn a profit.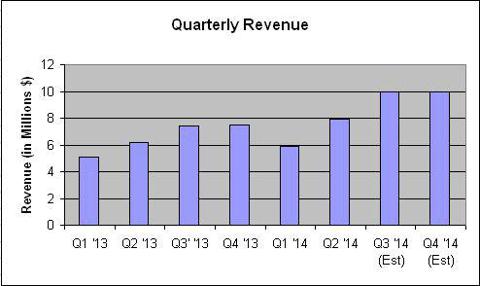 Risks
For the past 3 years, HipCricket has posted a net loss from operations. Thus, management has historically relied on issuing shares for funding its operations. The company recently closed a $9.6 million financing with 13 investors. Although this provides HipCricket with plenty of cash for normal operations in the short term, should the company choose to further dilute shares to fund a strategic acquisition or to build cash for aggressive growth, investors would be adversely affected.
Also, expect expenses such as selling and marketing, technology and development to increase as the company utilizes the newly received cash to further growth. This may somewhat offset higher revenue in the short-term.
The stock has had a nice run-up the past couple sessions. So it may be a little volatile here.
The future of marketing and advertising is quickly shifting to mobile in a big way. Recent developments suggest HipCricket is sitting at the epicenter of this revolution. One-quarter of all Fortune 100 companies have taken notice to HipCricket's superior solutions and have begun working with the company in increasingly meaningful ways. HipCricket is generating millions from these clients, effectively executing its business strategy, and rapidly growing revenue. With an improved financial condition and business structure, HipCricket is well positioned to add value for shareholders in this hot sector.
Disclosure: I am long HIPP.