By Max Chen and Tom Lydon
The ongoing low crude oil environment has dragged on Saudi Arabia's economy and caused ratings agency Moody's to warn of risks in the emerging market's financial system, weighing on the country-specific exchange traded fund.
Despite somewhat bouncing back on higher crude oil prices, the iShares MSCI Saudi Arabia Capped ETF (NYSEArca: KSA) is still down 8.3% year-to-date.
While Brent crude oil has rebounded to around $40 per barrel, the depressed prices continue to weigh on the Middle East oil producer, according to industry analyst ETF Trends.
Consequently, on Wednesday, Moody's said it was downgrading Saudi Arabia's banking system from "stable" to "negative," citing its negatively revised outlook reflected "the rating agency's expectation that the persistently low oil prices and resultant government spending declines will ultimately weigh on the Saudi banking sector," reports Holly Ellyatt for CNBC.
Moody's anticipates loan growth to slow down to between 3% and 5% from 2016, compared to 8% in 2015 and 12% in 2014. Additionally, the ratings agency expects asset risk to rise due to the deteriorating operating environment.
The weakening outlook on the financial industry will weigh on the Saudi Arabia ETF as banks are among the largest positions in the fund's portfolio. Financials make up 31.7% of KSA's portfolio, with top holdings including Al Rajhi Bank 6.4% and national Commercial Bank 6.1%.
"We expect the operating environment for Saudi banks to weaken over the next 12-18 months," Olivier Panis, a Moody's vice president and senior credit officer, said in a report. "With the prospect of lower oil prices for longer and a 14 percent reduction in public spending in 2016, we believe that the credit risks across the system are rising."
Saudi Arabia's economy has been closely tied to its oil reserves. Over 70% of government revenue came from oil in 2015, Bloomberg reports. Consequently, as oil prices declined, the country's net foreign assets dropped by $115 billion last year as the government tried to shore up a $98 billion budget deficit by issuing bonds and drawing on reserves.
Moody's also projected Saudi Arabia's real gross domestic product to slow to 1.5% for 2016 and 2% in 2017, compared to 3.4% in 2015.
iShares MSCI Saudi Arabia Capped ETF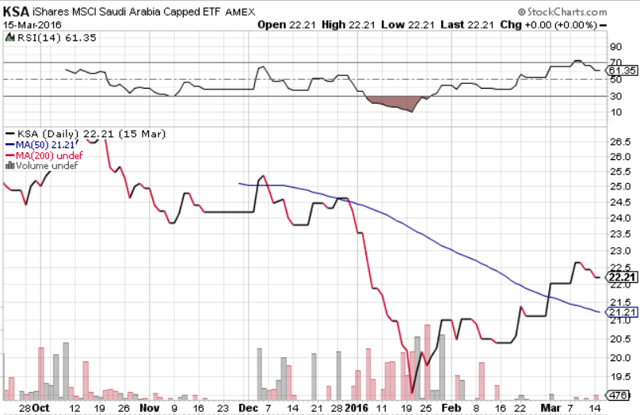 Disclosure: I/we have no positions in any stocks mentioned, and no plans to initiate any positions within the next 72 hours.
I wrote this article myself, and it expresses my own opinions. I am not receiving compensation for it. I have no business relationship with any company whose stock is mentioned in this article.