By Jonathan Jones and Tom Lydon
As the exchange traded funds industry has experienced astronomical growth, there have been concerns from some circles regarding how the growing presence of ETFs affects equity markets, according to industry analyst ETF Trends.
When it comes the energy sector, that group is dominated by a small number ETFs that control the bulk of exchange traded assets allocated to energy equities.
That group of ETFs includes the Energy Select Sector SPDR (NYSEArca: XLE) and the Market Vectors Oil Service ETF (NYSEArca: OIH). A Guggenheim note cited by Teresa Rivas of Barron's says ETF volume accounts for 55% of the daily turnover in Schlumberger (NYSE: SLB). Schlumberger, the world's largest oilfield services provider, is OIH's largest holding and a top 10 holding in XLE.
Likewise, XLE and comparable energy ETFs, in some cases, allocate close a third of their combined weights to Dow components Exxon Mobil (NYSE: XOM) and Chevron (NYSE: CVX), the two largest U.S. oil companies.
Exxon stated it will curb spending on rig leases, floating oil platforms, gas terminals and other projects by 25% this year to $23.2 billion, the lowest spending plan since 2007. The steepening cuts come off a 20% reduction in spending to $31 billion on drilling, floating platforms and gas-export terminals, compared to previous expectations of a 12% cut in spending last year.
Last week, Chevron, the second-largest U.S. oil company behind Exxon, announced significant reductions to its 2017 and 2018 capital spending plans, but the rise of oil services ETFs has beaten back that glum capital spending news. In fact some analysts are bullish on some of the names found in ETF's like OIH.
"A handful of ETFs make up a majority of the volume. Although SLB, HAL, and BHI are, on average, held by over 200 ETFs each, over 90% of the ETF-driven volumes of the big three services companies comes from just four funds, and over 75% is attributable to trading in two of the largest ETFs, the XLE and OIH," according to Guggenheim by way of Barron's.
Energy Select Sector SPDR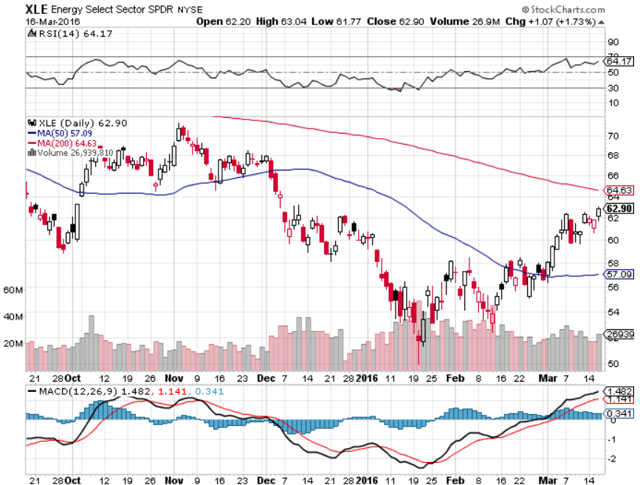 Disclosure: I/we have no positions in any stocks mentioned, and no plans to initiate any positions within the next 72 hours.
I wrote this article myself, and it expresses my own opinions. I am not receiving compensation for it. I have no business relationship with any company whose stock is mentioned in this article.