By Max Chen and Tom Lydon
Shipping giant FedEx (NYSE: FDX) easily beat expectations, lifting the transportation sector and bringing related exchange traded funds back above their long-term trend, reports ETF Trends.
On Thursday, the iShares Transportation Average ETF (NYSEArca: IYT) rose 2.8% and the SPDR S&P Transportation ETF (NYSEArca: XTN) gained 1.8%. Both transportation-sector ETFs broke above their 200-day simple moving averages on Thursday as well.
FedEx at 11.6% is the largest component in IYT's underlying portfolio. XTN follows a more equal-weight methodology, so FDX only makes up 2.4% of the fund's portfolio.
The transportation sector sped up after FedEx posted better-than-expected quarterly earnings on winter holiday sales, reports Chris Woodyard for USA Today.
FedEx revealed earnings of $692 million for an adjusted $2.51 per shares over the fourth quarter, compared to expectations of a $2.34 per share gain.
FDX shares popped 10.8% Thursday on the earnings beat.
The shipping company attributed the improved fourth quarter conditions to an e-commerce revolution that has lead to higher shipping volumes, along with consumers ordering larger items that add to shipping fees.
"We sincerely appreciate the peak season efforts of our FedEx team members who delivered great service despite the challenges of stronger-than-expected shipping demand, driven by the growth of e-commerce," CEO Frederick Smith said in a statement.
The transportation industry may continue to improve as consumers increase spending for the year. The shipping company provided improved guidance for the year, anticipating a higher adjusted earnings of $10.7 to $10.9 per share for the year, compared to previous estimates of $10.4 to $10.9. CFO Alan Graf Jr. also expects adjusted 2016 earnings will be 20% to 22% higher year-over-year, CNBC reports.
FedEx fourth quarter earnings also mirrored rival UPS (NYSE: UPS), which also capitalized off strong holiday deliveries as reported last month.
UPS was 2.5% higher Thursday. UPS makes up 8.4% of IYT and 2.5% of XTN.
iShares Transportation Average ETF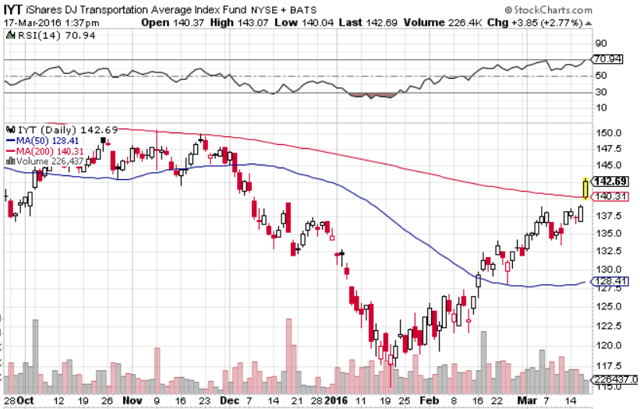 Disclosure: I/we have no positions in any stocks mentioned, and no plans to initiate any positions within the next 72 hours.
I wrote this article myself, and it expresses my own opinions. I am not receiving compensation for it. I have no business relationship with any company whose stock is mentioned in this article.