By Max Chen and Tom Lydon
Speculative-grade debt or junk bond-related exchange traded funds have moved in lockstep with the energy market, falling and rising with the ebbs and flows of crude oil prices.
High-yield bonds have been rallying since the February 11 low, the same day oil hit a nadir. Since the February low, the SPDR Barclays High Yield Bond ETF (NYSEArca: JNK) gained 9.5% and iShares iBoxx $ High Yield Corporate Bond ETF (NYSEArca: HYG) rose 8.6%. Meanwhile, the United States Oil Fund (NYSEArca: USO), which tracks West Texas Intermediate crude oil futures, increased 31.9%.
The high-yield bond ETFs include some exposure to the energy sector and oil prices. For instance, HYG holds 10.6% in energy-related speculative-grade debt. To be fair, HYG also includes a 5.6% tilt toward financials, which some market observers argue are also exposed to potential default risks in the energy sector.
While the price of speculative-grade debt on energy companies have always been linked to oil movements, credit outside the industry has also been moving with the commodity, report Cordell Eddings and Fion Li for Bloomberg.
"Oil is still front and center. If you are in the high-yield sector, you are making a bet on oil prices," Martin Fridson, chief investment officer at Lehmann Livian Fridson Advisors, told Bloomberg.
According to Deutsche Bank AG strategists, the correlation of returns for non-energy junk bonds with oil is at all-time highs of 0.63 - correlations range between minus 1 and positive 1. Non-energy junk bonds account for about 88% of the market, according to Bank of America Merrill Lynch index data.
Due to the rising correlation between non-oil junk bonds and crude prices, Bank of America Corp strategists warned that junk bond investors are not paying enough attention to the growing risks.
Additionally, strategists led by Michael Contopoulos argue that the recent rally "will ultimately fade." As junk bonds rebound on the improving energy environment, the speculative-grade debt market may decouple from the commodity.
Specifically, some believe market fundamentals will soon begin to take a larger toll on junk bonds. So far this year, the ratio of ratings upgrades to downgrades is the lowest since the first quarter of 2009, suggesting that credit quality is worsening among U.S. high-yield issuers. Corporate bankruptcy filings are at the highest since 2014. Growth in earnings before interest, taxes, depreciation and amortization has also been slowing.
Furthermore, higher oil prices could pave the way for new risks, notably increased costs in manufacturing and transporting goods.
"In the longer term, what's important to remember is that higher oil prices aren't necessarily good for the rest of the market," Gershon Distenfeld, director of high yield at AllianceBernstein, told Bloomberg.
SPDR Barclays High Yield Bond ETF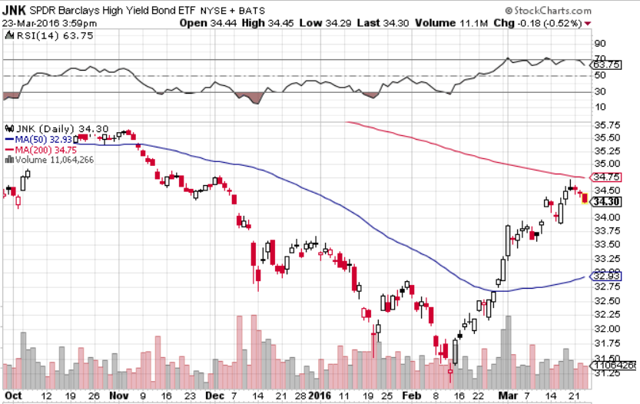 Disclosure: I/we have no positions in any stocks mentioned, and no plans to initiate any positions within the next 72 hours.
I wrote this article myself, and it expresses my own opinions. I am not receiving compensation for it. I have no business relationship with any company whose stock is mentioned in this article.