The value of global oil & gas deals reached $85 billion during Q3 2010, driven by the massive $42.5 billion deal between Petrobras and the government of Brazil and strategic reorganisations of assets by super-majors including BP and ConocoPhillips. That's according to Evaluate Energy's Global M&A database which tracks all global oil and gas deals on a daily basis. Excluding the Petrobras deal, total deal value in the exploration and production sector is still slightly higher than the previous two quarters and far in excess of total deal value in Q3 2009, when the credit crunch was still significantly affecting commodity prices and access to finance.
Richard Krijgsman CEO at Evaluate Energy commented, "Last quarter, we saw the biggest volume of exploration and production deals ever. We are seeing major structural shifts in the market as publically quoted and national oil companies vie for reserves, and the M&A market is simply reflecting this trend."
Deepwater Resource Lures Brazilian Investment
In September, Petrobras and the government of Brazil reached an agreement in which Petrobras transferred $42.5 billion of stock in exchange for the rights to 5 billion barrels of oil reserves in deepwater areas offshore Brazil. As a result of the share issue, the Brazilian government gained an increase in voting stock ownership of Petrobras from 57.5% to 64%. Additionally Petrobras has so far raised a further $27.5 billion via a share issue, with the funds earmarked for the high development costs associated with the deepwater assets. Including the shares transferred as part the deal with the government the $70 billion share issue by Petrobras was the largest ever share issue.
With Sinopec last week negotiating a deal to take a 40% stake in Repsol Brazil for $7.1 billion, the total value of deals for Brazilian deepwater assets rose to $56 billion for 2010, representing 32% of global deal value. Repsol Brasil owns interests in a number of early development deepwater Brazilian fields, including a shared interest in Guara, which forms part of the deal between Petrobras and the Government of Brazil.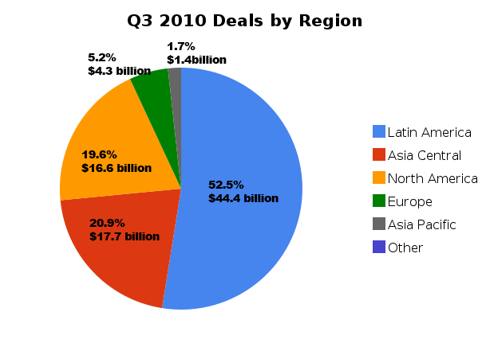 Interest in US Shale Gas Sector Loses Momentum
In Q3 2010 with the Henry Hub benchmark gas price dropping steadily to end below $4, total shale deals came in at just $5.8 billion for the quarter with the majority of this value coming from Canadian shale gas plays. A flurry of activity in the shale gas sector produced £21 billion of deals in the first six months of 2010 as numerous companies across the world clambered to get on board the hottest resource of the year. With much of the shale assets in the US held by small-cap independent companies who lack the deep pockets of the majors, an extended period of low US gas prices may put pressure on the industry to move towards further consolidation.
In contrast to the poor gas prices, the WTI oil price benchmark has remained above $75 in four successive quarters. "In the US, companies have shifted their focus to assets weighted towards oil in the past few months and this has led to a resurgence in Permian basin deals during the quarter" according to Evaluate Energy lead M&A analyst Eoin Coyne. Total deal value in the basin reached $5.4 billion.
Cairn Cashes in on Indian Subsidiary to Gamble on Greenland Assets
The largest deal involving non-state owned companies came from the divestment by Cairn Energy of a 51% interest in Cairn India for US$8.5 billion, to Indian mining company, Vedanta Resources. The divestment by Cairn is part of their strategy to raise funds to explore the high cost exploration assets that Cairn holds in Greenland. The speculation surrounding the potential of resources in Greenland ranges from possibly being the largest untapped reservoir of oil & gas in the world, to a country that will not produce commercially due to steep costs and restrictive weather conditions. With only six exploration wells previously drilled in the region all returning dry the strategy at first glance appears risky. Technology has come a long way however since the last bout of drilling in the region in the 1970s and Cairn have built a formidable reputation for successful exploration campaigns in areas overlooked by their peers.
KNOC Closes Successful Pursuit of Dana Petroleum
Korea National Oil Corp dipped into their $6.5 billion acquisition war chest during the quarter. A fund which the South Korean government granted to the company with the mandate of reaching a reserve base of 2 billion boe, and a production rate of 300,000 boe/d.  KNOC gained 50,000 boe/d of this target when they acquired Dana Petroleum for $2.9 billion in an all cash deal during the quarter. With the initial bid rejected by the Dana board an offer of £18 per share representing a 59% premium on the Dana Petroleum share price proved sufficient to entice the shareholders to agree to the offer, despite the recommendation of the Dana boardroom.
BP and ConocoPhillips Continue Asset Divestiture Programs
Asset sale programs by BP and ConocoPhillips contributed $15 billion to the total value during the quarter, with BP keen to raise funds for the Horizon oil leak payouts and ConocoPhillips looking to improve their balance sheet. BP's divestitures of E&P assets totalled $8.9 billion and included assets in Canada, Colombia, Egypt and the United States. An additional $21 billion of sales are planned which will bring BP's divestitures to their target level of $30 billion. The main beneficiary of BP's asset sell-off so far has been Apache Corp. who acquired assets in Canada, United States and Egypt for $7 billion during the quarter. Including deals to acquire Devon's Gulf of Mexico shelf assets and Mariner Energy, Apache has now negotiated $11.9 billion worth of deals during 2010. Eoin Coyne from Evaluate Energy comments "Apache has its work cut out as these deals are equivalent to more than a third of the company's market capitalisation. What's more they encompass a wide variety of geographical locations making integration a potential challenge."
ConocoPhillips' divestiture strategy is to raise $10 billion to reduce debt and fund share repurchases. A large portion of this total has already been reached through the divestiture of the company's Syncrude stake to Sinopec. In addition to the planned $10 billion of sales ConocoPhillips reduced their stake in Lukoil from 19.2% to 6.6% during Q3 2010 for $5.8 billion. ConocoPhillips report that the sale is a strategic move due to insufficient returns on their investment and the lack of additional business opportunities arising in Russia during the six years in which ConocoPhillips held a significant stake in the company.


Top 10 Deals of the Quarter
| | | | | | |
| --- | --- | --- | --- | --- | --- |
| Acquirer | Target Company | Country | Total Acquisition Cost ($ 000) | Cost per boe/d of Production ($) | Cost per boe of 1P Reserves ($) |
| Petrobras | Government of Brazil | Brazil | 42,533,000 | - | - |
| Vedanta Resources plc | Cairn India | India | 8,480,049 | 133,020* | - |
| Lukoil | Lukoil | Russia | 3,442,012 | 19,887 | 2.59 |
| Apache Corp. | BP | Canada | 3,250,000 | 69,849 | 14.51 |
| Apache Corp. | BP | United States | 3,100,000 | 108,354* | 21.99 |
| Korea National Oil Corp | Dana Petroleum | United Kingdom | 2,921,283 | 58,986 | - |
| Lukoil | Lukoil | Russia | 2,380,000 | 21,351 | 2.72 |
| KazMunaiGas E&P | Kazakhoil Aktobe LLP, Kazakturkmunai Ltd and Mangistau Investments B.V. | Kazakhstan | 2,249,000 | 35,904 | - |
| Concho Resources | Marbob Energy | United States | 1,508,619 | 107,759* | 19.85 |
| Total | UTS Energy Corp | Canada | 1,104,097 | - | - |
* Relatively high cost due to a significant proportion of the acquired assets still in development
Disclosure:
No Holdings