We all know Federal Reserve Bank (FED) controls short term interest rates - federal funds rates. But does Fed controls the 10 year Treasury rates and more importantly the 10 year German Treasury rate? The Fed duties includes conducting the nation's monetary policy by influencing the monetary and credit conditions in the economy in pursuit of maximum employment, stable prices, and moderate long-term interest rates.
In the past 5 years since the beginning of the financial crises Fed has cut the Fed Funds interest rates numerous times with rates approaching zero. The Fed has also embarked on number of measures, which has been dubbed as Quantitative easing, operation twist, and promise to keep the funds low till 2014. The objective mentioned in various speeches by Fed Chairman, Governors and Presidents has been to try to influence the long term interest rates. With each of the action Fed hoped to reduce the long term rates from its existing level. Below is the graph of 10 year US Treasury rate since Jan 2008.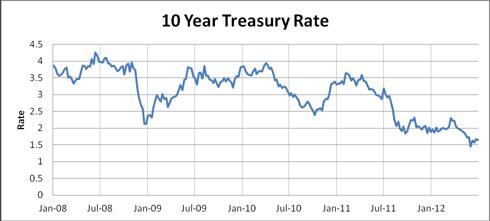 Source: Bloomberg
Let us review some of the important actions taken by Fed specifically pertaining to long term rates. In Nov 2008, Fed launched QE1 resulting in the interest rates dropping from nearly 4 % to 2%. Market participants viewed that with Fed buying the demand for long term bonds will increase and with supply remaining constant, they pushed up the price of the bonds. This resulted in the yield to drop (price of the bond and yield have inverse relationship). In March 2009 Fed expanded the QE 1. FED started buying Agency (Fannie and Freddie Mac) guaranteed securities. The stated goal was to drive down the mortgage backed securities rates. Since housing was the center of the financial crises, low rates will help the homeowners to refinance at a lower rate and lower rates will encourage new home buyers. Ultimately the low rates will help to cushion the downfall in the home prices. There are various views as to why the interest rates rose. Some of them were that with the expansion of the Fed's balance sheet, the US economy will grow faster, unemployment would drop and inflation would return in the US economy resulting in the view that Fed will have to increase its short term rates in the next year or so. Another view was that US Government had passed a massive stimulus of about $800 Billion and this increased the fiscal deficit and the debt to GDP ratio. However even after QE1, the unemployment was not dropping to the extent what Fed considered normal.
In August 2010 Fed Chairman in Key Jackson Hole speech gave hints of QE2. Again same thing happened, the rates increased. There was a direct reaction to the Fed's action in the Commodities prices and Life Insurance stocks like Anglo Gold Ashanti (NYSE:AU), Exxon (NYSE:XOM), and Chevron (NYSE:CVX), (Sun Life (NYSE:SLF), Met Life (NYSE:MET), Prudential (NYSE:PRU), Lincoln (NYSE:LNC)). Life insurance industry's profits are highly correlated to the long term interest rates. After the QE2 there were numerous complaints to FED for expanding its balance sheet. This was not limited to members of congress and economist in this country but also from International community of Central bankers, Governments and economists.
Milton Friedman had famously said Inflation is always and everywhere a monetary phenomenon. With QE2 various market participants started quoting this famous Milton Friedman. With Greece debt crises becoming the center of financial crises in Europe, there had been growing call in this country to reduce the budget deficits. With two different philosophies of how to grow the economy in this country, the debt limit issue was not resolved by congress until the very last minute. In August 2011 S&P downgraded the US AAA rating by one notch. In Sep 2011 Fed came up with a program called Operation Twist. Fed was hesitant to increase its balance sheet. In Jan 2012 Fed said that it will keep it the Fed Funds rates low until Jan 2014. Finally last month it said it will extend its Operation Twist.
When Fed first started its program to influence the long term interest rates, the 10 year treasury was close to 4% and now it is still close to 1.5%. Whether the reduction in long term interest rates has helped the economy will be a discussion topic for another day.
Germany and US's economy are different in many ways. Some of the major differences are:
Germany has huge current account surplus, US has huge current account deficits.
Germany has higher savings rate as compared to US. German strongly believes for solving the current crises in Europe, Keynesian policies should not be followed, whereas US has been following Keynesian policies for past few years.
Germany's fiscal deficit is far below that of US's fiscal deficit.
Below are the graphs for US and Germany's 10 year treasury rates. In the past 4 years where Federal Reserve has been explicitly trying to reduce US long term Treasury rates, Germany's 10 year rates have also dropped. Does that mean that Federal Reserve controls the German Bond markets?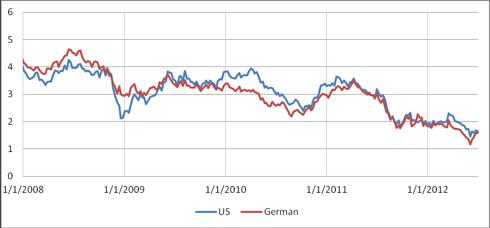 Source: Bloomberg
I have now included the data for past 20 years. As one can see over the past 20 years, during which there was German unification between the West and East Germany, introduction of Euro, dot.com bubble, two wars in Afghanistan and Iraq, US housing bubble, growth of Emerging economies, and different political governments across the world the long term rates have mirrored each other.
Bond and stock investors needs to understand how the short and long term rates moves. Reasons for movement in interest rates includes global macro enviornment and not just local enviornment. Some of the factors which affect long term interest rates are current and expected inflation rates, economic growth in other countries, capital flows between countries, Debt to GDP ratios of other countries, fiscal deficits, etc. Ratings are important, but they are basically a view by an agency on the credit worthiness. US until recently and Germany both had AAA from top 2 rating agencies but, the long term rates have moved from high of 9% to close to 1%.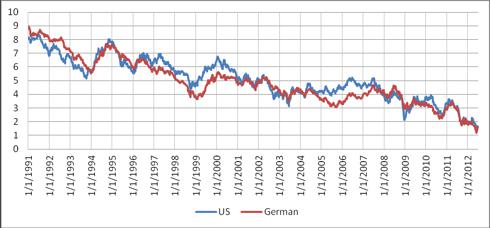 Source: Bloomberg