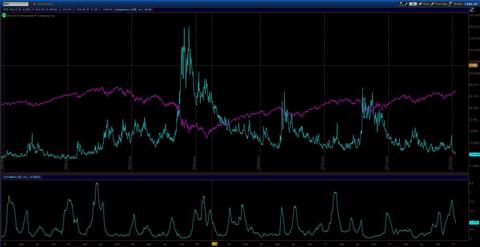 S&P 500
S&P 500 Volatility Index
The correlation between the US S&P 500 and its Volatility Index (VIX) remains sharply negative, and the fact that the VIX trades at 5-year lows helps explain why the S&P itself is near all-time highs.
Everytime the correlation has gotten a positive spike the market turned a bit, and this time should be no different. The S&P is putting in a topping pattern, and the real question is when will it be over. We have been getting signals for the past few weeks that the market is getting frothy.
Another signal is that while the S&P is nearing its 2007 high, the VIX is nearing its 2007 low; and as these instruments make their slow lethargic moves into these areas I am looking for a top in the stock indices.
Disclosure: I have no positions in any stocks mentioned, but may initiate a short position in SPY over the next 72 hours.