Kopin Investment Rationale
April 20, 2014
I have been sharing this story verbally with a number of my friends and thought it was time to publish it in some form to the investing world at large. This summary is intended to outline the rationale for why I believe that Kopin (KOPN:Nasdaq) represents the most attractive investment opportunity in the market today. Yes, you read that correctly: in the entire market.
I believe that the wearable technology tsunami is coming and Kopin is best positioned to capitalize on the most attractive segment of this market: eyewear and cloud-connected headsets. This belief is based on the following assumptions and facts:
Assumptions
Wearable Technology is becoming generally accepted by analysts as the next growth area in tech and is already attracting vast amounts of capital from investors. In particular, devices with a head worn form factor are expected to see explosive growth over the next five years.
For my modeling and forecasts, I have used data from Jupiter Research, IMS Research, and ABI Research to estimate overall TAM opportunities.
Facts
Kopin has deep IP in this area with their first head-mounted patent being published in 1997 and currently holds over 200 patents covering all areas of eyewear and head-mounted devices:

Display technology including transmissive LCD modules which are small, light, and use very little power - perfect for head-mounted applications
Ergonomics and form factors to ensure user comfort and usability across industrial and consumer segments
Noise cancellation to enable flawless speech recognition - critical to success of wearables
Software including integration of gesture and voice interfaces for full hands-free operation of headset or eyewear

Kopin has transformed itself to focus completely on the wearable space

In January of 2013, Kopin divested their HBT transistor business to IQE Inc. for $75M in cash

Kopin has a hybrid business model based on (a) supplying cutting edge components AND (b) licensing IP and reference designs to customers and partners who create branded eyewear and/or head-mounted computers. Recent examples include:

Motorola Solutions licensed the Golden-i reference design and IP in addition to purchase of the optical module from Kopin
Recon Instruments uses Kopin's WQVGA display components for their Recon Snow2 and upcoming Jet products
Vuzix uses the Kopin White Pearl display module for their M100 product

Kopin has consistently demonstrated the ability to deliver cutting edge products to industry leaders:

LCD displays from Kopin enabled camcorder manufacturers to transition from CRT in the late 1990s
Kopin's HBT transistors enabled the entire smart phone revolution and are in billions of cell phones globally
A long history as preferred supplier to US military for near eye displays across many weapons systems including guns sights, night vision, and HUD

Kopin has significant financial resources to execute their plan to become the leader in eyewear and head-mounted displays:

No debt
Cash and equivalents of ~$113M at fiscal year end 2013
Product/Service Offering
What exactly does Kopin offer to customers and partners and how does it plan to monetize its IP? Well, aside from an ongoing relationship with the US Department of Defense (more on that later), Kopin has positioned itself as the one-stop shop of wearable Eyewear/HUD/HMD solutions for any organization planning to enter the market:
Need a near eye display panel for your new device? Kopin can supply bright, ultra-low power transmissive LCD or projection LCOS displays up to resolutions high enough the human eye perceives the image as reality.
Need a complete turnkey optical module for integration into your new headset or eyewear? Kopin's White Pearl or the new Pupil optical engines are complete solutions ready for purchase now. These modules also offer the lightest, low-power, ultra-bright configurations available - very important if you are developing wearable technology to be worn on the head.
Need a low power ASIC to drive a non-Kopin LCOS display? Kopin purchased ASIC specialist e-MDT last year and is enhancing its own modules and reference designs in addition to offering these components for integration with other displays.
Need a complete headset reference design for field work applications? Kopin's Golden-i 3.8D reference design is a fully cloud-connected PC class headset with hands free voice and gesture based OS available now.
Need assistance designing a head worn device? Kopin has been doing just that for more than two decades.
Kopin's Portfolio:
Wearable components (source: kopin.com)

Display Panels: transmissive and LCOS (forthdd.com)
Display Modules
ASIC
Optics

Software

Ikanos Consulting: Golden-i OS, Professional Apps (ikanosconsulting.com and mygoldeni.com)
Speech: Xeno-linguistic mutating algorithm
Noise cancellation via acquisition of IP from Aurisound (Aurisound.com)
Ask Ziggy integration into Golden-i OS
UI/UX gesture and speech for hands-free wearable use

Reference Designs
IP licensing
Competitive Landscape
While there are a number of component providers who can compete in one or two narrow areas of head worn wearables, there are very few companies who are really able to offer what Kopin does. Google is probably the closest to being a solution provider for headsets or eyewear and they must rely on component suppliers such as Himax.
Solution Providers
Component Suppliers
Valuation
So what is all of this worth? How can I say that this company represents such a compelling investment opportunity? For reference, Kopin has a market capitalization of $221M based on a market close of $3.53/share on April 17, 2014. Let's build up a valuation and see how much upside potential there is.
As a base, I would begin with an estimate of Kopin's value taking into account the net cash position and IP portfolio. Regarding the IP, bear in mind the following recent transactions in the area of near eye displays:
Osterhaut Design Group reportedly realized $100-150M for ~150 granted and applied patents sold to Microsoft
Oculus VR was sold to Facebook for $2B this year
Assuming Kopin's patent portfolio is worth at least as much as the estimated upper end of Osterhaut's IP sale to Microsoft (which I think is woefully conservative) at $150M combined with its current cash balance of $113M at December 31, 2013, Kopin has intrinsic value of at least $263M or $4.21/share. So as a base valuation, we are well above the current market cap.
Now, lets take a look at the two revenue streams I see coming on-line in late 2014 and 2015:
Consumer Eyewear
Kopin has some significant advantages here with their Pupil optical engine which is virtually invisible when worn as traditional eyeglasses. If discrete notification and personal navigation emerge as killer apps (as I believe they will), Kopin has a good chance of becoming a leading component supplier to a huge global market of branded eyewear. However, this will likely be a smart phone accessory initially and, as such, be a low margin, high volume product category.
Based on a TAM of 32M units in 2019 and 50% SOM, I believe Kopin can generate consumer optical engine revenue of $56M in 2015 climbing to just shy of $500M in 2019. For my earnings forecast, I have modeled gross margin at 35% for this segment over the period.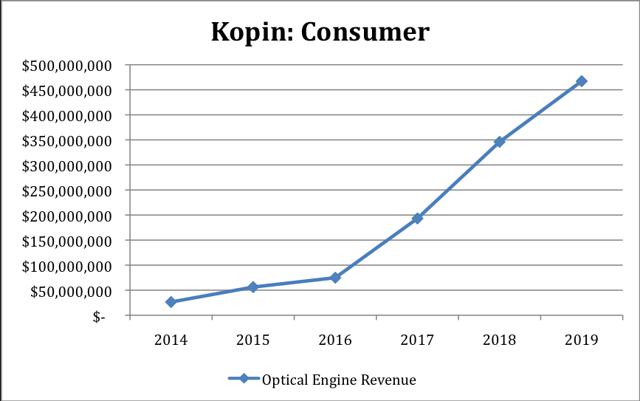 Cloud-connected Headsets
I believe this will be an area where Kopin can dominate and realize very healthy gross margins along with recurring license fee revenue for its IP. The way to think of this opportunity is as replacement of all field ruggedized laptops. Beyond that, the sky is the limit as component size and power requirements decrease. Eventually, eyeglass form factor wearables will have all of the power of the current Golden-I headset.
Currently, the rugged laptop segment is a multi-billion dollar opportunity and I have modeled up a scenario based on a combination of 1M units sold annually (2007 data) plus public safety applications for active duty first responders in North America being equipped with headworn devices. Using this information, I see the TAM starting at $400M in 2015 and growing to $6.4B in 2019. Kopin could realize component and license fee revenue of $66M in 2015 to $861M in 2019 based on a dominant SOM position (66%) in this growth area. I am using a 50% gross margin on this high value license fee rich revenue.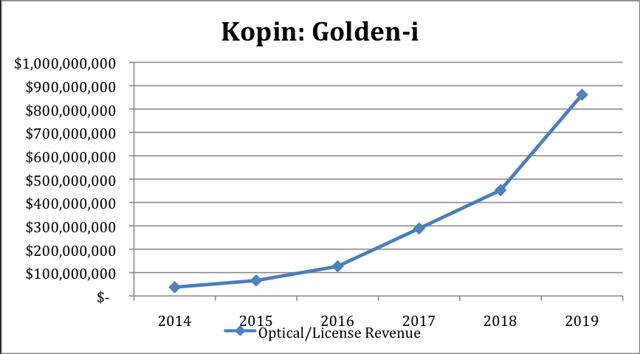 In addition to these new streams of revenue, Kopin continues to be the leader in near eye displays for the US military and high-end digital camera products. In my forecast, I retain this business as base and assume it remains flat.
When you combine the implied intrinsic value of the company based on a combination of cash and IP with the explosive revenue opportunity likely to emerge in 2015, I believe there is a potential of achieving annual EPS of $0.70 and a PPS of $20 by FY 2016. I will let you draw your own conclusions of the potential earnings 2017 through 2019.
The only risk I see to this relates to general lack of wearable adoption in both consumer and light/heavy industrial. However, I believe this risk to be small.
So now you know why I believe Kopin shares at their current price levels represent the most attractive investment in the market today: You and I have the opportunity to own an emerging leader in the nascent head worn wearable technology market below what I consider its intrinsic value - with potential for significant upside.
Disclosure: I am long KOPN.