The Case For Microsoft's Acquisition Of RealWear Inc.
Please Note: Blog posts are not selected, edited or screened by Seeking Alpha editors.
Summary
A gap in Microsoft's Enterprise current mobile computing lineup is identified.
The COVID-19 pandemic has forced a move to expand remote working models favoring head-worn wearable AR devices.
RealWear Inc. is a plug-and-play way to access unique and valuable Golden-i IP.
How investors can profit from an acquisition of privately-held RealWear.
The Gap In Microsoft's Enterprise Lineup
Mobile computing is the paradigm that accelerates a transition to AR. In fact, as you will see, one company saw this area as a massive $11B market in 2009. I think it is much bigger today.
Microsoft (MSFT) is determined not to repeat prior mistakes that resulted in an historic "miss" for the company as the world transitioned from the desktop PC to mobile computing via smartphones.
In order to remain dominant in both the Cloud and productivity application spaces, Microsoft has and will continue to invest aggressively in the next paradigm of computing: Augmented Reality or Assisted Reality. The Enterprise market is where AR adoption has already begun in earnest.
Microsoft's current mobile computing device lineup includes a variety of Surface tablets and laptops along with the advanced HoloLens Mixed Reality headset. I believe Microsoft maintains this portfolio of hardware devices to lever and amplify its massive Cloud, productivity application, and emerging AR Cloud businesses. As the mobile computing market grows, it is in Microsoft's interests to maintain a complete device family that addresses all key verticals for their software business. 
A surprise factor in the evolution of mobile computing has been the global COVID-19 pandemic in 2020. Distributed computing architectures and mobile wearable AR devices have become even more important as business travel has been curtailed or eliminated and remote work models are becoming the new normal.
With the significant investments made in HoloLens (now at version 2), we know Microsoft sees opportunity in the AR space. Specifically, Microsoft is currently targeting Enterprise AR. The Hololens AR platform, for example, is marketed to niche use cases where a full-FOV (Field-of-View) occlusive form of AR can be useful. However, there is a problem with the HoloLens being Microsoft's only Enterprise AR platform: most high volume AR use cases will require a different and more practical form of headset. Furthermore, the bulk of real world ROI for AR use cases will result from equipping front-line workers with wearable devices that do not aggravate human factors - the use of head worn AR devices must improve safety AND increase productivity.
As such, I believe the vast majority of Enterprise AR users will require a platform with the following criteria:
Provides a 100% Hands-Free, voice-driven User Interface

Features a non-occlusive off-axis AR display that reduces distraction but provides bursts of critical information to the worker

Must be lightweight, with flexible wearable options and provide a full shift battery life

Provides a ruggedized design for all operating environments

Features price point parity with current ruggedized tablets or laptops
While the Microsoft HoloLens platform is a great early attempt at full-FOV Mixed Reality, it is not up to the rigours of daily work in most front-line industrial and Enterprise roles where the real growth will be over the next 5 to 10 years.
Reflecting on this emerging market opportunity, I see a gap in Microsoft's current product portfolio. The company needs a platform that sits between the Surface tablet range and the HoloLens 2 that it can use to leverage Cloud services and pollinate the wearables Enterprise market with Teams, OneDrive, Office 365 and other Microsoft software products.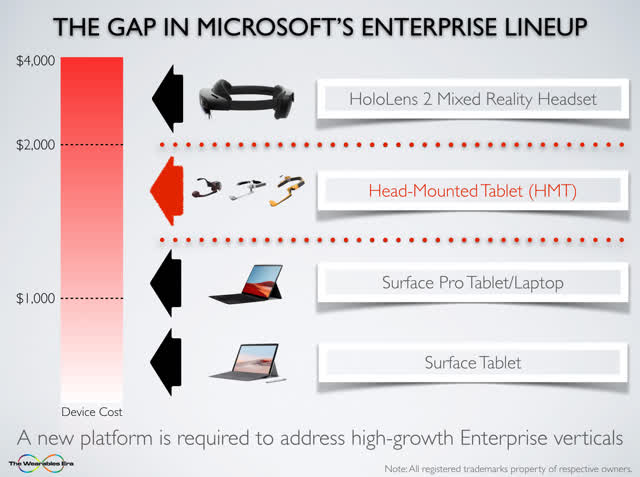 Why RealWear?
First, what is the RealWear platform? The RealWear Head Mounted Tablet (HMT) was originally designed as a replacement for ruggedized laptops in wearable form. It uses a 100% hands-free voice and head gesture UI with an off-axis AR display that pivots out of the way when not in use. The platform was developed over a 10 year period by Kopin and is now licensed to RealWear.
From a presentation by Kopin (KOPN) in 2010 we see how company expected Golden-i to disrupt the $11B industrial mobile computing market:
Images from 2010 Kopin Golden-i SEC presentation
Unfortunately for Golden-i, the multi-touch tablet got in the way and stalled a transition to head-worn wearables. The 2011 launch of the highly disruptive iPad and subsequent rapid adoption of that form factor delayed head-worn wearables for almost ten years. However, I now believe the Golden-i platform is ready for prime time. So do many others. Following a license agreement with Kopin, Golden-i became the RealWear HMT-1 in 2016.
In 2017, I summarized the RealWear HMT within the context of other head-worn AR wearables at the time and suggested it would become the market share leader in this space. We now know that RealWear has shipped more than 30K units of the HMT platform since launch in 2017. It is far and away the market share leader for Enterprise AR headsets of this type.
Building on top of the original Kopin Golden-i IP, RealWear has improved the platform and added a Cloud-based management infrastructure called Foresight to ease Enterprise deployment. The company has secured numerous large customers including: Shell, Schlumberger, Saudi Aramco, BMW, VW, Fiat, Toyota, Coca-Cola, and many more. Honeywell is their primary VAR, but Cisco has also put their weight behind the platform. With the HMT platform, RealWear now has a complete Enterprise AR mobile computing solution that large organizations want and are deploying at scale across multiple industries.
It is also worth noting that RealWear holds an IP license from Kopin for an even smaller, lighter, and more flexible next generation version of the Golden-i platform called Infinity.
In the first half of 2020, we have observed the Microsoft & RealWear relationship evolving into a closer development partnership. Microsoft has clearly taken notice of the RealWear HMT and dedicated resources to integrating the following Enterprise components into the platform:
If you follow the Golden-i story beginning in 2009, you will also see Microsoft as an early partner with Kopin on development of the platform.
Of interest, Kenneth Lustig, a co-founder of RealWear and Head of IP for the company is the former Managing Director of Intellectual Property and Licensing at Microsoft.
I believe that once RealWear's sales velocity appears on-track to exceed 100K HMT devices annually, the company will become an attractive acquisition target. I see Microsoft is a natural suitor given the aforementioned gap in their Enterprise mobile computing lineup and the close working relationship between the two companies that is emerging in 2020.
What An Acquisition By Microsoft Could Look Like
Driven by the COVID-19 pandemic and associated boom in remote working models, we think RealWear on its own can ship 30K devices in 2020 providing a revenue outlook in the $30M to $40M range. At a 5X multiple of RealWear revenue PLUS direct access to the Golden-i IP, and as an entry point into a massive new mobile computing market, we see Microsoft potentially acquiring the company for upwards $500M.
I expect Microsoft could view any RealWear acquisition as providing a first-mover advantage and as a way to expand its reach into the emerging Enterprise AR mobile computing market justifying a valuation premium. This Enterprise AR market will be substantial and eventually replace most or all of the following devices: smartphones, tablets, and laptops. Therefore, Microsoft's acquisition of RealWear could be based on a conservative assumption that annual device shipments could exceed 1M units within 5 years - a sizable $1B opportunity.
Note that Google recently acquired North for an estimated $180M and the revenue profile of that Consumer AR smartglass company was a small fraction of what RealWear is already doing in the Enterprise space.
How Can Investors Benefit From An Acquisition of RealWear?
RealWear is a private company, so, unless you have founder's stock or participated in funding rounds, you don't have a direct path to benefit from any acquisition by Microsoft. However, there is a way to profit from any potential acquisition of RealWear.
Kopin Corporation was the original inventor of the Golden-i concept upon which the RealWear HMT platform is based. Kopin monetizes their relationship with RealWear in three ways:
Component Sales: Kopin is the exclusive provider of high margin AR optical modules used by the HMT platform

IP Royalties: RealWear remits license royalties to Kopin for each HMT device sold in recognition of patent protected foundational IP contained in the platform

Equity Stake: Kopin holds a 3% equity stake in RealWear Inc.
I believe the combination of component revenue and royalties to Kopin for each HMT device is currently in the $125 to $135 range per shipped HMT. Assuming unit sales of 30K 2017 through 2019, combined with SEC filings showing RealWear HMT Revenue to Kopin of $4.1M, I arrive at $136/unit: 

Note: 2019 RealWear Revenue must be adjusted to exclude a one-time $3.5M license fee remitted to Kopin for Golden-I Infinity. Total HMT component and royalty Revenue for the 2017-2019 period is therefore assumed to be $4.1M net of the Inifinity license.
As a standalone business, RealWear could be on track to achieving 50K in annual HMT unit sales within the next 12 to 18 months. HMT shipments at this level would drive a modest $6M+ in incremental annual revenue to Kopin. However, as a part of the larger Microsoft mobile computing portfolio, I see 200K units sold annually as a real possibility during the same time frame. That kind of scale provides significant upside to Kopin's financials.
I do expect that a Microsoft acquisition of RealWear could trigger a re-negotiation of the current IP license and component supply agreements with Kopin. Microsoft could secure a reduced "all-in" component and license fee arrangement closer to $100/unit.
Using 200K annual shipments, even at the reduced component/IP royalty revenue rate of $100/unit, this could be a $20M business annually for Kopin - a significant addition to the company's current top line profile ($29.5M for fiscal 2019). The annual revenue to Kopin becomes absolutely huge if and when HMT unit sales reach 1M per year.
Additionally, the 3% equity stake Kopin maintains in RealWear could be worth $15M at time of the transaction based on our proposed acquisition value.
Ultimately, I do not believe the true value of Kopin's relationship with RealWear is currently reflected in the price of the company's stock (Kopin closed at $1.30 on July 10, 2020). An acquisition of RealWear by Microsoft, or any other sizable industry participant, results in immediate recognition of the true value of this growing Revenue stream to Kopin. For this reason alone, I have a near term share price target for Kopin of $5.00/share and have continued to add to my position at current price levels.
Risks
Microsoft may not acquire RealWear. However, as RealWear's sales numbers continue to rise based on a post-pandemic "new normal," I believe someone will. The opportunity to purchase this unique plug-and-play entry into the high growth Enterprise mobile computing market is just too attractive to pass up. Any number of other well-capitalized suitors exist including, but not limited to: Honeywell, Zebra, or even Google. Note that Bose, Teradyne, and Qualcomm have all invested in earlier RealWear funding rounds.
RealWear may even remain a standalone entity and successfully grow its business model organically to 1M units per year. Entirely possible given the "new normal" we are all adapting to that benefits the entire head-worn wearables market.
However, based on the aforementioned factors I think an acquisition by Microsoft makes the most sense to both companies. Why?
I see Microsoft's evolving business model deriving most of its value from increased Cloud and application usage. The RealWear HMT mobile computing platform drives Cloud revenue for Microsoft as it expands the reach of all of its software products including: Office 365, Teams, OneDrive, etc.
That is the reason Microsoft needs to own RealWear.
Analyst's Disclosure: I am/we are long KOPN.
Seeking Alpha's Disclosure: Past performance is no guarantee of future results. No recommendation or advice is being given as to whether any investment is suitable for a particular investor. Any views or opinions expressed above may not reflect those of Seeking Alpha as a whole. Seeking Alpha is not a licensed securities dealer, broker or US investment adviser or investment bank. Our analysts are third party authors that include both professional investors and individual investors who may not be licensed or certified by any institute or regulatory body.