ARM 3T Trend Analysis™
A Trader's Research Tool That Identifies Three Major Stock Trends
ARM 3T Trend Analysis™ Snapshot
Monster Beverage Corp. (NASDAQ) - Industry: Beverages - Soft Drinks
--
MNST's most recent ARM Short-Term Trend Buy signal occurred on 02 APR, which coincided with the Medium- and Long-Term Trend Buy Signals (see Buy Arrow). On this day, MNST was trading upward within a bullish neutral trend biases. Moreover, its price action initiated as a technical upgrade since the market close on 20 MAR (see Note 1) with price retracing the bulls stalling for roughly two weeks (see Note 2) before price action indicated their presence. MNST returned to a full technical upgrade on 04 APR (see Note 3), which was another opportunity to buy, and has risen by more than 11% ever since.
There was three opportunities to long (Buy) MNST, solely, per its price activity:
When it became a technical upgrade on 20 MAR
When all three trends coincided on 02 APR
When it returned to a full upgrade on 04 APR
In all three instances, the buy setup would have been at the high of the day. Given this surmounting information, MNST made the investment portfolio despite all confirming and/or nonconforming benchmarking data (i.e., BigChart® Opinion and MSN Money StockScouter® Report)...
I would be remise if I did not mention the Medium-Term Trend Sell Signal that occurred on 01 APR when the bulls stalled. This was an early indication that the bears were trying to takeover and further failed to demonstrate on 02 APR, which is called a fake out.
Albeit, I'm protecting gains with a trailing stop at the Level 1 Support/Resistance Price Zone of $53.34 and the low of the day ($55.05)...
Current Fundamental/Technical Review:

Current ARM 3T Trend™ Situation Report ("BUY/HOLD/SELL"):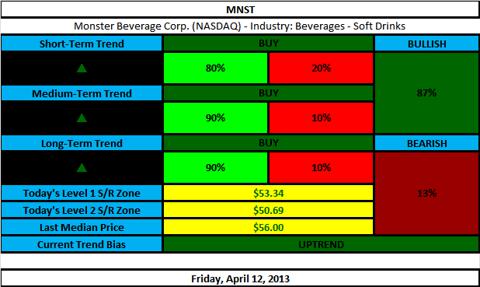 Current ARM 3T Trend™ Analysis Snapshot: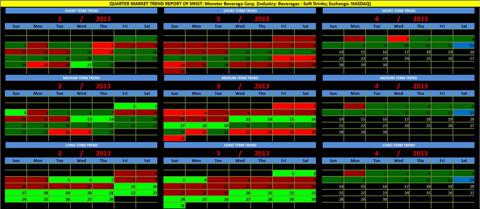 Current Daily and Weekly Price Charts with ARM 3T Trend Analysis™ (Medium-Term Trend) Powered by MetaStock®: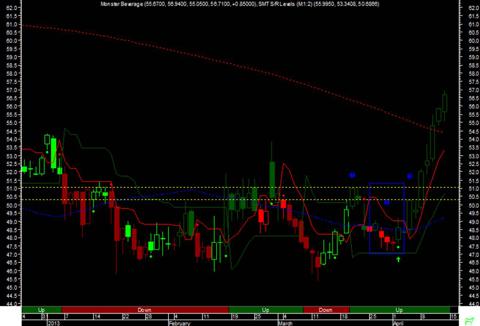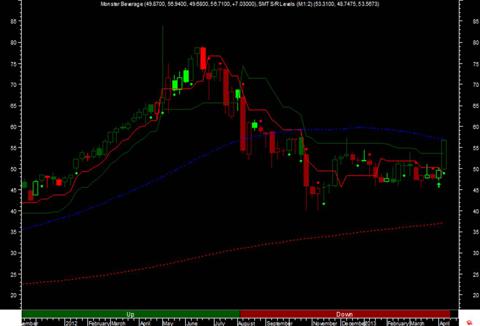 Notes:
Fundamental analysis powered by MSN StockScouter® Report
Additional technical analysis powered by BigChart® Opinion
Disclosure: I am long MNST.