ARM 3T Trend Analysis™
A Trader's Research Tool That Identifies Three Major Stock Trends
ARM 3T Trend Analysis™ Snapshot
Google Inc. (NASDAQ) - Industry: NA
--
GOOG been in the limelight since its breakout on November 28, 2012. Ever since then, it has been in an uptrend (see Points 1 thru Point 3) with a few instances of being downgraded (i.e., specifically, Point 2). Point 3 is a fairly new technical indicator that has been added to highlight an additional Support/Resistance Price Zone, but three levels deep within ongoing price activity (i.e., Level 3 S/R Price Zone)...
Per ARM 3T Trend Analysis™, the buyers are dominating the prevailing short-term trend (NYSE:STT) by 54% and dominating the prevailing medium-term trend (NYSE:MTT) by 81%; however, sellers are dominating the prevailing long-term trend (LTT) by 54%.
Current ARM 3T Trend Analysis™ Buy/Hold/Sell Signals are as follows:
STT: Buy effective 19 APR 13
MTT: Buy effective 23 APR 13
LTT: Buy effective 23 APR 13
Once again, all ARM 3T Trend Analysis™ Buy/Sell signals are expectations based on the current day/week/month/quarter High (Buy) or Low (Sell) price of the effective date, i.e., STT (Daily vs. Weekly), MTT (Weekly vs. Monthly), and LTT (Monthly vs. Quarterly) - please interpret correctly. Albeit, the additional fundamental analysis forecast for the next 6 months and present technical analysis supports GOOG's current price trend.
Lastly, I've made a change to the top indicator pane within the price chart to assist w/ timing an entry on a daily basis, i.e., if the breakout was missed when GOOG was first identified as an upgrade, downgrade, or a potential upgrade or potential downgrade. Basically, a relative timing indicator with its own 13-day and 65-day simple moving averages superimposed. Also, the monthly price chart shows GOOG's most recent upgrade, per an end of week review, since February 1, 2013 - hopefully, you are starting to see the potential of this research and the benefits of knowing when a stock is poised for an uptrend/downtrend...
Current Fundamental/Technical Review:

Current ARM 3T Trend™ Situation Report ("BUY/HOLD/SELL"):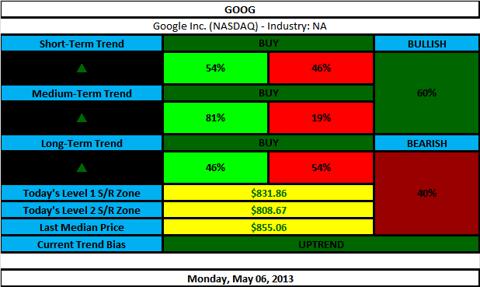 Current ARM 3T Trend™ Analysis Snapshot: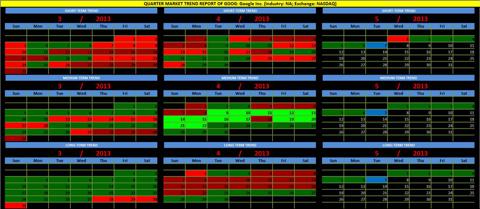 Current Daily and Weekly Price Charts with ARM 3T Trend Analysis™ (Medium-Term Trend) Powered by MetaStock®: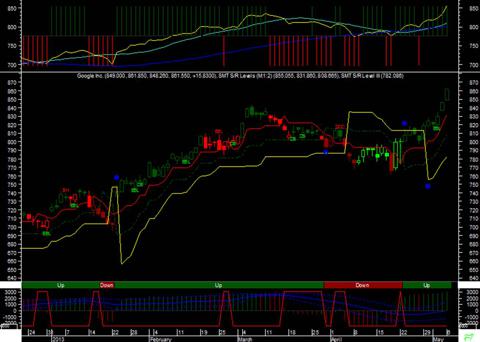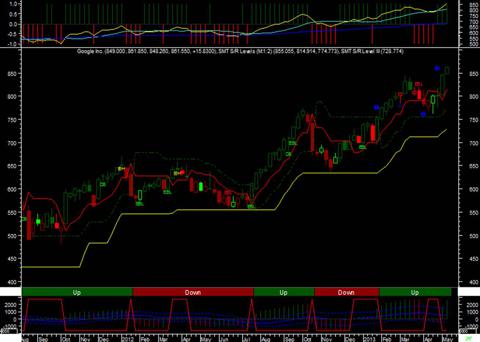 Notes:
Fundamental analysis powered by MSN StockScouter® Report
Additional technical analysis powered by BigChart® Opinion
Disclosure: I have no positions in any stocks mentioned, and no plans to initiate any positions within the next 72 hours.