ARM 3T Analysis (A3TA) has evolved since the last screen shot as a calendar display to an add-in for MetaStock EOD. So, I hope you enjoy and I welcome your critiques...
Here is an analysis on Micron Technology, Inc. (NASDAQ:MU):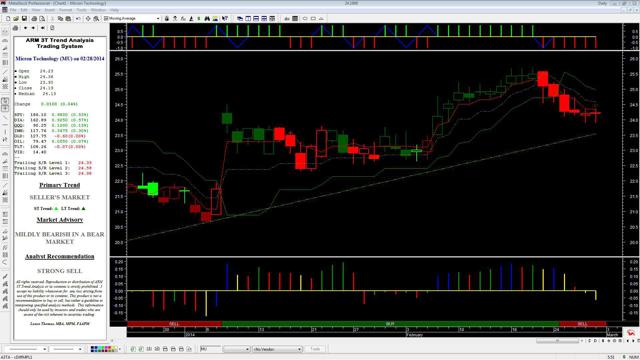 The above chart is MU's daily chart and the analysis as of EOD market activity is Strong Sell within a Seller's Market. However, the Short-term Trend and Long-term Trend is mildly bearish in a bear market (See Expert Commentary on the left of the chart)...
Below is MU's weekly price chart with its accompanying Expert Commentary...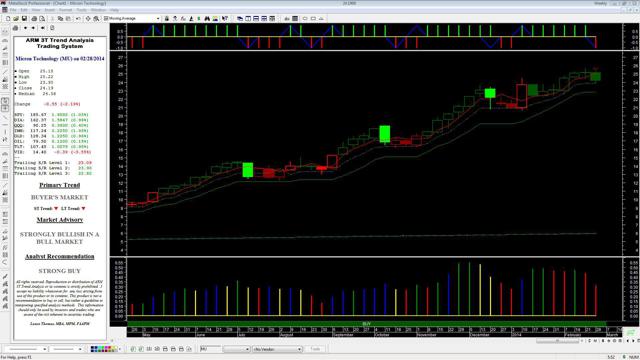 MU's weekly market activity coincides very well its fundamental, technical, sentiment composite scores from BarChart, MSN, and StockScores...

Albeit, the technicals suggest that a bullish divergence is in order and the short-term upward trend-line might serve as a support. I would further reference the weekly Trailing S/R Levels; specifically, Level II @ $23.90. If prices breaks below this point, then Level 3 is the next support level (which is currently $22.82).
Otherwise, MU has been a strong buy since the market close of 12/14/2012 (per its weekly chart) with plently of pullbacks as manifested within its daily charts (such as the last few days) (see below calendar display of A3TA).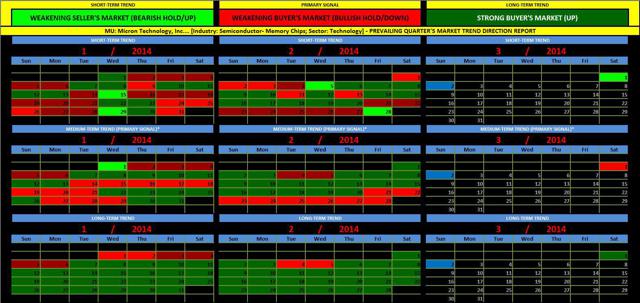 Disclosure: I have no positions in any stocks mentioned, but may initiate a long position in MU over the next 72 hours.