I recently moved my 401k into a Rollover IRA, with 500 free trades to boot, and am ready and willing to deploy that capital. I was quite busy Tuesday afternoon and Wednesday morning opening 4 different positions. The first two, a buy/write and a put option, were covered yesterday, but let's move on to the other two.
Stryker Corporation (NYSE:SYK) - Sell to Open Put Option
The second move that I made early Wednesday was for a company I've eyed for a while. For those that don't know Stryker is a medical device and equipment maker especially with orthopedics such as joint replacements. Stryker's current dividend yield of 1.3% leaves a lot to be desired; however, the growth makes up for it. With a big demographic tailwind behind them Stryker should continue to do well in the future.
Surprisingly, to me at least, Stryker sold off about 6% in early trading on Wednesday and that caught my eye.
Company: Stryker Corporation
Transaction: Sell to Open 1 Put Option
Date Opened: 11/9/2016
Expiration Date: 3/17/2017
Strike Price: $95.00
Price of Contract: $1.40
Premium Received less Commission/Fee: $139.95
I really like put options as a way to essentially set a limit order and get paid for it to hit. This works great if you've done your homework on the company and are comfortable purchasing the shares. The big risk is something unexpected happening that alters your investment thesis, although I'd venture to guess that with many of the blue chip dividend growth companies that doesn't happen that often. That's why I consider put options to be the best of both worlds.
It's been nearly a year since I did a full write up on Stryker; however, the story hasn't changed but the share price has. Although with the way this put option is structured I might be buying shares in the low to mid $90's which is fine by me.
So how can this move play out?
Stryker Corporation March 2017 $95 Put Option
If the share price remains above $95, the option won't be executed and I'll just keep the premium as profit. The premium return isn't really anything to get excited about at just 1.47%. Even on an annualized basis it only works out to a 4.26% return. I'll take it since that works out to over 3x the current yield.
What I am excited about is the downside protection that this put option provides me. If the share price declines below $95 then the option will be executed and I'll have to buy 100 shares at $95 less the option premium. That comes to an effective purchase price of $93.60 or 18.6% downside protection from where the shares were trading at the time the position was opened.
At that level the yield on cost would jump to 1.62% compared to the current yield of 1.32%. Plus as an added bonus Stryker should be announcing a dividend raise in December to juice the yield even more. Based on 2016's earnings estimates the P/E ratio would be 16.2 and looking forward to 2017 the P/E ratio would be just 14.6.
I would normally prefer to strike a better balance between downside protection and premium yield; however, in this case I felt it was surprisingly good premium yield for that much downside protection. Normally with almost 20% downside the annualized premium yield is in the 1-2% range or less yet this was up over 4%.
Becton, Dickinson & Company (NYSE:BDX) - Sell to Open Put Option
This was the last move that I made on Wednesday. Becton, Dickinson & Company really needs no introduction to dividend growth investors, although like Stryker, their dividend yield is typically on the low side. I've owned a very small position of Becton, Dickinson & Company in my FI Portfolio for around 1.5 years and have been looking for chances to build it up.
Company: Becton, Dickinson & Company
Transaction: Sell to Open 1 Put Option
Date Opened: 11/9/2016
Expiration Date: 12/16/2016
Strike Price: $160.00
Price of Contract: $1.10
Premium Received less Commission/Fee: $109.95
So how can this move play out?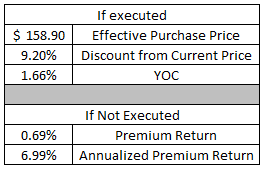 Becton, Dickinson & Company December 2016 $160 Put Option
If the share price remains above the $160 strike price then I'll just keep the option premium as profit and move on to other opportunities. That's only a 0.69% return from the premium, although given the short duration it works out to nearly a 7.0% annualized return.
If the share price dips below the $160 strike price then I'll be purchasing 100 shares for $160 less the option premium or $158.90 per share. That works out to around a 9.2% discount to the share price when I opened the position which is pretty solid.
What has me excited though is the prospects of adding this truly excellent company at fair valuations. Based on my purchase price the P/E ratio based on 2016's earnings estimates would be 18.6. Looking forward to 2017 the P/E ratio would be 16.7.
That's fantastic valuations for a quality company such as Becton, Dickinson. Especially on a relative basis considering they are trading at lower valuations than companies such as General Mills (NYSE:GIS) that are struggling to find real growth.
Even though Becton, Dickinson's dividend yield is on the low side I'll take my chances of a great company with the tailwinds of the healthcare sector that still generates real growth that is trading at decent valuations.
Conclusion
It's great getting to be active in the markets after a long hiatus of big activity. Although with this quick flurry of moves this week I need to slow down a bit and take a more patient and measured approach to getting the capital invested.
In less than 24 hours I invested or am on the hook for over $37k of possible investments. Yikes! That's truly astonishing when I sit back and think about it. Despite that much capital being "put to work" I feel good about conservatively-aggressive approach that I took.
I will likely slow down the pace of my moves in the Rollover IRA because it's not like they give awards out for investing capital quickly. You earn your rewards via returns by being patient and remaining focused on value.
I do have to admit that both Altria (NYSE:MO) and CVS Health (NYSE:CVS) interest me at these levels and I might find a way to get some exposure to one or both. Altria would likely be in the form of a put option while CVS Health would probably be an outright buy.
I've updated my Option Summary page to reflect this change.
Have you been buying anything the last 2 days as some portions of the markets have gone haywire? What do you think of the 2 put options that I opened up?
Please share your thoughts below!
Disclosure: I am/we are long BDX.
Additional disclosure: I am not a financial professional. Please consult an investment advisor and do your own due diligence prior to investing. Investing involves risks. All thoughts/ideas presented in this article are the opinions of the author and should not be taken as investment advice. All chart/images presented in this article were created by the author unless otherwise noted. I currently have an open $95 strike put option on Stryker Corporation and a $160 strike put option on Becton, Dickinson & Company and may close the positions over the next 72 hours.