This past Thursday brought about one more increase to report on. The Board of Directors at T. Rowe Price (NASDAQ:TROW) announced another increase to their quarterly payout. The dividend was increased from $0.54 to $0.57. That's a solid 5.6% increase from T. Rowe. This year will mark 31 consecutive years of dividend increases giving them the title of Dividend Champion. Shares currently yield 3.20% based on the new dividend rate.
Since I own 20.763 shares of T. Rowe Price in my FI Portfolio this raise increased my forward 12-month dividends by $2.49. This is the 2nd dividend increase that I've received from T. Rowe since initiating a position in 2015. Cumulatively my T. Rowe dividends have risen by 9.6% from dividend growth alone! According to USInflationCalculator the total rate of inflation over the same period is just 2.5%.
A full screen version of the chart can be found here.
T. Rowe's dividend history is impressive especially when you look at the growth from year to year. T. Rowe has been struggling with growing assets under management which has led to the dividend growth slowing down the past 2 years. Although given their history I'm confident we'll see it pick back up to at least the high single digits over the coming years.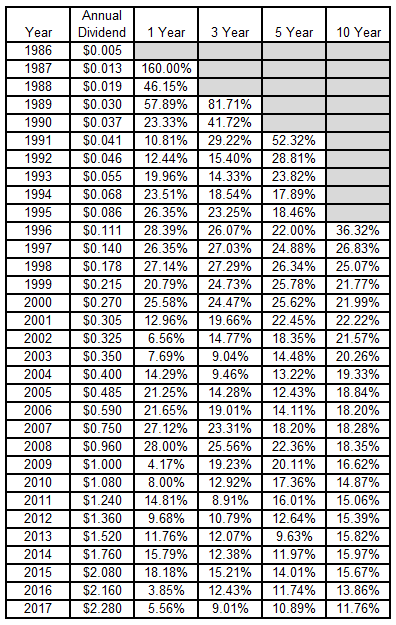 T. Rowe Price Annual Dividend and Rolling Dividend Growth Rates
*2017's annual dividend assumes 4 dividends paid at $0.57 per share per quarter.
An interactive graphical version of the previous chart can be found here.
Wrap Up
My forward dividends increased by $2.49 with me doing nothing. That's right, absolutely nothing to contribute to their operations. Based on my portfolio's current yield of 2.91% this raise is like I invested an extra $86 in capital. Except that I didn't! One of the companies I own just decided to send more cash my way.
That's how you can eventually reach the crossover point where your dividends received exceed your expenses. That's DIVIDEND GROWTH INVESTING AT WORK! The beauty of the dividend growth investing strategy is that you build up your dividends through fresh capital investment as well dividend increases from the companies you own.
Thus far in 2017 I've received 7 dividend raises from the companies that I own increasing my forward dividends by $51.74.
Previous raises announced this month:
3M Company (NYSE:MMM) (Stock Analysis)
PepsiCo, Inc. (NYSE:PEP) (Stock Analysis)
The Coca-Cola Company (NYSE:KO)
My FI Portfolio's forward-12 month dividends increased to $5,592.93. Including my Loyal3 portfolio's forward dividends of $68.84 brings my total taxable accounts dividends to $5,661.77. My Roth IRA's forward 12-month dividends are at $283.30.
Do you own shares of T. Rowe Price?
Please share your thoughts below.
Disclosure: I am/we are long TROW.
Additional disclosure: I am not a financial professional. Please consult an investment advisor and do your own due diligence prior to investing. Investing involves risks. All thoughts/ideas presented in this article are the opinions of the author and should not be taken as investment advice. Information from this article was sourced from T. Rowe Price's Investor Relations. All chart/images presented in this article were created by the author unless otherwise noted.