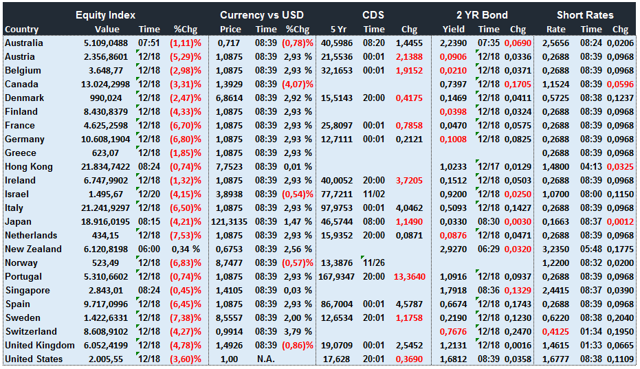 European Markets, Stocks and Bonds are overpriced
Effectively, its the last week of trading and it is about time to take a look at things in perspective. Last few weeks have been instrumental in shaping how we close the year. It has been one of the most volatile years in recent history marked by a FED rate hike in the end. If we look at this months, European equities are down 3-7%, lead by Germany and France as ECB disappointment lead to profit taking in European stocks. It also lead to large gains in EUR, around 3% to be precise and 5-20 bps higher bond yields in European Sovereign Bonds and around 10 bps higher 5 year swaps. This in essence means a wider asset swap spread, higher yields in bonds than swaps, a dislike for interest bearing European cash assets. It is basically due to positioning in sovereign bonds and is likely to shape the investment environment in 2016. It is very likely that we turn our focus to high debt European countries if the ECB takes a step back in asset purchases. Today is a good example as Spanish bonds got sold off the stock market is down around 2.5%. The European sovereign could eventually turn out to be more volatile than EM given the positioning. European high yield credit has hit year highs in anticipation of these facts to unravel and ECB steps will be instrumental in figuring out which way the market goes in 2016. For the time being, due to heavy positioning, we prefer being short in European Bonds and neutral in European Stocks. US equities are trading rather defensive since the FED hike, which is to be expected however we expect US stocks to perform better over the long terms as economic fundamentals improve.
Emerging Markets in 2015 and what to expect?
Emerging Markets have had a tough year. Commodity currencies lost ground as income dwindled political and geopolitical problems have hit the core markets. Mostly the story across the globe is the same, less income from commodity exports have meant less money to spend in budgets. Which in turn meant less paint to cover holes in the walls for the politicians. Countries with problematic budget policies have suffered the worst and countries who have strong manufacturing abilities have suffered less. Asia has done relatively well, less dependent on the US, Japan and China monetary expansion has helped Asia along with early competitive devaluations. As China kept the boat afloat into the year end Asian currencies have found support. EMEA has not been so lucky, Russia-Ukraine tension pushed spreads wider, Turkey-Russia problems did not help, ECB disappointment did not help European Emerging markets like Poland and Hungary, growth in the region stalled however in the last month or so at least the selloff seems to have come to an end. While economies could keep suffering, the market feels this sell off has been a little too harsh with geopolitical risks pushing price action to extremes. The fall in Oil price has pushed Russia to a point where budget cuts are mandatory, the problems with middle east and Russia has pushed Turkey to its own corner with less trade to support the economy. South Africa has been fighting politics and the commodity sell-off last few months which ended with a downgrade. Next year could see a pick up in the region as Iran opens up after sanctions, this is likely to be a negative for the oil price but keep in mind Iran need billions in investment before they can actually pump like the other Middle Eastern countries. The price action tells us, aggressive selling has hit a wall at this point and after the FED hike emerging markets have kept their footing. The decrease in positioning, the competitive devaluations all had a part to play in this and if this price action message is right some investors could be ready to put on some risk selectively.
This week is a quiet one, US reports Q3 GDP which is expected to be relatively softer on lower inventories. Japan CPI should return to 0% from -ve readings and Turkish and Israeli central banks should keep rates unchanged. There is some speculation around the Turkish Central bank decision, a move of normalization could mean a technical hike in the rate to market levels though it would not mean much in market terms.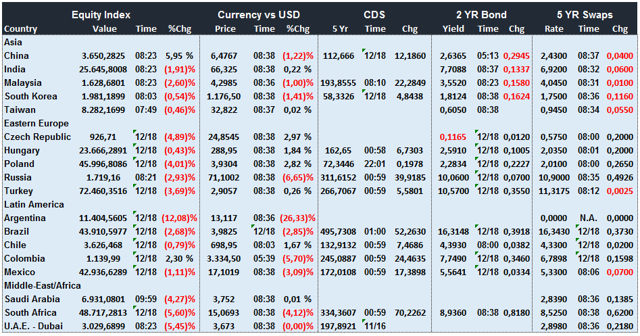 Disclosure: I/we have no positions in any stocks mentioned, and no plans to initiate any positions within the next 72 hours.
I wrote this article myself, and it expresses my own opinions. I am not receiving compensation for it. I have no business relationship with any company whose stock is mentioned in this article.