In September, we saw like an opportunity for a low risk trade, the purchase of BYD in the area of the 7 points, which was seen like an important support area and rebound.  (see article)

Finally, the stock reached the 6.70 and began an upside movement.  
If you followed it, and agreed with this view and maybe placed a buy order, you will have seen as, the last Friday,  BYD experienced a strong movement  accompanied with an important operated volume too. 
 
In this case, would be a time for to move our stop loss to a 7.5 area in order to protect our investment. From the chart, we saw as 9 area is an resistance and the 200 day moving average is now in it too.  
 
If the movement don't fail and cross 9 and the 200 days MA, the next objective is 12.75 area. Now, you can choose take profit near 9 and 200 d MA, total or part of your position or, wait if it cross this area and go for the objective zone. (in this case will be nice to move the stop near 9 and follow the upside in order to assure our profit)

Anyway, we need to follow the market close and make our decisions.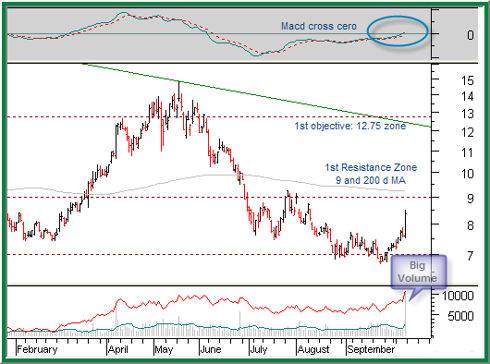 Disclosure: Small position