The year has gotten off to a good start for San Francisco Bay Area startups looking to raise venture capital. Bay Area startups have secured at least $334 million in funding thus far according to data published by SecondMarket (http://www.secondmarket.com). Below is a list of the venture capital offerings for companies in the Bay Area so far in 2012. The list of startups is led by the social media companies Lithium Technologies in Emeryville and Klout in San Francisco, the online payments company Jumio in Mountain View, and the biotech companies Aria Diagnostics in San Jose and Avinger in Redwood City.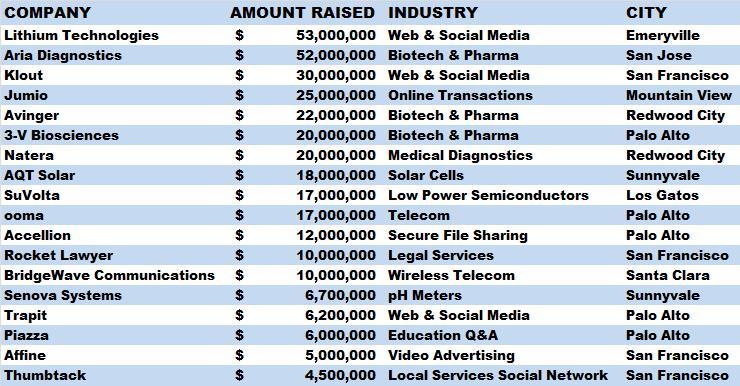 The Emeryville based social media company Lithium Technologies (http://www.lithium.com/) is the leader in vc funding so far with a Series D round of $53 million led by New Enterprise Associates and SAP Ventures. Lithium helps top brands find online and mobile social customers, understand their influence, and build lasting relationships. The Lithium Social Customer Suite offers comprehensive social monitoring, creative customer experiences, and actionable analytics across millions of blogs, forums, and social networking sites.
The San Jose biotech firm Aria Diagnostics (http://www.ariadx.com/) is a close second with its Series C round coming in at $52 million and led by Venrock, Domain Associates, and Meritech Capital Partners. Aria Diagnostics has novel blood tests that equip pregnant women with the right information to make decisions regarding the health of their baby and their own body.
The San Francisco SOMA neighborhood based Klout (http://klout.com/) comes in third with a Series C round of $30 million with Kleiner Perkins, Venrock, Institutional Venture Partners, and Paige Craig as leaders of Klout's latest fundraiser. Klout has a system that allows users to track the impact of their opinions, links and recommendations across their social graph. Data is collected about the content users create, how people interact with that content and the size and composition of their networks. Klout identifies influencers and provides tools for influencers to monitor their influence.
Disclosure:
I have no positions in any stocks mentioned, and no plans to initiate any positions within the next 72 hours.