| | |
| --- | --- |
| Trade Recommendation | Buy GLD Straddle |
| Upside +21% | Current Price: USD 11.2 |
| Investment Horizon: 4 Months | Sell Discipline: Target Price |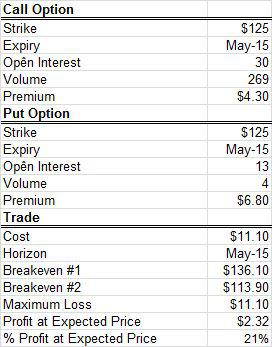 Investment Thesis:
We expect gold volatility to increase significantly during 2015 because of uncertain macro - economic conditions. The sharp falls seen in stock markets in recent days may be a taste of what may transpire in 2015. There are many unresolved risks which were present in 2014 and indeed in recent years which did not come to the fore and impact markets. As Greece has shown again in recent days - the Eurozone debt crisis is far from resolved and there remains an underappreciated risk of sovereign crises in other major industrial nations. Other unresolved risks that are being ignored for now - due to the panacea of cheap money and elevating asset prices - include the Eurozone debt crisis, the appalling fiscal position of Japan, the U.S. and the UK, the risk of an Ebola pandemic, risks posed by terrorism, the events in Syria and the Middle East, Ukraine and geopolitical tensions with Russia. The best way to take benefit of this volatility is by buying a call option and a put option with same exercise price and same expiry date. The straddle will be profitable if gold price is higher than $1360 (GLD @$136) or below $1139 (GLD@113) per oz.
Gold - Positives
Continuing ultra-loose monetary policies
Currency wars and the risk of bail-ins
Risk of sovereign and banking debt crises and the risk of systemic contagion
Increasingly uncertain political and military situation globally and the threat of terrorism and war
Continuing record demand for gold from China and India
Continuing robust demand from central banks such as the People's Bank of China (PBOC) and Central Bank of the Russian Federation
Sentiment, both in the western media and among the public, remains extremely poor. This is bullish from a contrarian perspective
Gold's Negatives
Gold in dollar terms is weak technically after a second consecutive year of lower prices
The massive fall in the oil price, should it continue, will benefit gold miners and lower their cost of production which should lead to a lower cost of gold production
ETF demand remains weak and liquidations very high - holdings in SPDR Gold Trust, the world's gold ETF, fell 0.42 percent to 704.83 tonnes on Wednesday, their lowest since late 2008
Gold bullion demand while robust in Germany, Turkey, the Middle East and Asia remains lackluster in western markets as seen in the fall in demand from the U.S. Mint and other mints
Sentiment, both in the western media and among the public, remains extremely poor
Disclosure: The author has no positions in any stocks mentioned, and no plans to initiate any positions within the next 72 hours.