Virgin Galactic: Richard Branson's Upcoming Spaceflight Will Be A Historic Marketing Event
Please Note: Blog posts are not selected, edited or screened by Seeking Alpha editors.
Long/Short Equity, Value, Special Situations, Growth
Seeking Alpha Analyst Since 2010
I am an investor and operator in private companies. I mostly write about stocks in my personal portfolio or on my watch list. Currently, I cover the following themes:
1. Airlines and the rebound from COVID-19 (see articles about LUV, DAL, UAL, AAL, JETS)

2. Long-term compounders (see articles about AWK)

3. Market dynamics (see articles about SPY)
4. SPACs (see articles about AGCB)
5. Special Situations (see articles about XSPA)
It's great to get comments and feedback from readers. I look forward to hearing from you!

Summary
Virgin Galactic just announced an update to its flight test program and opened a window for its next flight test on February 13.
Richard Branson's spaceflight will be the third test flight and is expected in the next few months.
Richard Branson's flight will attract huge media attention and have significant marketing value.
The company will reopen sales after Richard Branson's flight.  Demand could be strong and prove-out the business model.
I believe the company will be able to sell this unique experience to thousands of ultra-wealthy people that are seeking a bucket-list experience.
Virgin Galactic's (SPCE) stock price has soared.  The business plan of offering spaceflights to the public has a lot of promise, but the company is still early in its development.
For investors, the key question is: will the Virgin Galactic story make progress over the next year and attract more investors to the stock that will drive the stock price higher. I think so, because of the upcoming catalysts:
In the next few months, Richard Branson is going to fly to space. This is going to be an incredible marketing event for Virgin Galactic.
Before that, the company is planning a test flight in February. If all goes well, this could be a near-term catalyst.
Following the Richard Branson spaceflight, the company is going to reopen its sales program, which could see a lot of demand and bolster its financial projections for the future.  This is critical because there is little financial data for investors to base their models on.  An expanded backlog of customers will go a long way to give investors confidence in the business plan.
For context, we need to remember that Richard Branson is one of the greatest marketers in business history.  He has a track record of using marketing to differentiate his businesses and drive their success.  
Richard Branson rose to fame with Virgin Records.  One of his early clients was the Sex Pistols.  In 1977, the Sex Pistols released "God Save the Queen".  It was a success, but didn't reach #1 on the charts.  To get more attention, or infamy, the Sex Pistols hired a boat and performed the song while riding down the Thames River in the center of London.  This was a parody of Queen Elizabeth's 25-year jubilee celebration.  The boat was raided by police and there was a lot of controversy.  The stunt worked and the song became even more popular!  (Richard Branson talks about this here.)
Now, Richard Branson is going to be an astronaut.  His ride to space is going to be a historic marketing event for Virgin Galactic.
Virgin Galactic Background
Virgin Galactic is building a business that will offer the public an opportunity to fly in space. 
It is building a fleet of spaceships that will go on a flight that looks like this: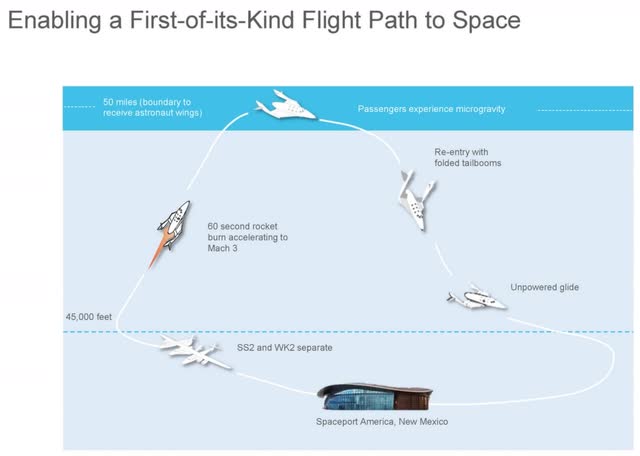 (Source: Virgin Galactic SEC filing)
The price for this experience starts at around $250,000.  Over time, the company expects to lower the price as volumes increase and it gains efficiency. 
This is a very expensive bucket-list experience for the ultra-rich.  The company has approximately 600 reservations already, proving there is a market for this unique experience.
In July, the company hired Michael Colglazier as CEO.  George Whitesides, the previous CEO, moved to the Chief Space Officer position.   Colglazier came to Virgin Galactic from Disney.  At the time, Richard Branson said:
"...we are delighted to welcome Michael as the new Chief Executive to lead Galactic into commercial operations. I believe Michael's long and distinguished career at one of the world's leading customer experience brands provides a natural fit with Virgin's culture as well as Galactic's requirements as it prepares for commercial service."
The decision to hire CEO with a "customer experience" background versus a technical, space background speaks volumes about the company's future.  It is also in-line with the ethos of Richard Branson, a marketing genius.
Richard Branson's Spaceflight
Virgin Galactic is currently undergoing flight tests on its spacecraft.  It also needs to complete FAA certification to fly regular people to space.
The company announced that Richard Branson will be on the 3rd test flight.  This will clearly attract significant media coverage and will be a huge step forward for the company.  The question is timing.
On the 3Q 2020 earnings call on November 5, management said:
"As we said last quarter, our plan is to fly our first spaceflight from New Mexico this fall with two pilots. We would then continue our flight testing with a second rocket-powered flight with a full cabin of mission specialists in addition to our pilots. Once analysis of that flight is completed, we will follow with a third rocket-powered test flight that would include our Founder, Sir Richard Branson. Richard's flight will be a momentous occasion and will provide us with important feedback on the cabin design and the astronaut experience. At this stage, we are on track for each of these flights. As always our progress towards the next flight depends on the results of detailed reviews of our prior flights and our engineers may recommend conducting additional test flights."  (emphasis added by Author)
The first spaceflight was attempted in December and aborted before it reached space.  
On February 1, 2021, the company provided an update on its test flight program.  It will retry the test flight from December and is opening a flight window on February 13.  The company added that it will have "opportunities to fly throughout February, pending good weather conditions and technical readiness."
Initially, the plan was for Richard Branson's spaceflight to occur in 1Q 2021.  With the re-attempt of the first test flight only occurring in February, it looks like the Richard Branson spaceflight will be pushed back from 1Q 2021.
However, a successful completion of the February test flight would be a huge achievement for the company.  And, if all goes well with the first two test flights, the Richard Branson spaceflight is not far off.
Reopening Sales 
After accepting reservations from about 600 people, the company closed the sales program.
In November it announced that it will reopen sales after Richard Branson's spaceflight.
I expect the sales program is going to get a lot of interest when it reopens for the following reasons:
Richard Branson knows how to attract a lot of attention.
The ultra-wealthy had a great year in the stock market, despite COVID-19, and the pool of potential customers likely increased.
Everybody has been under extreme mobility restrictions for the last year due to COVID-19.  Space travel could be the ultimate post-pandemic experience for ultra-wealthy people that want to go out and have an amazing experience.
Stock Valuation
Virgin Galactic released the following projections when it became a public company through the SPAC merger process: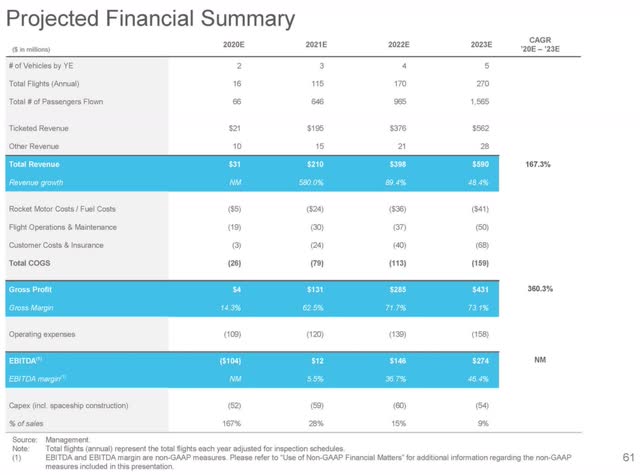 (Source: Virgin Galactic SEC filing, see link above)
On the 3Q 2020 earnings call, management said:
"I am very bullish on the transformational experience that we intend to deliver and the price points we believe we could command for this one-of-a-kind supply-constrained product. The approach we are taking suggests we could generate meaningful revenues of $1 billion a year per Spaceport. And a fully utilized Spaceport can create an incredibly powerful economic engine, an engine that will come first to New Mexico, but also an engine that should have great appeal across other locations in the world." (emphasis added by Author)
For context, the current stock price is $54.34, which implies a $13 billion market cap (before impact of dilutive securities).
A few takeaways:
The initial projections assumed $590 million of revenue in 2023 based on 270 annual flights and 1,565 passengers flown.  These numbers are optimistic, but I don't think they are crazy.  I am a long way from being able to afford a spaceflight.  But, believe there is a market of a few thousand ultra-wealthy people paying a lot of money for a unique experience.  
Management projected 46% EBITDA margin on $590 million of revenue.  If this is plays out, it is very impressive.  
It is difficult and costly to manufacture and operate spacecraft, especially spacecraft with a new design.  The company is targeting an ultra-wealthy customer base and is starting at a price of $250,000 per ticket.  For billionaires and multi-millionaires, it doesn't really matter if ticket prices go up 10% or 20% in the future.  The pricing power that comes with a unique experience should help the company achieve high margins at scale.
Nonetheless, it is hard to value the company based on traditional metrics.  Meaningful revenue and profitability are years away.  If the company can achieve $1 billion of revenue per spaceport with EBITDA margins of 46%, then the current stock price may be low.  Obviously, there are huge risks to execution and timing.
But, the lack of traditional valuation metrics has not stopped the stock from trading higher recently: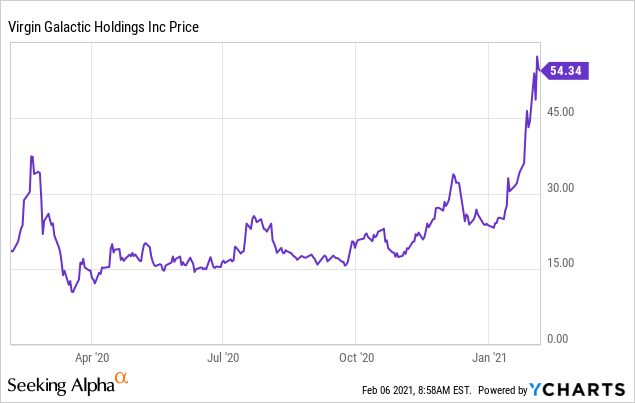 Short Interest
There is significant short interest in Virgin Galactic.  
There have been a number of high-profile short squeezes in the market recently, like Gamestop.  Virgin Galactic's stock price may have benefitted from this too.
The ongoing high level of short interest may create a positive dynamic for the stock in the future if there is short covering.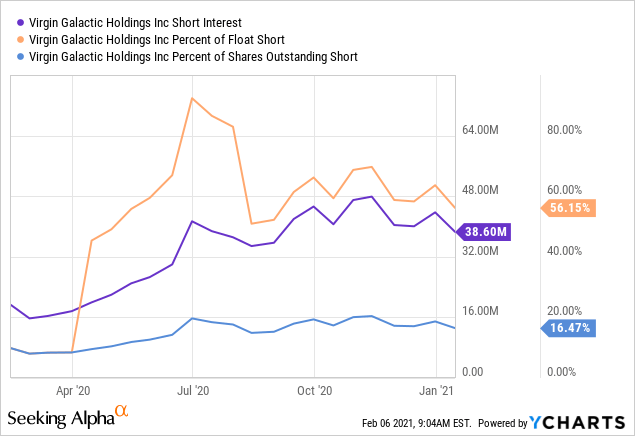 Risks
There are huge risks for Virgin Galactic including:
Spaceflight is dangerous.
Virgin Galactic has not yet proven that it can fly passengers to space and needs additional regulatory approval.
Virgin Galactic is burning cash and has not proven its business model yet.
There may be fewer customers for this type of experience than the company expects.
There is competition from Blue Origin and SpaceX.  Other companies may be able to go further into space than Virgin Galactic, which could draw customers.
Please read the risk factors in the company's SEC documents for more.
Conclusion
Virgin Galactic is an amazing company.  I believe that it will be able to sell high-priced tickets for spaceflights to thousands of ultra-wealthy people seeking a bucket-list experience.
The company seems to have an attractive financial model, if it can execute.  However, it is hard to make a case for the stock based on traditional valuation metrics.
I am not chasing the stock after its recent run-up, but I am watching it for an entry point as I think it will be higher over the long term.
Analyst's Disclosure: I/we have no positions in any stocks mentioned, but may initiate a long position in SPCE over the next 72 hours.
I wrote this article myself, and it expresses my own opinions. I am not receiving compensation for it (other than from Seeking Alpha). I have no business relationship with any company whose stock is mentioned in this article.
Seeking Alpha's Disclosure: Past performance is no guarantee of future results. No recommendation or advice is being given as to whether any investment is suitable for a particular investor. Any views or opinions expressed above may not reflect those of Seeking Alpha as a whole. Seeking Alpha is not a licensed securities dealer, broker or US investment adviser or investment bank. Our analysts are third party authors that include both professional investors and individual investors who may not be licensed or certified by any institute or regulatory body.