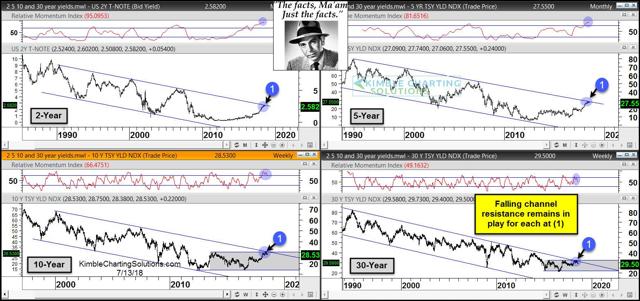 Have interest rates increased over the past couple of years? Yes they have!
Have interest rates broken above long-term falling channels? Nope
Joe Friday Just The Facts Ma'am– Interest rates (2, 5, 10 & 30-Year yields) are all testing long-term falling channel resistance at each (1), with momentum at levels seldom seen in the past quarter-century.
Go here to learn how the Power of the Pattern from Kimble Charting Solutions improves entry & exit decisions
See a Free sample of our most popular research here
Receive Chris Kimble's research to your inbox, immediately after it's posted to the blog
Email services@kimblechartingsolutions.com
Call us Toll free 877-721-7217 International 714-941-9381
Website: KIMBLECHARTINGSOLUTIONS.COM
Disclosure: I am/we are long ZROZ.